Vladimir Putin's Video of 'Invincible' New Nuclear Missile Used 10-Year-Old Footage
Russian President Vladimir Putin's big reveal of his country's host of new weapons, including nuclear missiles, could have used decade-old footage.
The president grabbed international headlines when he interrupted his annual address to parliament to boast about the military's new advancements for three-quarters of an hour and played a handful of clips to showcase it. He reiterated once again that the Sarmat RS-28 missile—a weapon his country has been developing for 10 years—was invincible to anti-missile defenses and is being tested. He spoke about concepts for nuclear cruise missiles, underwater drones and lasers.
Abroad, the statement grabbed headlines as one signaling a new arms race or a new Cold War. One clip even appeared to show the Sarmat RS-28 falling on an area resembling the state of Florida. Yet, as many Russians watched Putin's address at home—his first event resembling a campaign rally in the lead-up to this month's predictable presidential election—they were unimpressed. His boasts about the cutting-edge kit prompted a tidal wave of memes lambasting the awkward animation and old-looking graphics of the supposedly modern arms.
Related: Russia's Arms Maker Denies It Plagiarized Video Game In 'Future Soldier' Concept
As eagle-eyed social media users noted, some of the computer-generated footage looked old. The clip that showed the Sarmat 2 zero in on a doppelganger of Tampa Bay could be as old as 10 years. The clip comes from a documentary about the missile reportedly aired on Russian state television in 2007 and clips from which have been on YouTube since 2011. Whether any of the other animated footage Putin unveiled is reused from any other media is not yet clear.
"So, 11 years ago Channel One played some garbage and today...they show it to us as some prototype of super-weaponry to which there is just no analogue," Putin-critic Alexey Navalny said in his YouTube commentary show. "A new arms race cannot begin because, unfortunately, Putin's Russia does not manufacture anything," dismissing the idea that the president's address represented a new stage of an armed competition with the West.
According to Mathieu Boulègue, Russian military expert at London's Chatham House, Putin's presentation and his slated visual aids were thin on any actual new content.
"This was an electoral rally," he told Newsweek. "It was nothing new to worry about. The Sarmat RS-28 has been around on paper for 10 years. It is nothing that the U.S. Department of Defense does not know about. In reality, it told us nothing new about Russia's capabilities."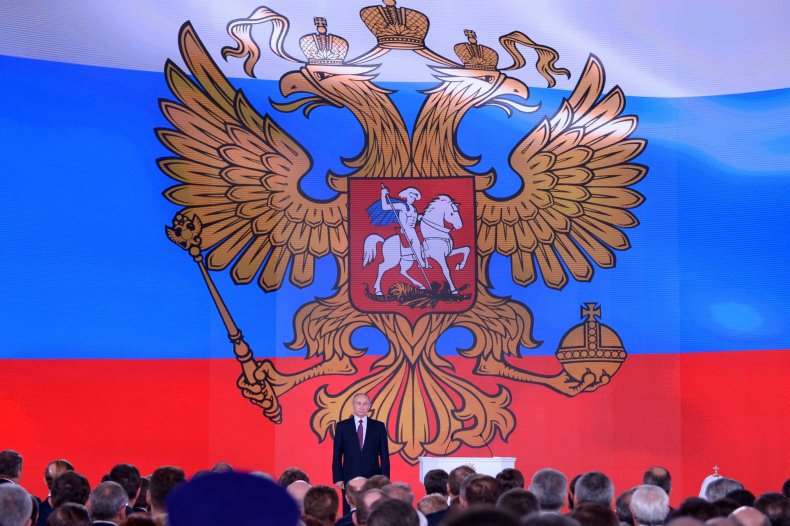 Speaking about the reuse of the footage, Boulègue added that Putin and his team simply "need headlines" to mobilize the public behind him on the eve of the next elections in three weeks' time. "It all comes in the context of the elections. It seemed like such a huge reveal because, how many in the Russian population and the non-specialized press have really seen this footage. How many will have noticed that it had been used before."
While not plagiarism per se, the Kremlin's presentation of the clip reminded Russian social media users of a spate of recent occasions in which Moscow officials have passed off old computer-generated footage as insightful new information.
Last year, Russia's Ministry of Defense posted "irrefutable evidence" of U.S. assistance to the Islamic State militant group (ISIS) in Syria, before discovering the footage it had used was from a video game and deleting it. Moscow admitted it was a mistake. Last month, Russia's Channel One admitted to using footage from another video game in a segment about Syria, subsequently also coming clean about the origin of the clip.
Boulègue stressed that he does not believe Putin is "bluffing" that Russia is developing any of the technology he spoke about on Thursday. "But there is the question of when they will be operational, at what cost will they come and how effective they will be just on paper," he said.
Read More: Valdimir Putin's Death Star and Other Memes Lighting Up Russia's Internet After Nuke Announcement
As the presentation caused a furor abroad, Boulègue said it was the job of informed pundits to "demystify" Putin's claims, which were predominantly intended for a domestic audience.
"What we make of it is what we make of it but the Russian electorate can only interpret it in one way—Russia is back," Boulègue said.
The Kremlin seems to have already tried to curb the effects the speech had abroad as Putin denied that Russia wants to start a new arms race, while his spokesman Dmitry Peskov played down the invincibility of the new weapons, saying that "other countries also have arms against which Russia is not capable of defending itself."
In another swipe at Putin, Navalny concluded there is only one reason why such a lengthy and speculative demonstration of prospective arms made it in the presidential address.
"I am convinced that the main reason why Putin spoke so much about these weapons and why he showed all those videos is because it is the only topic on which he can lie without repercussions anymore," Navalny concluded in his video post. "Because what will he talk to you about? Every time he speaks about triumphs in healthcare will be laughable to you. You go to the hospital. How can he ever convince you that healthcare has improved? It is impossible. About education? That is hilarious. You or your children go to school."