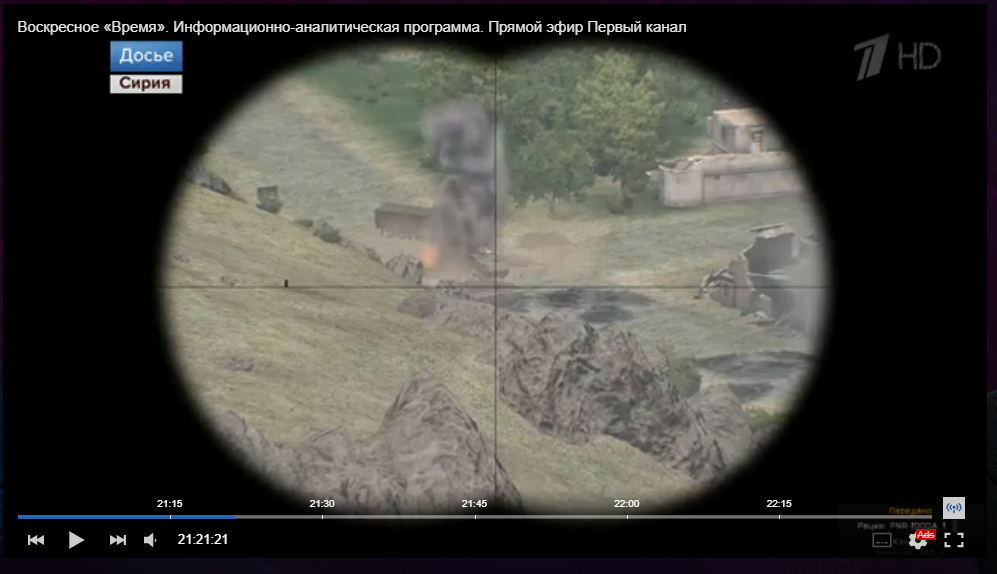 Social media users noted that a recent clip from a Russian state television about the Syrian war was actually taken from a video game.
The latest weekly Voskresnoye Vremya program, on Russia's Channel One station, apparently showed the scope of a sniper rifle tracking an attack on a truck, allegedly in Syria. But it has emerged that the footage was from the tactical military video game known as Arma-3.
The clip aired on Sunday as a tribute to Moscow's armed forces. The Russian military has supported the regime of Syrian President Bashar al-Assad for more than two years with air power, ground support and military advisers.
It is unclear if the computer footage was deliberate or unintentional, the BBC reported.
The segment celebrated "those who value duty and honor above their own lives," including the Russian pilot killed in Syria in February after his jet was shot down.
Russian social media users debated whether the inclusion of the computer game footage was a sign of poor-quality coverage at the television station or if it was an intentional challenge for viewers to spot the incorrect footage.
The station has not commented on why the computer-game clip was included instead of real-life video footage.
The Russian government appeared to have acted in a similar way in November, when it tried to prove that the U.S. military was in cahoots with the Islamic State militant group (ISIS) in Syria by publishing images from AC-130 Gunship Simulator: Special Ops Squadron.
"The U.S. are actually covering the ISIS combat units to recover their combat capabilities, redeploy, and use them to promote the American interests in the Middle East," Russia's Ministry of Defense wrote in a Twitter post accompanied by stills from the video game.
On Monday, Russian President Vladimir Putin demanded a daily "humanitarian pause" to strikes on the opposition-held suburb of Eastern Ghouta, where more than 500 people have been killed since February 18.
"On the instructions of the Russian president, with the goal of avoiding civilian casualties in Eastern Ghouta, from February 27—tomorrow—from 9.00 to 14.00 there will be a humanitarian pause," Defense Minister Sergei Shoigu said, AFP news agency reported.
The U.N. has called for a monthslong ceasefire in the enclave as the bombardment on the enclave has escalated. "Eastern Ghouta cannot wait. It is high time to stop this hell on earth," U.N. Secretary-General António Guterres said Monday.
Opposition authorities and monitoring groups said Monday that a suspected chemical attack had left one child dead and more than a dozen people suffering symptoms consistent with exposure to chlorine gas.
Russian Foreign Minister Sergei Lavrov said the claims were a bid to disrupt a ceasefire in the area, which has been under a Syrian regime siege since 2013, RIA news agency reported.