Baltimore's Police Department Is Just Latest Under Pressure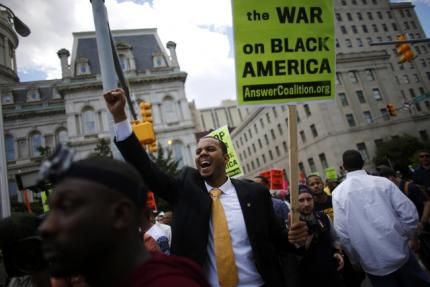 The U.S. Department of Justice's decision to review the practices and procedures of Baltimore's police force is the latest in a string of recent investigations into law enforcement agencies around the country.
Earlier this week, Mayor Stephanie Rawlings-Blake requested the federal government conduct a civil rights investigation into the Baltimore Police Department. The request followed 25-year-old Freddie Gray's death while in police custody last month. Six officers involved in the arrest have been charged in his death.
Police Commissioner Anthony Batts and the city's police union said they agreed with the mayor, and U.S. Attorney General Loretta Lynch on Friday announced the investigation, effective immediately. She called the relationship between the police and the community "one of the most challenging issues of our time."
After Gray's death on April 19, residents in Baltimore and around the country held large protests, some violent, over his reported treatment. The clashes between civilians and the police were similar to those in Ferguson, Missouri, after the fatal police shooting there of 18-year-old Michael Brown last summer.
The 1994 Violent Crime Control and Law Enforcement Act allows the federal government to review local law enforcement procedures, and the department over the years has conducted dozens of such investigations, Lynch said during a press conference on Friday.
The Justice Department later cleared the officer responsible for Brown's death, Darren Wilson, of any wrongdoing. But federal authorities released a report criticizing the city of Ferguson for civil rights violations against African-American residents by its police department and courts, including a pattern of stopping and arresting African-Americans without probable cause.
Federal authorities in December launched a civil rights investigation into the death of 43-year-old Eric Garner in Staten Island, New York. Last July, a police officer placed Garner in an apparent chokehold that allegedly led to the man's death. A grand jury declined to return an indictment against the police officer, but the Garner family sued the city and the NYPD, alleging negligence on the part of the police.
In Cleveland, after residents, civil leaders and Mayor Frank Jackson requested a review of a series of high-profile incidents involving the city's police, the Justice Department launched an investigation that spanned more than 18 months and ended last December. Just weeks after a policeman fatally shot 12-year-old Tamir Rice outside of a recreation center in Cleveland, the Justice Department concluded that officers in that city engaged in unnecessary use of deadly force.
More recently, San Francisco District Attorney George Gascón this week expanded an investigation into the city's police and sheriff's departments to determine whether those forces have a culture of bias that have led to unlawful arrests. The investigation first was launched after authorities recently discovered San Francisco Police Department officers sent text messages that included disparaging language about minorities and gay people. They also found that sheriff's deputies forced city jail inmates to fight one another, and gambled on the outcomes.
City leaders in San Francisco have expressed concern that the officers' alleged prejudice could have led to unfair convictions against African-American defendants.
In Pittsburgh on Thursday, meanwhile, the city and five rejected police applicants reached a settlement in an attempt to fix what is seen as a biased hiring system. The five plaintiffs, all African-American, three years ago filed a lawsuit against the Pittsburgh Bureau of Police, alleging discriminatory hiring practices, according to local news.
President Barack Obama in December announced a plan to spend $75 million on body cameras in an attempt to increase police transparency in the U.S. On the local level, leaders in communities across the country are working with city officials to require police to wear the cameras.