Ban on Recreational Marijuana Unconstitutional, Says Mexico's Supreme Court, Opening Path to Legalization
Mexico's highest court has ruled that a total ban on recreational marijuana is unconstitutional, opening the door for legalization of the drug across the country.
The Supreme Court decision found in favor of two legal challenges filed against prohibition of marijuana for recreational use, crossing the five-ruling threshold to create jurisprudence, Reuters reported. This means a precedent has now been created that other courts will have to follow.
Fernando Belaunzaran, a drug reform activist and politician declared Wednesday "a historic day." Belaunzaran is a member of the leftist Party of the Democratic Revolution (PRD), which will be in power when leader Andres Manuel Lopez Obrador becomes president on December 1.
The court said the ruling did not mean Mexicans had an absolute right to use marijuana freely and warned that consumption of some substances may still be subject to regulation. However, it stressed that "the effects caused by marijuana do not justify an absolute prohibition on its consumption."
The court also ordered the country's federal health regulator—the Federal Commission for the Protection against Sanitary Risk, or COFEPRIS—to allow people the right to use personal marijuana. It added they should do so "without allowing them to market it, or use other narcotics or psychotropic drugs."
It will now be up to Congress to regulate the use of marijuana nationwide. Members of the incoming PRD government have already suggested the administration would be open to the legalization of weed, and possibly other drugs too.
Officials believe legalization and regulation of some drugs could help the government tackle rampant violent crime in the country, much of which is related to criminal gangs.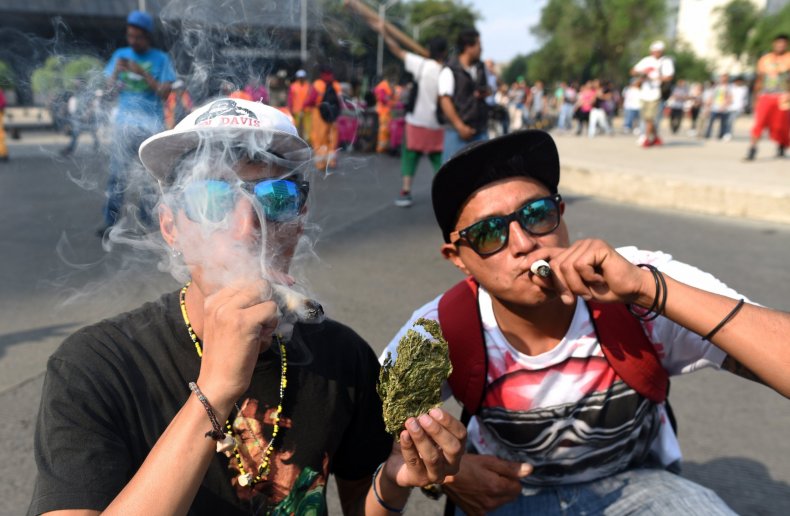 Incoming Interior Minister Olga Sanchez Cordero said Obrador has given her a free hand to do "whatever is necessary to restore peace in this country."
Cordero has given lectures and penned articles discussing the potential benefits of drug legalization. She told a seminar in July: "On the subject of decriminalizing drugs, Andres Manuel told me, and I quote: 'Carte blanche…. Let's open up the debate.'"
The U.S.-backed war on drugs has done little to stem the flow of illegal narcotics through Mexico into the lucrative market north of the border. Though authorities have jailed multiple kingpins of the drug trade this has only served to fragment the larger cartels and set the remnants against each other in a vicious battle for business.
"What no one can deny with hard data is that, at least in the past 10 years, the Mexican government has been incapable of stopping violence and responding to it with institutional mechanisms," Cordero argued.
Legalization would bring with it a host of business opportunities that may help alleviate poverty among Mexico's 129 million people. Across the border in California, the legal marijuana industry is expected to reap $5.1 billion in profits in 2019, NPR reported. Mexican politicians are likely looking on enviously, and at least a few are clearly keen to try their own hand at commercial production of the cash crop.