Bank of America Mortgage Program—First-Time Buyers Eligible in These Cities
Bank of America, the North Carolina-based multinational investment bank, announced a no-down payment mortgage program on Wednesday that will help first-time homebuyers in five minority neighborhoods across the country to access the housing market.
The program—the Community Affordable Loan Solution—promises to be a zero down payment, zero closing cost mortgage solution for first-time homebuyers squeezed out of the market by skyrocketing home prices, bidding wars and rising mortgage rates in "designated markets" in Charlotte, Dallas, Detroit, Los Angeles and Miami.
The bank has not yet disclosed which areas of these cities the program will cover, but has said that these include Black/African American and Hispanic-Latino neighborhoods.
Newsweek has reached out to Bank of America (BofA) for comment.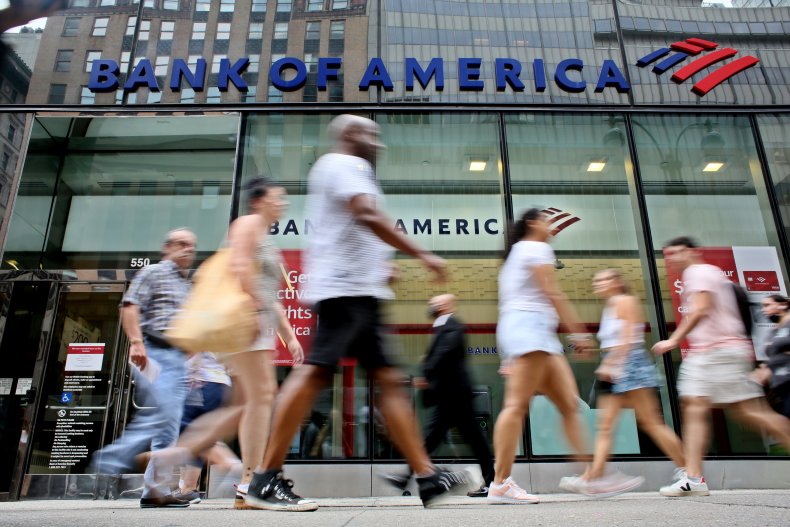 Trial Phase and Hurdles
BofA has also not yet revealed the size of the program, which is still in a trial phase and could later be expanded to other cities next year.
Eligibility will be based on income and home location, according to a statement by BofA, while the credit guidelines will be based on factors such as history of making rent, utility, phone and auto-insurance payments on time.
Prospective buyers will have to complete a homebuyer certification course provided by the BofA and HUD-approved housing counseling partners to be able to apply to the program, according to the bank.
The move addresses criticisms made to the bank, which has long been accused of discriminating against minority buyers with its credit score-based mortgage programs.
In December 2011, the bank was ordered to pay $335 million to settle federal claims that its Countrywide Financial unit charged Black and Latino borrowers higher fees and interest rates than white borrowers.
Ten years later, in 2021, a nationwide class action lawsuit filed in Florida accused the bank of being "misleading, deceptive, and unfair" in the servicing of its home loans. In July this year, BofA agreed to pay $8 million to end the class action claims.
BofA had already started addressing the issue, with a previous $15 billion program to offer affordable mortgages, grants and educational opportunities to help 60,000 individuals and families purchase affordable homes by 2025, under the Community Homeownership Commitment.
The bank said it has already helped more than 36,000 people become homeowners through this scheme.
Claims of Racial Bias
But the announcement of the program has also sparked backlash among a fringe of right-wing politicians and commentators on social media who have tweeted their discontent with the BofA's plan, calling it discriminatory towards white people.
"What about first time homebuyers who are not Black or Latino? Are they told to kick rocks?," tweeted Republican Texas U.S. House candidate Irene Armendariz-Jackson, a rising star of the GOP, the daughter of Mexican immigrants and the wife to a border patrol agent.
Conservative author Michael Savage wrote: "Welcome to Zimbabwe (Whites need not apply). Conservative comedian Tim Young tweeted: "Can someone explain to me how this isn't racial discrimination?"
Such claims are fueling misinformation around the program, as the BofA's plan, though it focuses on Black and Hispanic neighborhoods, is not only targeted to minorities, and white people can apply as well, according to the required eligibility criteria.
The racial gap in homeownership rates in the U.S. remains high, with white households's homeownership rate standing at 72.1 percent, compared to 51.1 percent for Hispanic households and 43.4 percent for Black households, according to 2020 data from the National Association of Realtors.