First-Time Homebuyers Will Have to Wait Years to Get a House, Experts Warn
First-time home buyers are facing hard times as surging mortgage interest rates, record-high home prices, a lack of inventory and soaring inflation are conspiring to squeeze them out of the market, with homes in the U.S. not affordable for many.
"It's a pretty tough time to be a first time homebuyer now," Moody's Analytics Chief Economist Mark Zandi told Newsweek.
"High mortgage rates are combining with high house prices, and affordability is being crushed. So, first time homebuyers are getting locked out of the market," he said. "Straight-up buyers are locked in because they'd have to sell the home with a low mortgage rate and buy a home with a higher mortgage rate. And that's very difficult to do."
Prospective first-time home buyers may have been galvanized by the turn the housing market took during the pandemic, with record-low mortgage rates encouraging the purchase of homes. But things have changed, and for anyone who did not buy a home then, now it's just not the right time.
"From the housing perspective, it's those that were ready to buy homes, maybe had saved a little bit, but had [stuck] in pricing wars over the last year and hadn't been able to find anything because of the low supply [who are suffering the most]," Thomas LaSalvia, senior economist at Moody's Analytics, told Newsweek.
"At this point, with higher mortgage rates, 5 to 6 percent and potentially going higher, in addition to the 20-30 percent price appreciation, those folks are just completely out of options, for lack of a better way to put it," LaSalvia said. "And it would take either more years of savings, boosted income or a significant [price] decline for a lot of these folks to get into their first home."
But times of rising inflation, paired up with a looming cost of living crisis, don't offer a great many chances for saving money. And if you're renting a home or an apartment privately, you are likely now spending more than you used to a couple of years ago.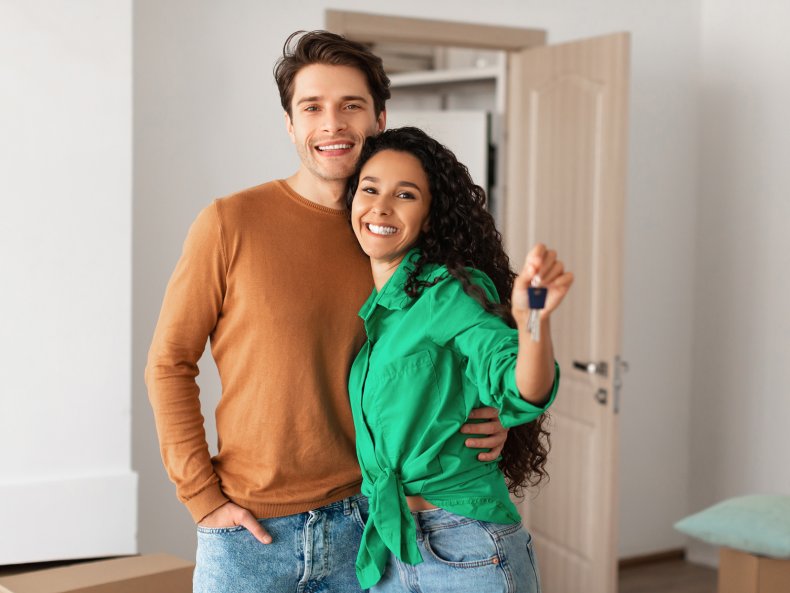 "Because of inflation, because of the issues in the single-family home affordability market, multifamily rents have been increasing substantially as well," said LaSalvia.
"So even for those that don't want a single-family house, they're still paying quite a bit more for their housing anyway. Ultimately, especially if they get into that kind of rent-burdened type of situation where they might be paying 35, 40 or 45 percent of their income for housing —that means their sacrifice is elsewhere."
In that scenario, people forced to pay high rents and make sacrifices in other areas could be left behind and find it hard to catch up when the market situation gets better.
Hypothetically, people who were not able to buy a home may be forced to pay in rent what they maybe would have spent in classes at a local college, one day enabling them to reach for a higher-income job.
"This could have long term implications, particularly for that group that is not able to achieve what many still consider the American dream," said LaSalvia. "And so that's an issue from a social perspective, right? This housing crisis, the lack of supply, which likely won't be fixed anytime soon, won't allow a lot of these younger, lower-income folks to get into a home. And as we know, homes traditionally have been a great way to build wealth. And so some of these people will lose out on that opportunity."
But not all is gloom and doom. There's a saying in economics that says you should not let a good crisis go to waste.
"Maybe, just maybe, this is an opportunity for some very entrepreneurial engineers or others to find a way to build less expensive housing and maybe put some pressure on certain states and metropolitan areas to loosen some of their zoning laws, to boost some density, which would also release some of these pressures," LaSalvia said.
Zandi suggests that potential first-time home buyers "be patient."
"The window is closed for buying a home at this point, because you still have mortgage rates that are close to 6 percent for a 30-year fixed [mortgage], which is very high by recent historical standards," he said. "This is not the time to buy it. I do expect that, two to three or four years down the road, prices will come down in the most active markets. Mortgage rates will be lower and there'll be a lot more [homes] to choose from."
"We're going to get more supply," LaSalvia added. "So I think the window for buying a home is closed, but it should open by mid-decade. But it's going to take some time. So I think, if you're a first-time homebuyer, you need to be patient and use this time to save as best you can."