Are We Heading for a Housing Market Crash? What Home Sales Data Reveals
New home sales increased by less than expected across the U.S. last month, after a slump in April, according to data released today by the Census Bureau.
Sales of new single-family houses in May were 10.7 percentage points above the revised total of 629,000 in April, when new home sales plunged 16.6 percent month-on-month to their lowest level since April 2020, as costs continued rising for both home builders and potential buyers.
May's new home sales were still 5.9 percent below the May 2021 estimate of 740,000.
Why Are New Home Sales Stalling?
First-time buyers are being squeezed out of the market, as a combination of soaring mortgage rates, the limited inventory available, soaring inflation and record-high home prices—34 percent higher now than two years ago—is hitting them hard.
Buying a house is simply not affordable for many people at the moment.
Mortgage rates are at their highest levels since 2008, after the average 30-year rate rose from 3.1 percent to 6.28 percent on June 14.
The Federal Reserve's increases in its key interest rate amid surging consumer prices is making borrowing significantly more expensive, adding pressure on housing costs and further slowing spending.
House prices are also putting many homes out of reach for buyers. The median sales price of new houses sold in May 2022 was $449,000. The average sales price in the same month was $511,400.
The global cost of living crisis is also profoundly affecting consumers' wallets, further hindering their chances of buying new homes.
Will There Be a Housing-Market Crash?
As demand fizzles, the housing market may slow significantly, leading some analysts and observers to talk about a bursting of the bubble, or even a market crash.
Mark Zandi, chief economist at Moody's Analytics, this week told a bipartisan housing policy summit in Washington, D.C.that he expects a nationwide correction from "coast to coast."
In recent years, home buyers have flocked to the market, lured by attractive home-loan rates during the pandemic. Prices soared as buyers competed for a limited number of homes on sale as the market and new-home construction took time to recover from the global financial crisis.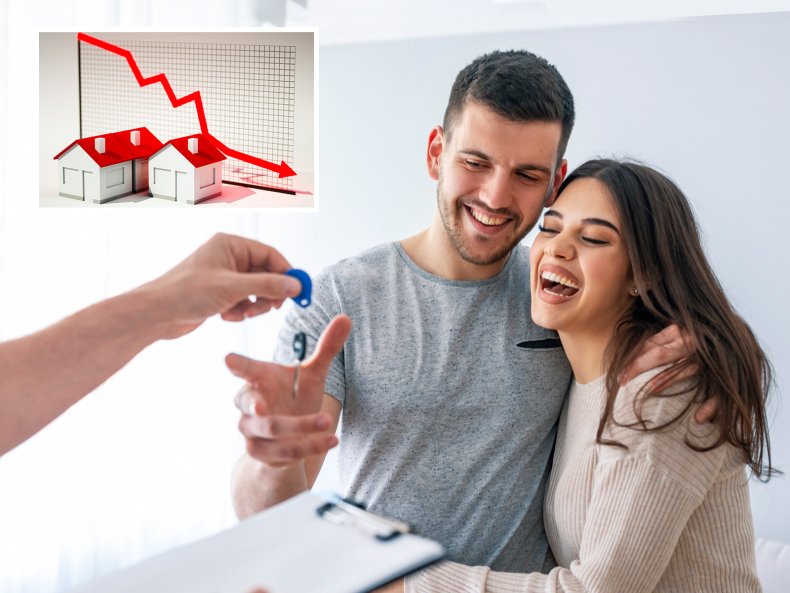 Home builders, managing the rising costs of construction and a continuous decline in buyers' demand, are getting less confident as to whether it's worth building new homes —a factor that could contribute to a further lack of supply in the market.
A crash would be the worst scenario that could come out of the current situation, and many economists doubt that the housing market is set for a similar crash to the infamous one of 2008. The sector is much more secure now that it was 14 years ago, when applicants were still able to get "no-doc loans" and they were far more likely to default.
Nicole Bachaud, an economist at Zillow, told Forbes that, "lending standards have gotten tighter and credit scores for new mortgages are much higher on average now than they were in the early 2000s."
"What's much more likely is a gradual slowdown in the pace of price appreciation where home prices continue growing, just not as fast as they are now," Bachaud added.
Homeowners and lenders are also in a much stronger situation now than they were then, with higher house prices and better levels of home equity. Both are unlikely to panic over the current slowdown.
Another potential outcome would be that the housing market "corrects" itself more gently, adapting to waning demand with the cooling down of home prices. That would allow first-time buyers —the largest group of people purchasing homes, now mostly Millennials— to start buying homes again.
Doug Duncan, the chief economist of Fannie Mae, said in a statement: "Mortgage rates have ratcheted up dramatically over the past few months, and historically such large movements have ended with a housing slowdown."
Jacob Channel, a senior economist at Lending Tree, told the New York Post that surging interest rates have already led to a red-hot housing market from the past couple of years begin to cool down.
"This current 'correction' is neither unexpected nor necessarily a bad thing — especially as it will give some buyers a bit more breathing room when they're housing hunting," Channel said.