How Does Increasing Interest Rates Help With Inflation?
The Federal Reserve announced its largest interest rate hike in 28 years on Wednesday in an attempt to battle the nation's continuing surge in inflation. Financial experts have said the key to this strategy is supply and demand.
The Federal Reserve—the nation's central bank, commonly called "the Fed"—increased interest rates by three-quarters of a percentage point. The move comes after the government released new numbers for the consumer price index that showed annual inflation moderated in April. However, the index increased at an annual rate of 8.3 percent, and the Bureau of Labor Statistics said last Friday that inflation rose 8.6 percent from a year ago, the fastest increase since 1981.
The Fed's plan, which was announced to the media by Chairman Jerome Powell, is to raise short-term interest rates to battle inflation. When discussing rising inflation, many experts point to the positive growth seen in the economy: More people have more money, but there are too few goods to buy. This results in a rise in prices.
For a better explanation of why the Fed is raising interest rates, The New York Times consulted with two experts for a story the newspaper ran on Tuesday. One was Kathy Jones, the chief fixed-income strategist at the Schwab Center for Financial Research, and the other was Edmund Phelps, a Columbia University economist. They explained that the Fed is seeking to restore a balance in supply and demand with an increase in interest rates by making it more expensive to borrow money.
In other words, the Fed's hope is that people will be discouraged from spending their money because of higher interest rates, which will decrease demand and eventually lower inflation.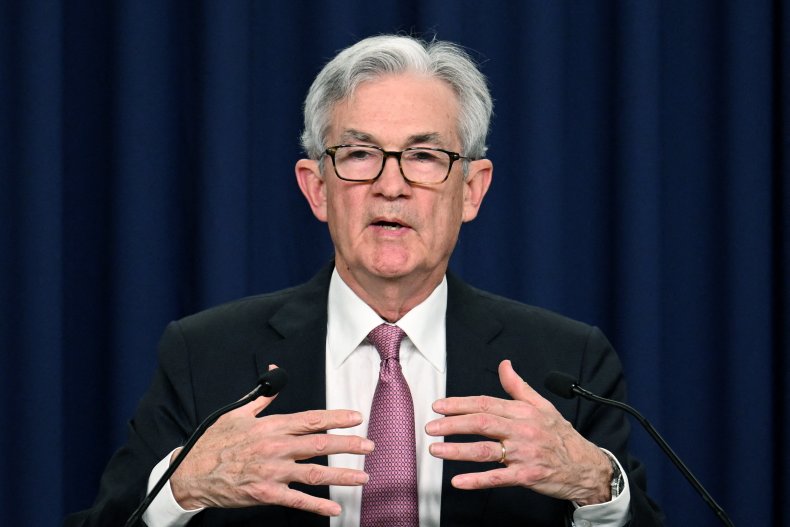 One example discussed in the Times was the recent rise in mortgage rates. While this makes it more expensive to buy a house, inflation may not be affected in the short term because of the high demand for houses, a result of the coronavirus pandemic. While the Fed's interest rate increase can't address a housing shortage, higher rates could eventually address the relationship between supply and demand in a year or more, because fewer people will be taking on new mortgages.
"By raising rates, the Fed is trying to make you slow down your spending. That happens when the cost of money goes up for a car loan or mortgage or something else you want to spend money on," Jones told the Times. "The higher cost of money reduces your purchasing power—what you can afford to buy—and the Fed is effectively making you buy less. And that should bring down inflation."
Phelps said the current economic situation is a result of "aggregate demand exceeding supply, and that's causing prices to rise." Therefore, he said, the Fed is trying to "clamp down on demand" by raising interest rates.
Jim Baird, chief investment officer at Plante Moran Financial Advisors, told Newsweek in an email that if the Fed had "announced last December that it would be raising its short-term policy rate by 0.75 percent, it might have been characterized as a 'shock and awe' action. That same announcement today is more likely to be viewed as a relief that policy efforts to beat back generationally high inflation are meaningfully—and finally—ramping up."
"Can the Fed navigate the narrow path forward without tipping the economy into recession? That remains to be seen, but it won't be an easy task," Baird said. "With long-term potential growth for the economy believed to be around 2 percent, the goal of slowing growth to below that level without pushing it below zero creates a relatively tight range for success."
He added, "Today's move is an important step in pushing back not only against inflation but leaves much work yet to be done. It will be critically important that the Fed continues to demonstrate flexibility in adjusting policy in response to changing conditions. A recession would be painful, but a failure to take the steps needed to bring inflation down would create a more sustained challenge for the U.S. economy, for American households, and for the credibility of the Fed itself."