Bank Failures Under Donald Trump Compared to Joe Biden
The collapse of Silicon Valley Bank (SVB) on Friday has led to a public debate about the role and responsibility of both former President Donald Trump and President Joe Biden in the failing of several banks during their time in office.
Donald Trump Jr. and other conservatives are blaming Biden for the collapse of the California-headquartered SVB. However, it's being pointed out that many more banks failed under Trump—though none of these organizations was as big as SVB.
"I don't remember banks collapsing under Trump... but don't worry guys it's only a matter of time till Biden/media blames him for that too," tweeted Donald Trump Jr on Sunday. He falsely claimed that no bank collapsed during Trump's presidency. "It has nothing to do with high interest rates / fed rate hikes necessitated by record inflation caused by his out of control spending."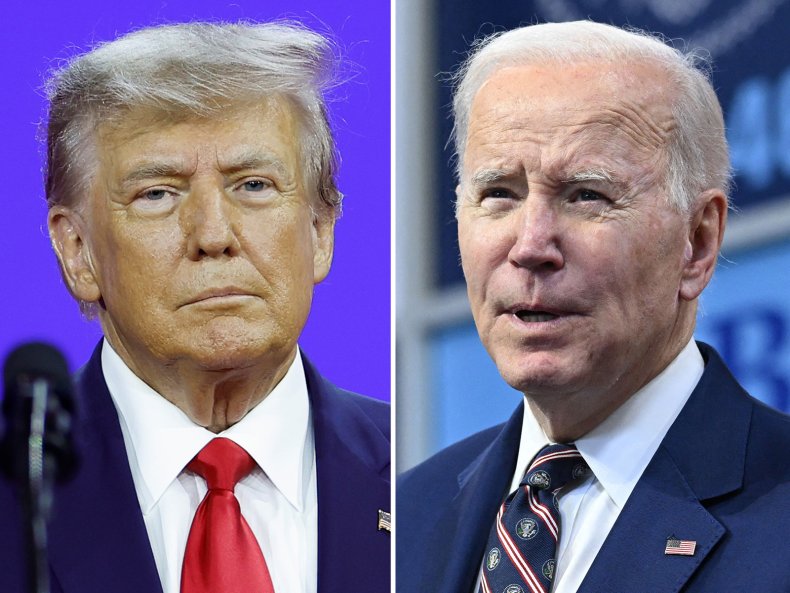 Journalist Aaron Rupar pointed out the falseness of Donald Trump Jr's statement, tweeting: "There were actually 16 bank failures between 2017 and 2020. SVB Bank is the first to collapse since Biden took office." He sourced data from the Federal Deposit Insurance Corporation (FDIC), which reports that eight banks failed in 2017, four in 2019 and four in 2020.
The eight banks that failed in 2017 were: the Washington Federal Bank for Savings, Chicago, Illinois; The Farmers and Merchants State Bank of Argonia, Argonia, Kansas; Fayette County Bank, Saint Elmo, Illinois; Guaranty Bank, Milwaukee, Wisconsin; First NBC Bank, New Orleans, Louisiana; Proficio Bank, Cottonwood Heights, Utah; Seaway Bank and Trust Company, Chicago, Illinois; and Harvest Community Bank, Pennsville, New Jersey.
In 2019, the four banks that collapsed were: City National Bank of New Jersey, Newark, New Jersey; Resolute Bank, Maumee, Ohio; Louisa Community Bank, Louisa, Kentucky; and the Enloe State Bank, Cooper, Texas.
The quartet of banks that failed in 2020 were: Almena State Bank, Almena, Kansas; First City Bank of Florida, Fort Walton Beach, Florida; The First State Bank, Barboursville, West Virginia; and Ericson State Bank, Ericson, Nebraska.
In 2018, 2021 and 2022, there were no bank failures.
The number of bank failures has dropped to relatively normal levels after spiking in the years of the financial crisis. In 2008, 25 banks collapsed in the U.S. In 2009, they were 140 and in 2010, 157. The number of bank failures gradually dropped from 92 in 2011, to 51 in 2012, 24 in 2013, 18 in 2014 and eight in 2015.
The collapse of SVB last Friday followed a run on the bank by customers spooked by the bank's liquidation of some of its assets. It used these to pay for depositors withdrawing some of their money following the tech sector's crisis. The SVB failure is the biggest after the 2008 financial crisis.
The bank's collapse has been widely attributed to a series of ill-fated investments. These include putting money into some mortgage-backed securities that suffered from the Federal Reserve's decision to hike interest rates in 2022.
But fears of contagion to the general banking sector have been staved off by the Biden administration. On Sunday, the White House announced that SVB's depositors will be able to get their money back in full as of Monday morning. On the same day, regulators also announced the closure of another bank, New York-headquartered Signature Bank. This was to avoid the collapse of SVB from sweeping through the entire financial sector.