Banksy Mural Vandalized Days After Artwork Was Confirmed Authentic
Famed anonymous street-artist Banksy is back—but it appears that not everyone is so keen on his arrival.
In an Instagram post late last week, the artist confirmed that he was responsible for a series of 10 artworks spotted in recent weeks across Norfolk and Suffolk, England, along the country's eastern coast. Titled "A Great British Spraycation," the collection is a playful ode to summer, with imagery ranging from seagulls to sandcastles.
While the collection has been mainly met with enthusiasm both on- and offline—6.7 million people have viewed the Instagram clip, and visitors have flocked to see the murals in person—at least one of the artworks has already been the subject of vandalism.
On Saturday in Lowestoft, Suffolk, security guards in the area found someone defacing one of Banksy's new works—depicting a rat sipping on a cocktail and reclining in a lounge chair—with white paint. The incident has left the East Suffolk Council "appalled," according to their statement on the matter.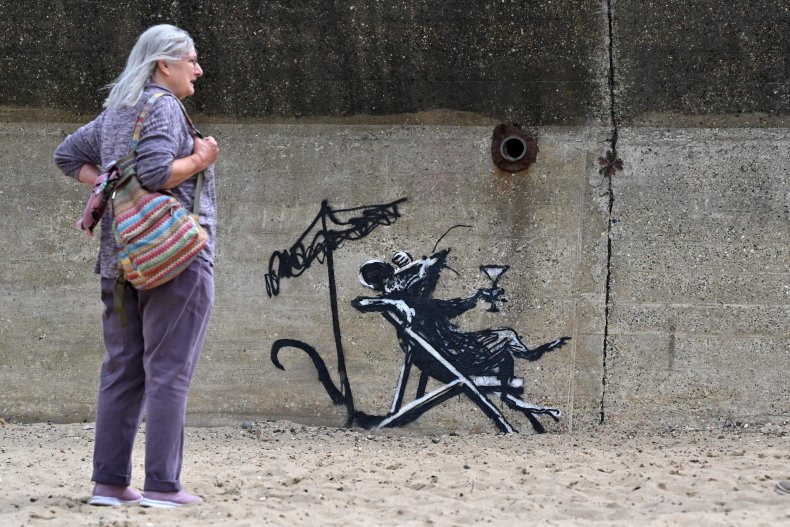 "Prior to confirmation that the works are genuine Banksy pieces, we had already placed an order for protective materials which will safeguard the works in Lowestoft and Oulton Broad," said the Council. "It is critically important that we protect the pieces with materials which are fit for purpose and we hope to complete this work shortly."
"In the interim, we have also employed security patrols to visit each site and on this occasion, our patrols actually interrupted the individual defacing this work and prevented any further damage occurring. Information from this is now being passed to the police."
They added that they "are, however, hopeful that this particular work can be restored, and are engaging with specialists."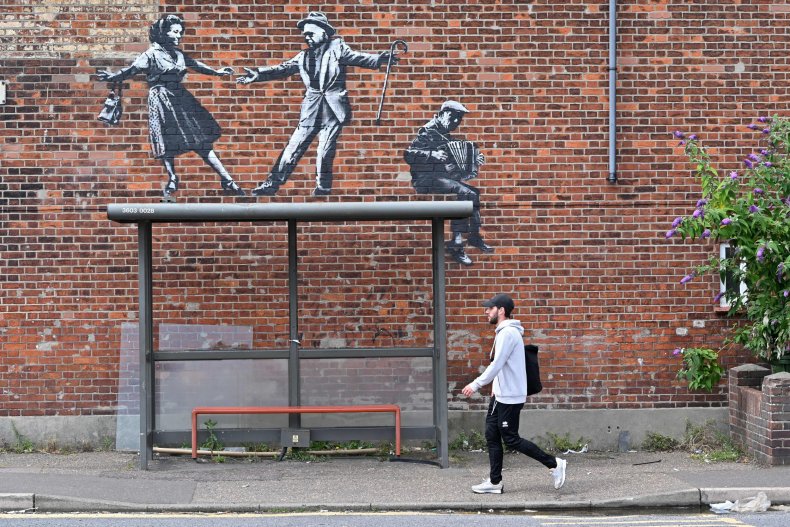 The rat mural is not alone: a piece from the "Great British Spraycation" in Gorleston—of an arcade claw hanging over several teddy bears, the latter of which many speculate were later added in by the street artist Emo—also appears to have been vandalized. To the left of the image, the name 'Emo' has been crossed out with red spray paint and replaced with the word 'ego.'
While many have been upset by the vandalisms, several more have come forward to argue that alterations to Banksy's work are to be expected—and even celebrated in their own right.
As Lowestoft resident Richard Girling told the Eastern Daily Press: "I think it is important not to put blame on someone for this."
"Even if Perspex protections are now put up around the Banksy pieces, there is nothing stopping someone setting it on fire for example. The beauty of Banksy is that his work is created ... in vulnerable locations," he explained. "They are wonderfully exposed and that is the beauty of it. Where else would you ever [see] an artwork worth millions of millions of pounds on a sea wall."
Meanwhile, one local government has taken to removing a new Banksy work entirely, citing the death of a child in 2018. The Gorleston image, featuring two children flying in the air on an inflatable boat, is said to evoke the tragedy of Ava-May Littleboy, which happened nearby. The three-year-old was thrown by an inflatable trampoline that exploded, resulting in a fatal head injury.
In a statement, reported by BBC News, the Great Yarmouth Borough Council announced that the piece has been "covered over"—though they are "confident" that "the work can be restored" and "placed in a more suitable, alternative location" at some point in the future.
"In light of the tragic fatality of a child in 2018 which involved an inflatable not far from the yacht pond at Gorleston, the illustration at that location has been removed," explained the council. "Council operatives, acting in good faith, and aware of the local sensitivities, arranged for it to be covered over as part of their normal inspection and maintenance regime of the yacht pond."
They added: "We thank Banksy for all the wonderful art work and fully appreciate these circumstances would not have been known by the artist."
Banksy has yet to speak on the varying controversies resulting from his latest series—but it's hardly the first time the artist's work has sparked widespread conversation.
In 2018, a Banksy piece notoriously self-destructed moments after it was auctioned off for over $1 million. Its frame had been outfitted with a shredding device that would activate if the artwork was ever sold. Regardless, the buyer went ahead with their purchase of the piece, suspecting that the shredding actually increased its value.