Million-Dollar Banksy Artwork Shreds Itself Moments after Being Sold
Street artist Banksy appears to have pulled off his most jaw-dropping trick yet—having one of his million-dollar paintings shred itself moments after it sold at auction.
On Friday night, the "Girl with Balloon" painting sold for $1.12 million to a telephone bidder. Add in buyers permission, and the total cost would rise to $1.37 million. But Banksy—whose real identity remains anonymous—had fit the frame with a shredder that would activate once the painting was sold.
It was auctioned at Sotheby's, in London. After the painting self-destructed, senior director Alex Branczik told the audience: "We've just been Banksy'ed." "We have not experienced this situation in the past," Branczik said, according to Financial Times. "...where a painting spontaneously shredded, upon achieving a (near) record for the artist. We are busily figuring out what this means in an auction context."
Sotheby's and the buyer are now discussing whether or not the sale will go ahead. Despite the painting technically being destroyed, there was speculation the painting (or what's left of it) could now be worth even more. Sotheby's issued a statement saying it was discussing options with the buyer. "We have talked with the successful purchaser who was surprised by the story. We are in discussion about next steps."
Banksy uploaded a photo of the prank on his Instagram account, accompanied by the caption: "Going, going, gone…" It's received more than 150,000 likes. Girl With Balloon first appeared on a wall in Great Eastern Street in London.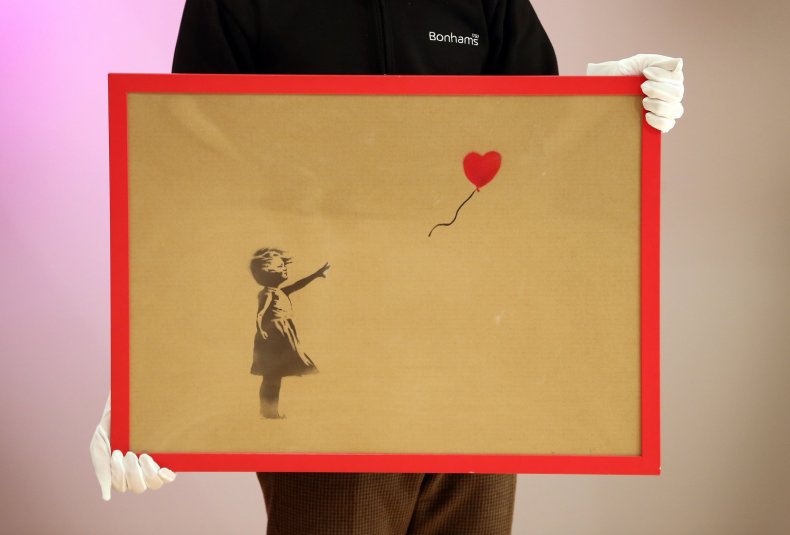 In August, a Banksy exhibition was held in Russia—only Banksy had nothing to do with it. The street artist posted a conversation between himself and a friend saying "what the hell was that?"
The exhibit organizers said his response was a compliment. The exhibit was expected to welcome 300,000 people from July to the end of September.
In a conversation with an unnamed person, Banksy said he "wishes he could find it funny," but admitted he would never "charge people to see my art unless there's a fairground wheel." People online responded to this logic, agreeing that charging people to see the exhibit was an affront to everything the British street artist's reputation represented. Many of the commentators disagreed and said that the exhibit was something they enjoyed and thought charging people to see his art only pushed the exhibit further.