Banksy Trends on Valentine's Day After Artist Claims New Mural in England as His Work
Banksy is the artist behind a new mural that surfaced on the side of a home in the southwestern city of Bristol in England this week, according to a Valentine's Day post on his official Instagram account.
The artist's Instagram account posted two images of the piece, featuring a stencil work of a child holding a slingshot up towards an explosion of bright red flowers, which form a relief work protruding out from the wall, at around midnight.
He also posted an image of the new artwork to his website.
The latest work of the famously mysterious artist has already garnered much attention, with locals in the Barton Hill neighborhood paying a visit to the site on Marsh Lane, the street where the work is located.
"As it's Valentine's Day, it's really special and to have it in 3D with the flowers is incredible," Kelly Woodruff, the daughter of the owner of the home, told BBC News. "There's so many people coming and enjoying it, taking pictures, it's fantastic."
The Marsh Lane street sign also formed part of the artwork, adorned with some red flowers which have since gone missing, Woodruff said.
In an attempt to help preserve the work she had placed a plastic screen over the flowers and street sign on Thursday. But the screen has also disappeared with the flowers.
"My slight worry is, we've got Storm Dennis coming on the weekend, so I really want to try and protect the roses," she told The Guardian.
Local resident James Bullock reportedly spotted scaffolding on the wall of the home when he walked past it around 6:20 a.m. local time on Thursday, according to The Guardian.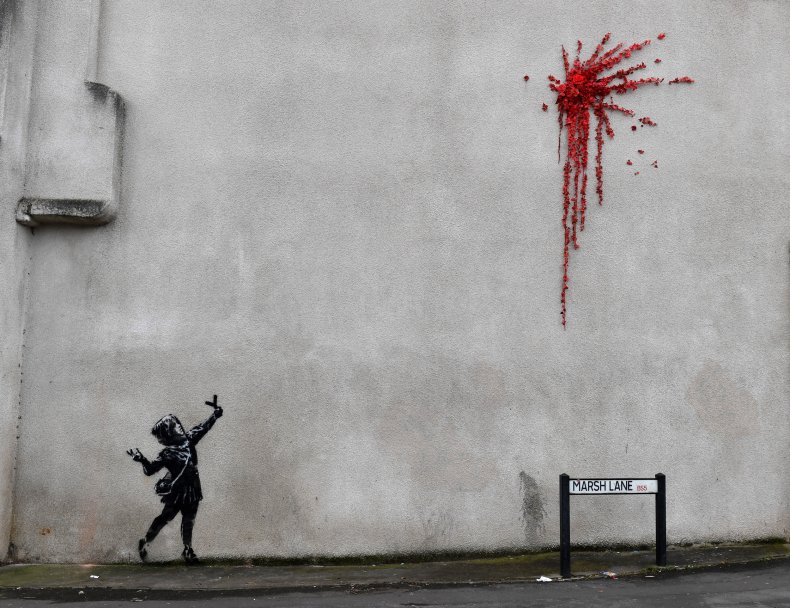 The new work first surfaced Thursday on social media in a Twitter post by the Bristol Somali Community Association, which said: "Today in Barton Hill, we woke up with this remarkable mural art painted on one of the houses of the area.
"We hope it's Banksy's work. Come and have a look yourself. Whoever painted, it's worth admiring their creativity. Thank you."
Several fans of the artist have taken to social media to share their selfies with the work as well as their interpretations of it and the term "Bansky" has been trending on Twitter.
"New Banksy in Bristol. Confirmed as him yesterday. Another masterclass in how to get people to stop and listen. How do we communicate environmental issues, in a way to open minds to listen?" wrote @girlsreallyrule.
"Banksy plays with violence and innocence in Valentine's Day graffiti #MyStreetInspiration," wrote @bestforstreet.
"Thank you for sharing your story #banksy," wrote @ShashanaBrown.
"Banksy you amaze me every time," wrote @hol0801.
"I think #Banksy is trying to tell us something," wrote @JennytheM.
Last July, footage from 2003 of a man claiming to be Banksy, who is believed to have emerged from the cultural scene of Bristol, caused a stir.
The footage features an interview with a man pictured stenciling a black insect onto a wall and painting a picture of a baby with blocks spelling "KILL MORE," both of which are pieces that have been attributed to Banksy previously.
The man, who has a clear Bristol accent, wearing a baseball cap and with a T-shirt pulled over his lower face briefly spoke for a few seconds. His eyes, eyebrows, and forehead could be seen.