Racial prejudice and emotional learning are just two of the many "prohibited topics" cited as "impermissible" by the Florida Department of Education (FLDOE), which has announced why it banned 41 percent of new math textbooks.
Citing a wave of requests for examples of the "problematic elements" that led the FLDOE to ban all those math textbooks, the department issued a list of examples that "presented no conflict" in being shared with the public.
Under an exercise supposed to be teaching students about polynomials, a kind of mathematical expression, the first few words introducing the teaching instructions are highlighted as guilty of mentioning the FLDOE's "prohibited topics."
"What? Me? Racist?," read the instructions, before mentioning that the students will be working with a mathematical model measuring bias that has been used by over two million people to test their racial prejudice through the Implicit Association Test.
Another example provided by the FLDOE mentions the Implicit Association Test again, this time showing two graphs providing the results for racial prejudice by age and by political identification.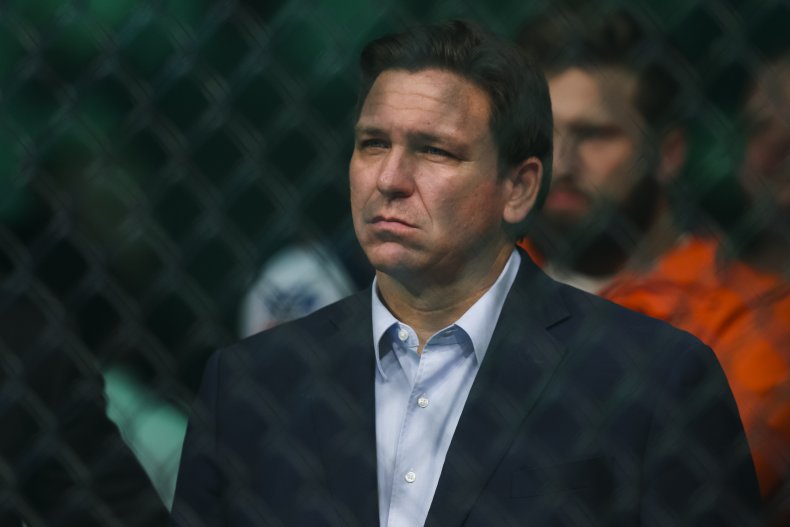 Two other examples provided cite Emotional Learning—including "build proficiency with social awareness" and "practice with empathizing with classmates" among the students—as proof of the math textbooks' alleged attempt at indoctrinating the pupils, as the FLDOE said.
One example talks of building students' agency "focusing on students' social and emotional learning."
Last Friday, the FLDOE announced in a press release that it is rejecting 54 of the 132 new math textbooks submitted for approval this year—the highest number of banned textbooks in the state's history. The press release was titled "Florida rejects publishers' attempts to indoctrinate students."
According to the FLDOE, what made them reject all these books were references to Critical Race Theory, inclusions of Common Core, and "the unsolicited addition of" Social Emotional Learning. Some books simply didn't match Florida's Benchmarks for Excellent Student Thinking, a set of standards set by the state.
Critical race theory is an academic theory developed in the 1980s that analyzes systems, institutions and power in the U.S. through the lens of what it says are historical racial biases that have influenced society and persist to this day in many forms.
The theory has become a key topic of the so-called culture wars, especially discussed in school classrooms.
Republican Governor Ron DeSantis accused some publishers of attempting "to slap a coat of paint on an old house built on the foundation of Common Core, and indoctrinating concepts like race essentialism, especially, bizarrely, for elementary school students."
DeSantis issued an executive order in 2019 eliminating Common Core—a national set of reading, writing and math standards—in Florida schools and replacing it with Florida standards.
On Monday, DeSantis tweeted: "Math is about getting the right answer, not about feelings or ideologies. In Florida, we will be educating our children, not indoctrinating them."
The FLDOE said it's giving publishers the chance to "remediate all deficiencies identified during the review" and make amends "to ensure the broadest selection of high quality instructional materials are available to the school districts and Florida's students."
The publishers affected by the FLDOE's rejections are Accelerate Learning, Bedford Freeman and Worth Publishing Group, Big Ideas Learning LLC, Cengage Learning, Houghton Mifflin Harcourt, Math Nation, McGraw Hill LLC and Savvas Learning Company LLC.
DeSantis has also taken aim at Disney recently for its public opposition to a new Florida education law that critics have dubbed the "Don't Say Gay" law.
Newsweek has contacted the FLDOE and the affected publishers for comment.