DeSantis Critics Seek Examples of Critical Race Theory in Rejected Textbooks
Florida Democrats are demanding specific examples from Republican Governor Ron DeSantis and the state's Department of Education (FLDOE) after dozens of school math textbooks were rejected over alleged references to critical race theory (CRT).
DeSantis' administration announced Friday that it rejected 54 out of 132 math books submitted for state review for containing "prohibited" materials, such as CRT and Common Core standards. The Republican-led state has some of the nation's strictest rules outlawing those academic frameworks in public education, and claimed the rejected textbooks were attempting to "indoctrinate" students.
Now, several Democratic lawmakers and Florida residents are challenging the administration to provide examples of how the textbooks contained controversial topics.
Florida state Representative Anna V. Eskamani, who is leading an effort to find examples, told Newsweek on Monday that the education department's decision created "drama and controversy where there is none."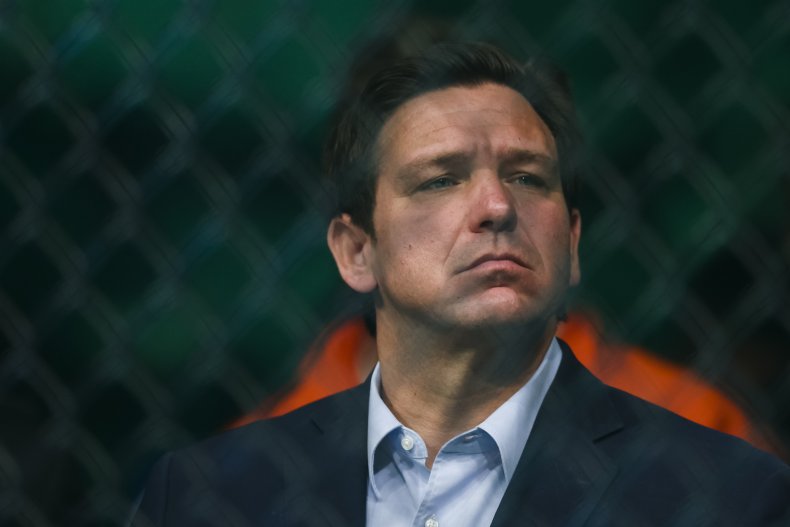 Eskamani also tweeted Monday that she requested a full list of textbooks that had been applied for review, as well as those that were approved, in order to find which ones were rejected.
Gregory Sampson, who identifies himself as a "long-time Jacksonville teacher" on Twitter, responded to Eskamani's list by requesting a detailed look at the education department's objections.
"It's the usual publishers and the usual titles on the lists. What we need to know are the specific reasons for the rejected titles along with specific citations of what the book had that the Department found objectionable," he wrote.
Other Twitter users noted that searching for examples may yield few results, with speculation that the education department had no justification to reject the books and will therefore fail to provide its reasoning.
"You know they have nothing. They wouldn't be hiding what these books are if there was any truth to this. Plus you and I both know CRT is not taught in elementary schools in Florida," wrote one Twitter user.
Another user questioned: "Why can't we get examples? Is it a copyright thing? This whole thing is meaningless banter without actual examples from the books that are rejected."
Meanwhile, another speculated whether the accepted books had any connections to DeSantis' donors.
"Is DeSantis getting any kickbacks from publishers of accepted books? Any links to his donors?" the user wrote.
Florida state Representative Carlos G. Smith on Monday accused DeSantis Press Secretary Christina Pushaw of deflecting questions about the rejected textbooks by zeroing in on an example of math homework in another state.
"#DeSantis had three days to provide basic info on the 54 math books he banned from schools for allegedly 'indoctrinating' kids with CRT. The best his propaganda machine could do was deflect to a Missouri district that apologized for a homework assignment they didn't approve," he wrote.
Others criticized DeSantis' administration by leaving comments below news reports. Several users demanded that the governor release the reasoning behind the objections in the comments section of Florida Politics, a media outlet focused on government and policy in the state.
"Releasing the specific examples that disqualified the books would allow us to know if the rationales made sense, or as is far more likely, expose the hate, corruption and lies inherent in the process," wrote one Florida commenter.
In response to the criticism, DeSantis' office on Monday pointed Newsweek to a statement from the education department, which defended its process for only accepting books that align with Florida's educational standards.
"This process is not new, in fact it is outlined in Florida Statutes and State Board of Education rule. This is also not the first time books have been rejected. However, it is the first time that 41% of books submitted failed to meet Florida's lofty standards for math instruction," Florida Department of Education press secretary Cassie Palelis said.
"Prior to submitting materials for adoption, each publisher receives guidance through specifications provided by the Florida Department of Education. The specifications outline the standards the materials are expected to meet," she added.
Pushaw added that the textbook content is property of the textbook publishers and therefore cannot be published by the state without their consent.
"If FLDOE reviews a textbook and decides not to purchase it for use in Florida schools, because it doesn't align with state standards, the content of the textbook is still the property of the publisher and cannot be published by the state of Florida without the consent of the publisher that owns it," the DeSantis spokeswoman told Newsweek.
Pushaw also noted that she shared examples of CRT references in math textbooks across other states, adding that "the same inappropriate political content would be injected into Florida classrooms if not for the laws and standards around adoption of instructional materials in our state."
CRT has become a hotbed issue across Republican-led states and education departments in recent years. Florida is one of several other states, including Arkansas, Idaho and Oklahoma, that have moved to ban the teaching of CRT in school classrooms.
The academic theory tracks the ways in which the "color-blind racism" of the post-civil rights era entrenches racial disparities, discrimination and disadvantage among Black, Brown and Native American communities without ever explicitly using the language of "race," according to Kendall Thomas, a law professor at Columbia University. Opponents of CRT have argued that it teaches students to harbor guilt or hate toward the country, with DeSantis previously calling it "really toxic."
Similarly, DeSantis moved to eliminate Common Core standards across Florida in 2020. Common Core is a federal educational initiative that describes what K-12 students in the U.S. should know in English language arts and math. In recent years, Republicans have rejected the initiative in part by claiming that states should have more of a say in educational curriculum than the national government.
"It seems that some publishers attempted to slap a coat of paint on an old house built on the foundation of Common Core, and indoctrinating concepts like race essentialism, especially, bizarrely, for elementary school students," DeSantis said while announcing the rejection of the math textbooks last week.
Update 4/18/22, 4:21 p.m. ET: This story has been updated with additional information and comment from the office of Governor Ron DeSantis.