Banner Calling for Andrew Cuomo to Be Removed From Office Flown Over New York Capitol
Another call for New York Governor Andrew Cuomo to step down appeared over the state Capitol on Wednesday following the release of a report stating that he sexually harassed women.
A banner reading "THE REPORT IS IN, REMOVE CUOMO NOW" was flown over the Albany building on Wednesday. The banner was commissioned by UltraViolet, a national women's group.
"In case that report didn't make it clear to everyone, we wanted to make sure that message was very clear. That message is now written in the sky across Albany that Cuomo must be removed from office," Bridget Todd, UltraViolet's director of communications, told Newsweek. "We want there to be no confusion."
Nicolaas Guaderrama, a producer with Fox35, posted a photo of the plane on Twitter.
The flyover comes just one day after New York Attorney General Letitia James announced the completion of a months-long probe into sexual harassment allegations made against Cuomo and released a 168-page report detailing its findings.
"The independent investigation has concluded that Governor Andrew Cuomo sexually harassed multiple women, and in doing so violated federal and state law," James said at a news conference.
The report detailed the allegations of 11 complainants, nine of whom are current or former New York State government employees. The report also found that Cuomo and his senior staff took actions to retaliate against at least one former employee who accused him of inappropriate behavior.
Cuomo denied the findings in a taped response and published an 85-page rebuttal from his private attorney on his government website.
"First, I want you to know directly from me that I never touched anyone inappropriately or made inappropriate sexual advances," Cuomo said in a video message. "I am 63 years old. I've lived my entire adult life in public view. That is just not who I am and that's not who I have ever been."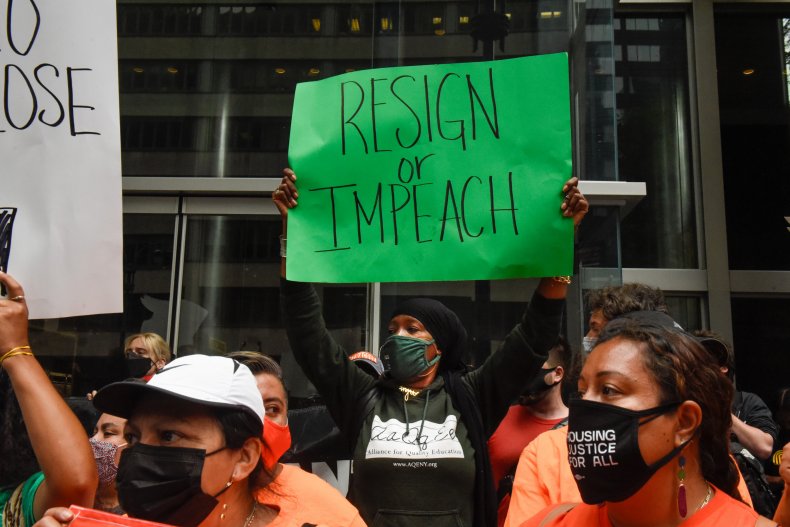 The investigation was civil in nature and doesn't have criminal consequences, James said at Tuesday's news conference. But one of the investigators, Annie Clark, said that prosecutors can use the report to decide if further action is warranted.
Prominent Democrats, including President Joe Biden, House Speaker Nancy Pelosi and Senate Majority Leader Chuck Schumer, have called for Cuomo to step down. Some state legislators are discussing the potential for impeachment if Cuomo doesn't resign.
Others are calling for criminal charges to be filed against the governor.
"Yeah. If you assault a woman, if you do something against her will, sexually, that's criminal," New York City Mayor Bill de Blasio told CBS News. "And the Albany district attorney is looking at that and I think he should be charged."