Banksy Is Working From Home With Rats and His Wife Is Not Happy About It
Banksy continues to spread his graffiti-inspired artwork even while sheltering at home as the coronavirus COVID-19 continues to spread through the United Kingdom.
On Instagram, the England-based street artist shared new artwork, this time created in his bathroom. Banksy's latest depicts rats—a recurring theme in his work—rampaging across his bathroom, spilling toothpaste, scattering toilet paper and peeing all over the seat.
"My wife hates it when I work from home," Bansky captioned an Instagram post, highlighting his bathroom's mischief of rats. What, you didn't know a group of rats is called a mischief? Well now you do. Moving on.
The rat art is a return to his roots for Banksy, who has cited French street artist Blek Le Rat—who spread stenciled rats all over Paris—as an influence. Bansky began his own career similarly, stenciling rats all over England alongside phrases like "Our Time will Come." Downtrodden, persistent and uncontrollable, Banksy's rats have become symbols for anti-establishment sentiment and the durability of anti-capitalist and anti-war resistance. Rats stand alongside apes, police, soldiers and children in the Banksy pantheon.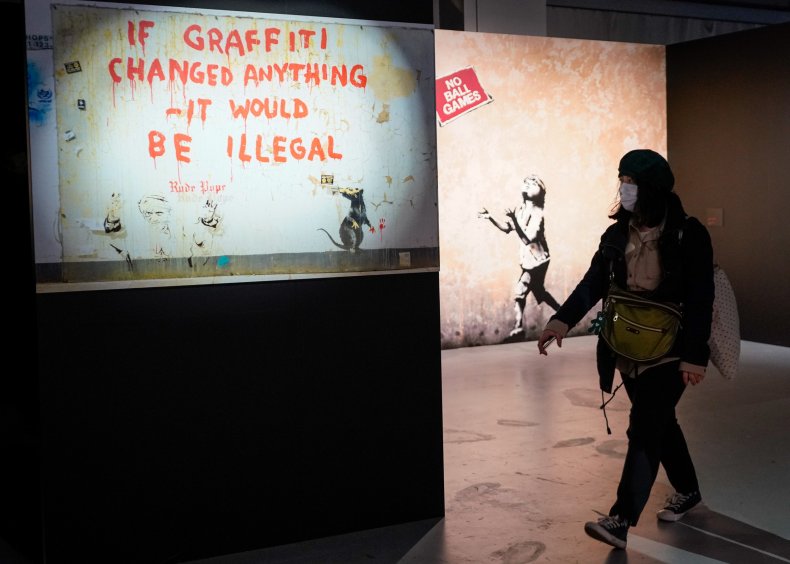 Banksy is widely believed to be the pseudonymous identity of Robin Gunningham, 47, whose movements have tracked with the locations of new Banksy graffiti artworks, according to a geographic profiling study conducted by Queen Mary University of London. But despite intense media interest, Banksy's identity continues to be—at least officially—a mystery.
In 2019, newly unearthed footage from 2003 may have further revealed Banksy, featuring an interview with a man hidden behind a t-shirt pulled over his face, who claimed to be the secretive artist. In the interview, the artist is occupied with a new painting of a baby spelling the words "KILL MORE" in alphabet blocks, a piece later attributed to Banksy.
Banksy's bathroom rats join other recent artwork by the street artist, including a mural in Bristol, England revealed on Valentine's Day this year.
Banksy's bathroom rats not only overlap with the repeat themes from the artist, but also underline the nature of plague itself, which has often been associated with the long-tailed rodents. Except, in this instance, his rats are in the same boat as us, marking off the days in the ongoing shelter in place quarantine.
While establishing his reputation with street art, Banksy has since become an auction fixture, with his work selling for millions of dollars on collectors' markets. In 2019, a Banksy painting depicting the U.K. parliament as monkeys sold for $12.2 million in London.