'The Bar Is Low': Woman's 'Green Flags' in Man's Apartment Sparks Debate
A woman has ignited a debate online after she highlighted a series of "green flags" in a man's apartment in a viral TikTok video, garnering mixed reactions from viewers.
The clip, which is captioned, "Two thumbs up for this guy #greenflags #greenflagsinmen #datinginsf #sfdating #datinginyour20s #dating #datingstory," has been viewed 2.6 million times and liked 278,700 times since it was shared on March 21.
A Pew Research Center survey found that most adults surveyed, who are currently single and actually looking for a relationship/dates, revealed that it's been more difficult during the pandemic when it comes to dating. In addition, seven in 10 respondents revealed their dating life isn't "going well."
The 15-second clip was shared by TikToker @discoveringdevin, or Devin, who posts about her dating experiences. In the video, she recounted a series of "green flags" in a man's apartment that she's presumably dating.
Red flags are usually things to look out for while green flags are positive identifiers about a person one is dating.
The video, which is accompanied by music, started with the TikToker lying in a man's bed. "Green flags in this guy's apartment," the screen read in text overlay that was also said out loud.
The TikToker held a hand to her mouth as she looked off and then toward the camera, which zoomed in. She then looked up and gave a thumbs up.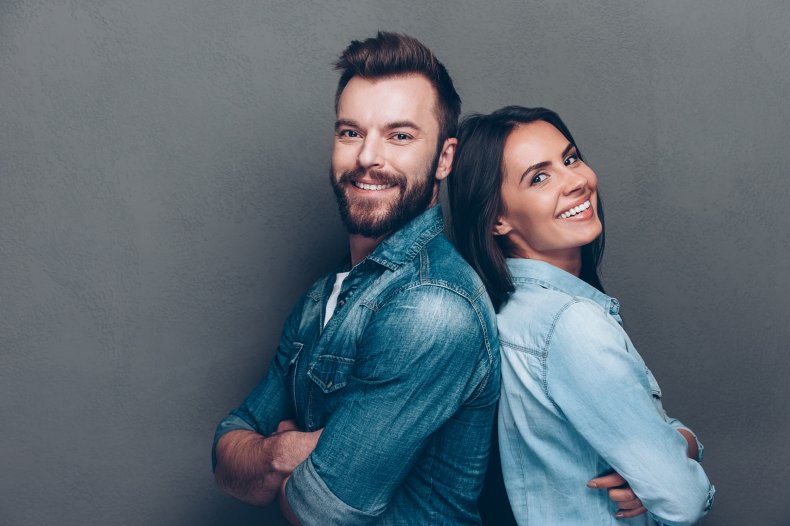 The first thing the woman highlighted was a black coffee maker and different beverage options in a canister. "Nespresso machine plus nice selection of pods," the screen read as the woman gave it a thumbs up.
Next up were two plants in white pots growing on a window sill. "Thriving plants," the screen read, which the TikToker yet again gave the screen a thumbs up.
She also highlighted the man's bed frame, which was accompanied by white sheets. She gave the setup an additional thumbs up as well.
The final green flag was an empty bottle of Aviation American Gin, which was once co-owned by actor Ryan Reynolds. The bottle was displayed on a shelf and the TikToker gave the screen a thumbs up. "A Ryan Reynold's supporter," the screen read.
However, in a follow-up video, the woman revealed the "red flags" in the man's apartment as well, which included four laptops, a woman's ring, and books on expecting a child.
Over 1,100 comments came in over the viral clip showcasing the green flags, and a debate ensued over the things the TikToker chose to highlight.
One TikToker agreed that "thriving plants" are a "good green flag," adding, "My wife and I have plants, and they're awkward as hell and half-dead."
Another person honed in on the man's bed frame. "Why are bed frames so important?" they asked. "It's not [like] we are living outside with snakes on the ground to avoid."
Meanwhile, a TikToker had questions for men. "Boys," they said. "Is this all it takes? The bare minimum?" The creator of the clip replied back saying, "Some boys can't even do this."
Another viewer thought women need to raise their "standards," adding, "It's sad that a bed frame and headboard are positive qualities. What grown man doesn't have a bed frame?"
Some weren't so sure about who lived in the apartment with the man, however. "There's no way a woman doesn't also live there," a TikToker said.
Still, others found additional green flags and pointed them out. "And white pillows and sheets," a viewer said with applauding emojis.
Other comments included "Man the bar is low," "He's a keeper man," and "Marry him."
Newsweek reached out to TikToker @discoveringdevin for comment.
This isn't the only viral moment involving dating. A woman recently mistook the meaning of the word "bibliophile," and brought a bible with her on a date. In another viral post, a man told his Tinder match she's "not hot enough" to take on a date. In addition, a man laughed at his date who said their dating goal was marriage.