Internet Slams Man for Laughing at Date Who Said Goal Was Marriage
The Internet wholeheartedly disapproves of a man who laughed at his date after they told him their dating goal was marriage, and the conversation was recounted in a now-viral Reddit post.
The post, titled, "Guy laughed at my face when I said my goal from dating is marriage," has been upvoted 11,900 times since it was shared Wednesday in the subreddit "True Off My Chest."
According to Statista, the current number of online daters in the United States amounts to 50.8 million. The website also reports the most popular online dating app in the country by audience size is Tinder, and 77 percent of dating users went on a date with someone they met online in 2019. The number of users who wanted to find exclusive partners amounted to 54 percent as of last year.
Redditor @throwaway753467 shared the short post, revealing they went on a date that day with a guy they met on a dating app. During the conversation, which they replayed, the original poster (OP) asked: "What is your goal from dating?"
The man replied back saying, "I don't know, just trying to get to know new people I guess, you?"
The OP told him their response: "Marriage."
This prompted the man to "burst out laughing" in the OP's face, as he questioned, "Seriously?"
The Redditor assured him that was the case, asking what was funny about that.
He responded, "I'm not interested. I was just looking for some fun."
The OP continued: "I felt so humiliated as people around us heard the conversation as he was so loud. I left the place with tears in my eyes. I'm still crying. I feel so humiliated and unworthy. Not because he doesn't want marriage, but because he laughed at my face about it and humiliated me."
The Redditor also revealed in a comment that they put the details in their profile, so they had assumed their date read it beforehand. "But evidently, he didn't bother reading my profile," they said. "Next time I won't go out with anyone from a dating app without making sure they read my profile."
More than 1,500 comments poured in over the Reddit post, and people have a lot of sympathy for the OP.
Some people had a similar outlook on dating as well. "It's probably the first thing I want to check when I start talking to a date," a Redditor pointed out. "If we're not looking for the same thing, it's a deal-breaker."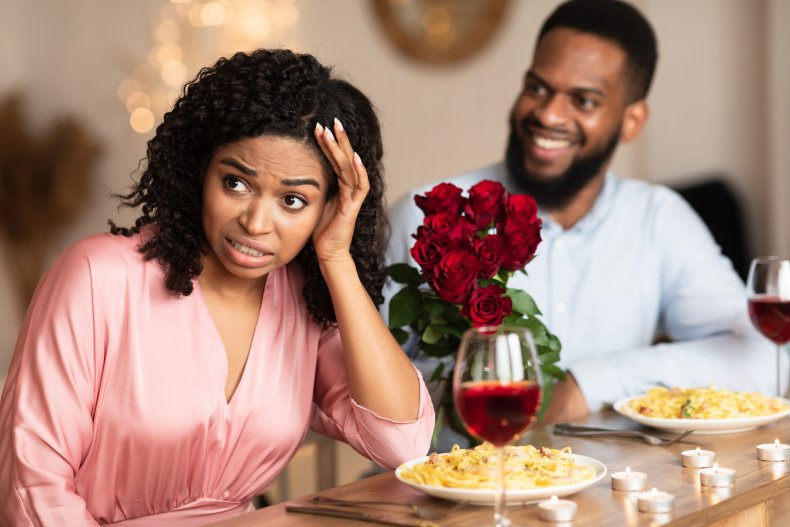 Some people didn't mince words. "You dodged a bullet there!" a Redditor explained. "F**k him."
Another Redditor thinks the person who should be embarrassed is the OP's date. "He could have been a normal person and just said he isn't looking for anything serious," they said. "What kind of loser laughs about you wanting to get married?"
Another person also thought the OP "dodged a bullet," arguing the man was "clearly only looking to hook up with girls. Keep asking that question, and leave any guy on the spot that doesn't answer to your satisfaction. Your time is valuable."
A Redditor thinks it's more than likely that anyone listening to the conversation "felt for you and wanted to slap the s**t out of him for being a total d**k. I'm sorry you went through that, but anyone around wasn't judging you."
Others had comments like, "Wait, is marriage not the normal goal of dating," and "His opinion is unimportant. But the public humiliation was uncalled for. At least you know you ain't marrying this a**hole."
Another commenter called the OP's date an "insecure jerk" that they "don't need around," adding, "That being said, he sounded nervous and thought he was being 'cool and funny.'"
One Redditor thinks the OP's date "sucks." They also believe the poster deserves better. "It's good you had this conversation this early and found out this early what type of person he is without having to waste more time on him," they clarified.
Redditor @throwaway753467 told Newsweek: "What I can say about it now is that I'm so glad I had that conversation with him right then rather than waste my time and emotions on someone who is not looking for the same thing as I am. Him laughing at my face about it and trying to belittle me told me all I needed to know about him."
They continued: "Had he read my dating profile, he would have known before even meeting up what my goal from dating is as I have explicitly specified it on my profile that my goal from dating is marriage, and that I'm not interested in hookups or anything casual. Next time I talk to a guy from a dating app, I'll have this conversation before a first date even takes place, as evidently, guys like him don't bother reading profiles."
That's not the only viral Reddit post dedicated to a dating mess. One woman brought a Bible with her on a date after she mistook the meaning of the word "bibliophile." In another dating mishap, a man was shot by an air rifle by his date. In addition, another man was backed online after his Tinder date stood him up, calling him "too fat."