Former President Barack Obama is blasting "crazy conspiracy theories" and "truth decay" in a new interview with the BBC.
"It's gonna take more than one election to reverse those trends," Obama said in Wednesday's interview.
Obama specifically cited examples of people claiming President-elect Joe Biden, who was Obama's vice president, as a "socialist" and former Democratic presidential nominee Hillary Rodham Clinton, who was a secretary of state under Obama, as being "part of an evil cabal that was involved in a pedophile ring."
"There are millions of people who subscribe to the notion," Obama said. "What's been interesting—and obviously sad—during this election is that that kind of lack of fidelity to the truth has consequences when it's being promoted by the most powerful elected official in the country."
In the 30 minute interview, Obama discusses his time in office and his long-awaited memoir with historian David Olusoga.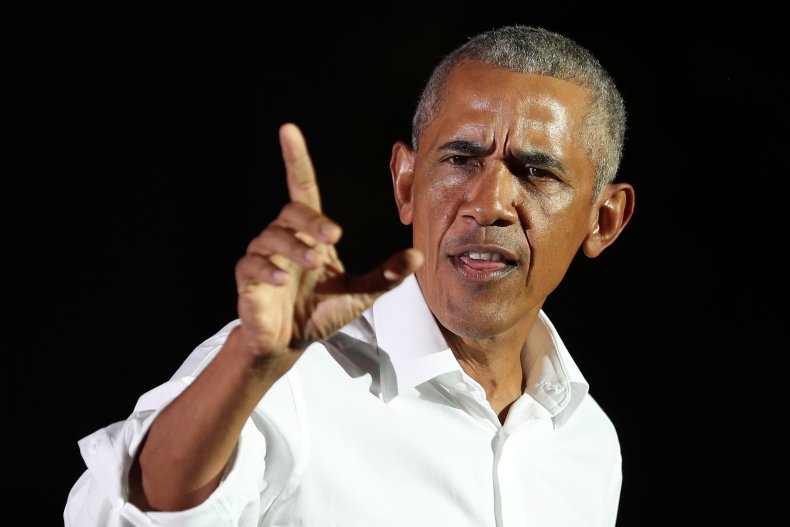 Obama, who was a top campaign surrogate for Biden this fall, has been an outspoken critic of President Donald Trump, who has blocked transition efforts by Biden.
In his BBC interview, Obama expressed frustration at the country's political state.
"We are very divided right now—certainly more than we were when I first ran for office in 2007 and won in 2008," he said. "Even more divided than when I ran for reelection in 2012 and more divided than we were four years ago when Donald Trump won the presidency.
"Some of that is attributable to our current president who has actively fanned division, because he felt it was good for his politics," Obama added.
Trump has long been an adversary to Obama, initially growing his political profile by promoting the false "birtherism" conspiracy theory that Obama isn't a United States citizen.
Obama, 59, has kept a relatively low profile since leaving office four years ago, but his new memoir and interviews with former first lady Michelle Obama have renewed interest.
"The notion that if we are persistent and hopeful we can make things better ... I think is what propelled me to politics and it's what I saw on display this summer," Obama said. "America is full of flaws and contradictions, and yet, despite the cruelties and the obvious violations of our professed ideals—slavery, Jim Crow, the treatment of Native Americans, the internment of Japanese people during World War II and so forth—this remains an experiment that matters not just for Americans but for the world."