Barack Obama Doesn't Follow Election Polls, Says 'Didn't Work Out Last Time'
In his Biden campaign rally debut, former President Barack Obama on Wednesday revealed that he doesn't follow election polls over accuracy concerns.
"We cannot leave any doubt in this election," Obama said at the Pennsylvania event. "We can't be complacent. I don't care about the polls. There were a whole bunch of polls last time [that] didn't work out."
President Donald Trump has trailed behind is Democratic nominee Joe Biden in every national poll released this month, according to data maintained by FiveThirtyEight and RealClearPolitics.
In a new YouGov poll released Wednesday, Biden led Trump by nine percentage points among likely voters nationally. A series of recent statewide polls have also shown the Republican losing control of solidly red states. The latest Quinnipiac University survey had Biden and Trump tied in Texas among likely voters, a state that the Democratic Party has not won since 1976.
But Obama encouraged the crowd not to rely on the polling results and to go out and vote.
"A whole bunch of folks stayed at home [in 2016], and got lazy and complacent," he said. "Not this time. Not in this election."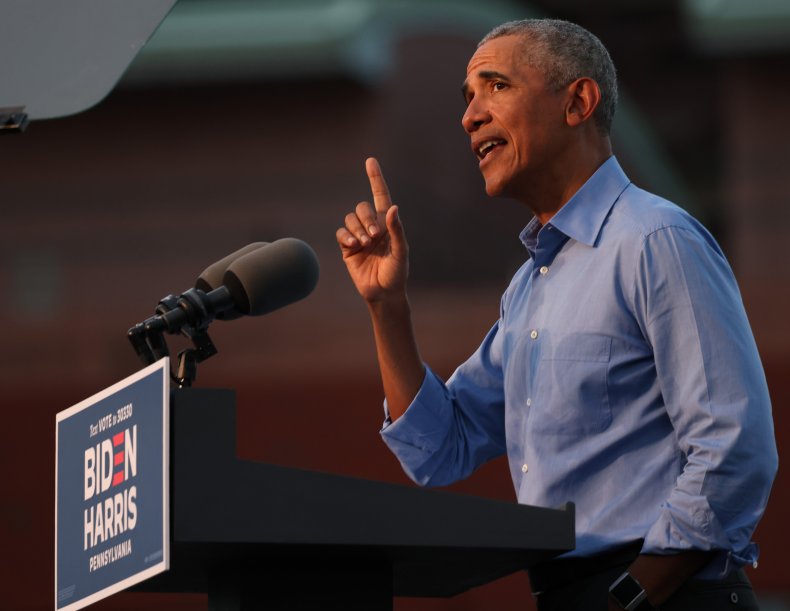 The former vice president spent a large portion of his speech condemning Trump's presidency and making the case for Biden's campaign. He began by referencing the Republican leader's recently uncovered Chinese bank account.
"Turns out, this was just reported in the last 48 hours, we know that he continues to do business with China. Because he's got a secret Chinese bank account," the former president said, referencing a Tuesday New York Times report which found that Trump International Hotels Management had paid $188,561 in taxes to China between 2013 and 2015.
"How is that possible?" he continued, "Can you imagine if I had a secret Chinese bank account when I was running for re-election? ... Fox News might have been a little concerned about that. They would have called me Beijing Barry."
Before Trump entered politics, he was the host of the popular NBC reality TV show The Apprentice for 14 seasons. Obama on Wednesday compared the president's administration to a reality TV show.
"[Trump] hasn't shown any interest in doing the work, or helping anybody but himself and his friends, or treating the presidency like a reality show that he can use to get attention," he said. "And by the way, even then, his TV ratings are down. So you know that upsets him."
"But the thing is this is not a reality show. This is reality, and the rest of us have had to live with the consequences of him, proving himself incapable of taking the job seriously," Obama added.
Newsweek reached out to the Trump campaign for comment.