Barack Obama Suggests Donald Trump is Crippled by 'Mommy Issues,' as Well as Hate and Racism
Former President Barack Obama indirectly bashed President Donald Trump Monday evening at his foundation's second annual summit by insinuating his successor was blinded by racism, hate and "mommy issues."
Fresh off of a successful midterm campaign tour, Obama told a crowd in Chicago Monday night that they could change the world. "You literally can remake the world right now, because it badly needs remaking," he said. Fixing problems in education, agriculture and energy sustainability aren't that difficult, he said, but "the reason we don't do it is because we are still confused, blind, shrouded with hate, anger, racism, mommy issues." The comment was widely interpreted as an indirect swipe at Trump.
Trump has long praised and compared other women to his mother, a Scottish immigrant. In his best-selling book The Art of the Deal, he wrote that, "part of the problem I've had with women has been in having to compare them to my incredible mother, Mary Trump, my mother is smart as hell." Still, those who grew up around the Trump family described his mother as cold and distant.
Read more: Beto 2020? Obama compares himself to "impressive" O'Rourke
Obama's comments came days after Trump refused to give his predecessor credit for killing Osama Bin Laden.
During a FOX News Sunday interview in the White House Friday, Trump said that Obama could have captured Bin Laden sooner. "Frankly, it would have been nicer if we got Osama bin Laden a lot sooner than that," Trump told Chris Wallace in the interview that aired Sunday. "Everybody in Pakistan knew he was there."
Obama and Trump have not spoken since inauguration in January of 2017, nearly two years ago.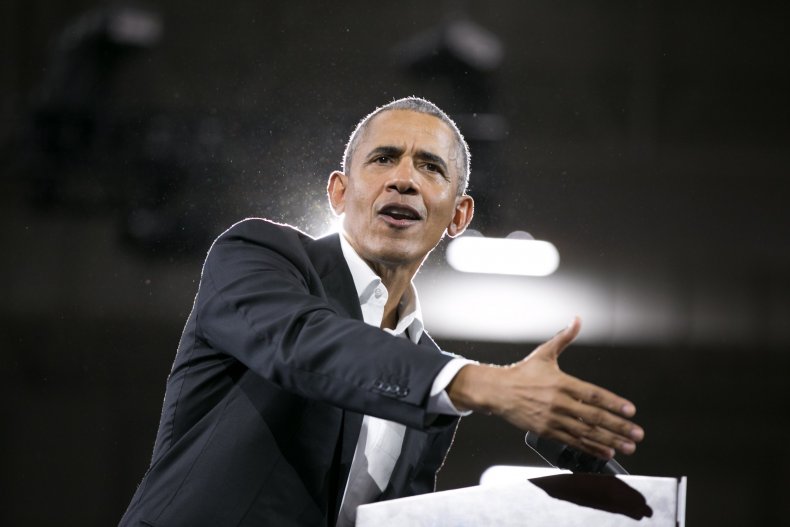 Obama struck a less hopeful tone Monday evening than he has in previous speeches, where he attempted to focus on the progress America was making. If you could choose any place and time to be born, he told the crowd at the Obama Foundation Summit, "You'd choose [America] now—or maybe two years ago."
Former First Lady Michelle Obama spoke out against the president in her new book, Becoming.
During Trump's inauguration ceremony in 2017, she said she eventually stopped trying to hide her disappointment that he was elected. I "stopped even trying to smile" she said. "Someone from Barack's administration might have said that the optics there were bad, that what the public saw didn't reflect the President's reality or ideals, but in this case, maybe it did. Realizing it, I made my own optic adjustment. I stopped even trying to smile."
She would never forgive Trump, she wrote, for questioning whether her husband was truly an American citizen. "What if someone with an unstable mind loaded a gun and drove to Washington?" she wrote. "What if that person went looking for our girls? Donald Trump, with his loud and reckless innuendos, was putting my family's safety at risk. And for this I'd never forgive him."