Beto 2020? Obama Compares Himself to 'Impressive' O'Rourke
Beto O'Rourke's recent U.S. Senate loss has done little to stop speculation that the Texas Democrat could soon be announcing a 2020 presidential bid—and if he does run, it seems likely he'd win the endorsement of former President Barack Obama.
In an interview with David Axelrod for The Axe Files on CNN, the former U.S. leader heaped praise upon O'Rourke, calling him an "impressive young man who ran a terrific race in Texas."
While Obama only spoke about the Texan politician after receiving an audience-submitted question about "Betomania" in the U.S., Obama appeared unequivocal in his admiration for his fellow Democrat.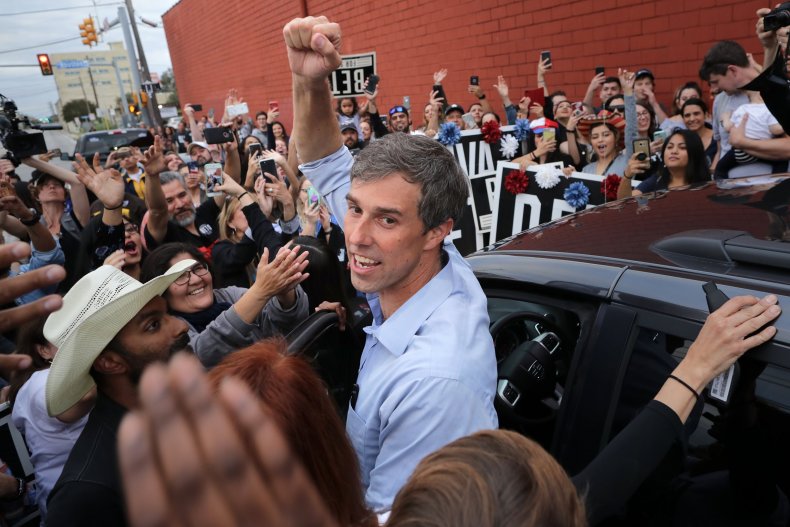 "It felt as if he based his statements and his positions on what he believed," Obama said. "And that, you'd like to think, is normally how things work. Sadly it's not."
Obama went further to suggest that he even saw a bit of himself in O'Rourke, saying that what he liked "most" about O'Rourke's race was that "it didn't feel constantly poll-tested."
"The reason I was able to make a connection with a sizable portion of the country was because people had a sense that I said what I meant," Obama said. "What I oftentimes am looking for first and foremost is, do you seem to mean it?"
Asked by Axelrod, who is also Obama's former top strategist, if O'Rourke seemed like that kind of person, the president said: "Yes."
But Obama also said O'Rourke was not the only Democrat he had in mind for 2020.
"I think there are others," Obama said. "We've got a number of people who are thinking about the race who fall in that same category."
With that comment, the former president seemed to confirm that O'Rourke was still among those thinking of running in the next presidential election.
Read more: Beto O'Rourke has 'star quality' Republican strategist says, as calls for 2020 presidential run grow
Speculation that the Texas Democrat could run in 2020, even after his defeat in a tight Texas Senate race against Republican incumbent Ted Cruz in this month's midterm elections, already appears to have created something of a fervor on the 2020 presidential primary field.
Speaking to Politico, Mikal Watts, a San Antonio lawyer described as a "major Democratic money bundler," said several donors and "political operatives" in Iowa had called to see if O'Rourke would be running before making any other commitments.
"They're not wanting to sign on to other presidential campaigns until they know whether Beto is going," Watts said. "And if Beto is running, what good progressive Democrat wouldn't want to work for Beto O'Rourke?"
The San Antonio lawyer said he had not seen "this kind of level of electric excitement about a candidate" since 2008, when Obama was elected into office.