Barack Obama Floats Taking COVID-19 Vaccine Live on Television
Former President Barack Obama has said that he would take the COVID-19 vaccine if Dr. Anthony Fauci deems it safe—and he might do it live on television to show Americans that he trusts the science.
In a pre-taped interview with SiriusXM on Wednesday, obtained by Newsweek, Obama told host Joe Madison that he trusts Fauci completely and would "absolutely" take the vaccine if the top scientist says it's "safe and can immunize you from getting COVID."
"I promise you that when it's been made for people who are less at risk, I will be taking it," Obama said. "I may end up taking it on TV or having it filmed, just so that people know that I trust this science, and what I don't trust is getting COVID."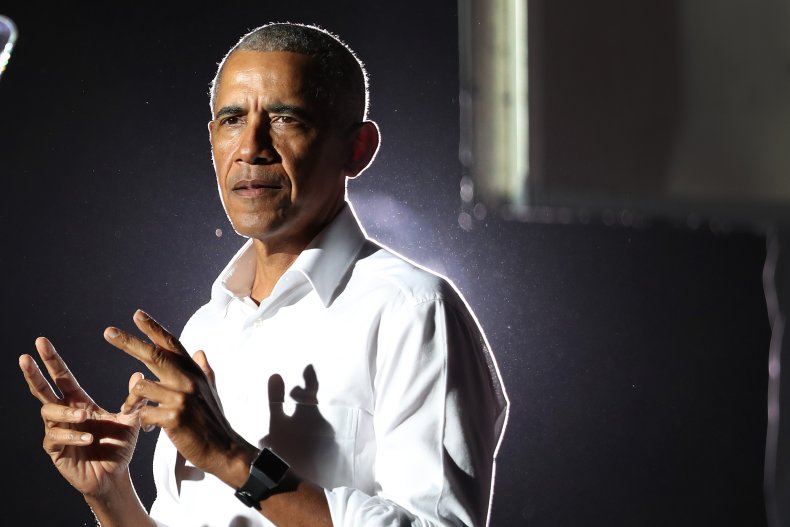 The former president acknowledged vaccine skepticism among the African American community and stressed the importance of changing their opinion.
"African Americans, Hispanics, Native Americans have the highest death rates from this thing, and are most exposed and most vulnerable, in part because we have a lot of preexisting conditions," he said.
"The fact of the matter is that vaccines are why we don't have polio anymore," Obama continued. "And they're the reason why we don't have a whole bunch of kids dying from measles, and smallpox, and diseases that used to decimate entire populations and communities. So, you know, I think it is important for people to follow the guidelines that are going to be issued."
Later in the interview, the Democrat also lashed out at President Donald Trump for failing to follow the pandemic response "blueprint" set by his administration following H1N1. "They completely ignored it," he said.
Fauci warned this week that the pandemic won't end unless the "overwhelming majority" of people get vaccinated. He explained that the U.S. needs to vaccinate between 75 and 85 percent of the entire population for effective protection against the virus and he would like to see that happen "before we get to the end of the second quarter of [2021]."
On Tuesday, the Advisory Committee on Immunization Practices (ACIP) decided that health care workers and long-term care facility residents should be given the vaccine first when one is made available in America. The committee will next bring their recommendation to the CDC director for approval.
No COVID-19 vaccine has been approved domestically, but Pfizer and Moderna applied for emergency use authorizations through the Food and Drug Administration (FDA) in November. The FDA is set to meet December 10 to decide whether to approve Pfizer's emergency use request.
Newsweek reached out to Obama's representatives for further comment.