Barack Obama Receives Prestigious Human Rights Award: 'The Crooked Road Can Be Made Straight'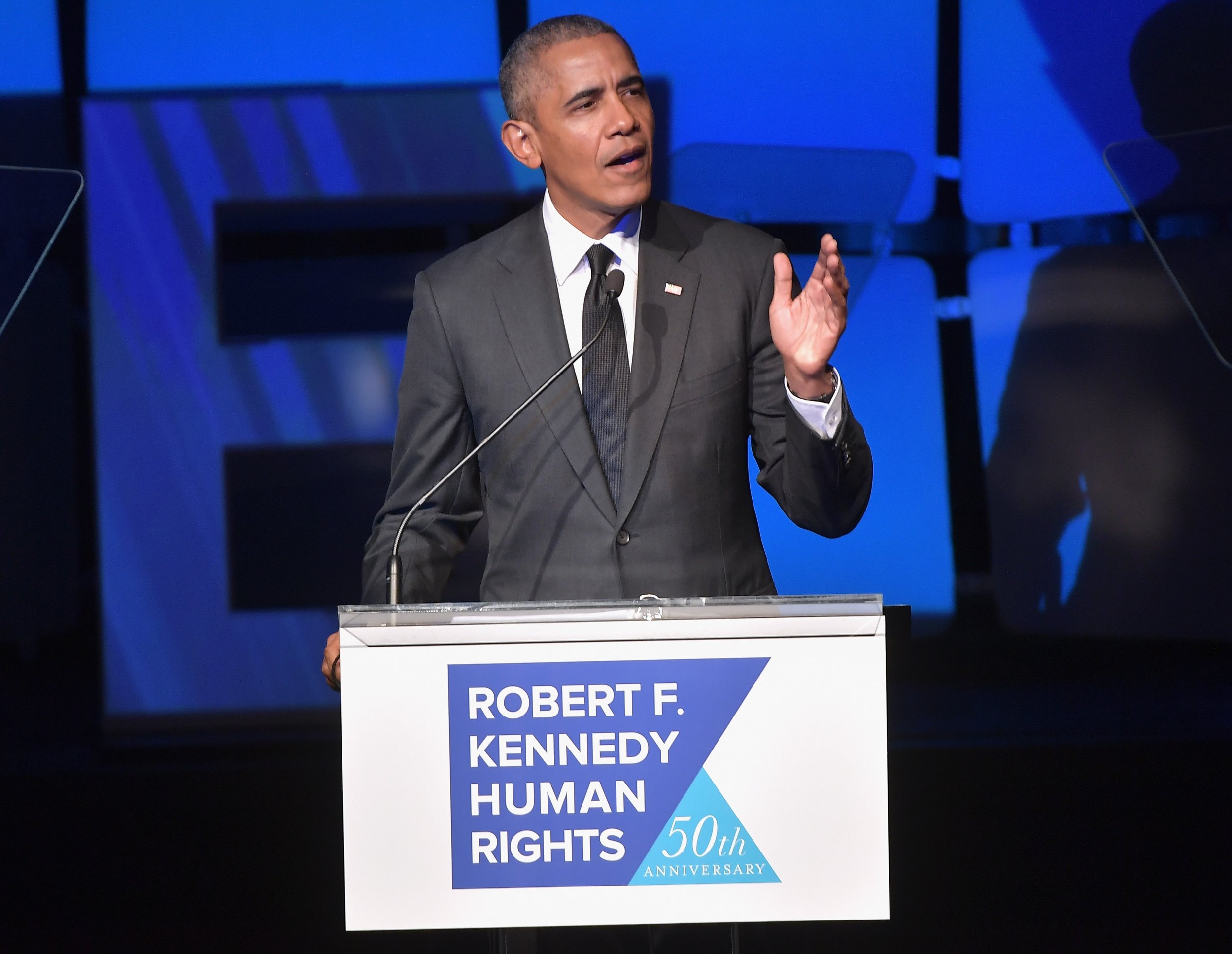 Former President Barack Obama received the Robert F. Kennedy Human Rights Ripple of Hope Award, in a ceremony that marked the 50th anniversary of the politician's assassination.
New York Senator Robert Kennedy, younger brother of the slain President John F. Kennedy and attorney general during his administration, was fatally shot during a campaign rally in 1968 in Los Angeles as he sought the Democratic presidential nomination.
Read more: Obama administration used tear gas, pepper spray at border dozens of times, CBP data shows
"Hope is never a willful ignorance to the harshness and cruelties that so many suffer. Or the enormous challenges that we face in mounting progress in this imperfect world," Obama said during his acceptance speech at the ceremony in New York City on Wednesday night.
"And hope is certainly not the smug complacency of those who won life's lottery and think it's all because of their intelligence, or charm or hard work on their own.
"Rather, hope is the insistence that, no matter how hard our circumstances, there are better days ahead. That the crooked road can be made straight. That out of the ashes a phoenix can rise.
"That if we persist despite all of our individual failings and all of our inadequacies, together we can overcome. Together, we can do better. A belief in goodness and human ingenuity.
"And, maybe most of all, our ability to connect with each other and see each other in ourselves. And then we summon our best selves, and maybe we can inspire others to do the same," the 44th U.S. president said, who served from January 20, 2009, to January 20, 2017.
"In times of great challenge and change, President Obama's leadership ushered in a stronger economy, a more equal society, a nation more secure at home and more respected around the world," said the Robert F. Kennedy Human Rights organization of Obama.
"The Obama years were ones in which more people not only began to see themselves in the changing face of America, but to see America the way he always has—as the only place on earth where so many of our stories could even be possible."
Past winners of the Ripple of Hope Award include Obama's Vice President Joe Biden, Starbucks CEO Howard Schultz, Apple CEO Tim Cook, actor Robert De Niro and singer Taylor Swift.