Will Barack Obama's Memoir Break Wife Michelle's Record?
The first volume of Barack Obama's memoir, "A Promised Land," is set for release this November in what is expected to be one of the most anticipated book launches of the year.
"A Promised Land" is the first of two volumes of his memoirs in the works and will cover parts of his early political life, his presidential campaign in 2008 and will conclude with the death of Osama bin Laden in 2011.
The 768-page book is published by Penguin Random House and Crown and its release comes just after the 2020 election.
"I've spent the last few years reflecting on my presidency and in 'A Promised Land' I've tried to provide an honest accounting of my presidential campaign and my time in office—the key events and people who shaped it; my take on what I got right and the mistakes I made, and the political, economic and cultural forces that my team and I had to confront then—and that as a nation we are grappling with still," the former president said in a statement.
"In the book, I've also tried to give readers a sense of the personal journey that Michelle and I went through during those years, with all the incredible highs and lows."
Unsurprisingly, the demand is expected to be huge and the New York Times reports that the publishers have already ordered three million copies in the first printing of the U.S. edition of the novel. It will be translated into 25 languages.
The expected popularity of "A Promised Land" comes on the back of the success of Michelle Obama's memoir "Becoming," which was released in 2018. It sold more copies than any other book published in the U.S. that year, breaking the record in just 15 days.
After selling 1.4 million copies in its first week, by March 26, 2019, "Becoming" had sold 10 million copies.
The Obamas sold their memoirs to Crown as a package deal for a staggering $65 million back in 2018.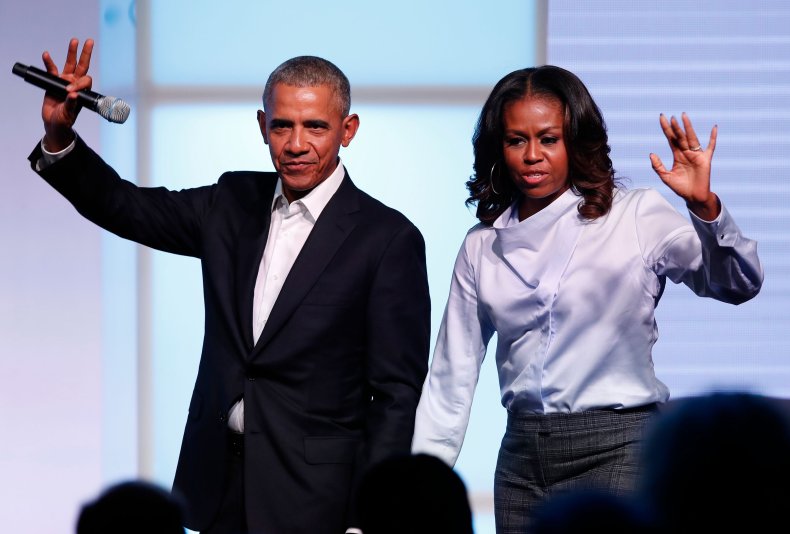 Obama is already a celebrated author, his first book, "Dreams From My Father," was published in 1995 and has since sold more than 3.3 million copes in the U.S. and Canada. Published in 2006, "The Audacity of Hope," went on to sell more than 4.2 million units.
So, will his memoir go on to beat Michelle's? Waterstones CEO, James Daun told Newsweek that Obama's memoir will sell "as no other book has done since July 21, 2007."
"'Dreams from My Father' introduced us to a little known U.S. Senator and to a writer of poetic grace," Dunt said. "'The Audacity of Hope' gave thrilling vision to his ambitions for political office. 'A Promised Land' now offers us a grand, lyrical narrative of his Presidency. This will be a book of rare consequence. That it will sell as no other book has done since July 21, 2007 is immensely cheering to booksellers."
Robbie Millen, Literary Editor of The Times of London, said the memoir "should foster a bit of friendly rivalry in the Obama household."
The former first lady said she was looking forward to others reading the book. Taking to Twitter after the announcement of the release date, she said, "There's no one more reflective, more honest, and more thoughtful than @barackobama. I've seen that in so many ways throughout our life together. And after seeing him pour his whole heart into this book, I know you will too."
"A Promised Land" will be available to purchase on November 17.