Barack Obama Says Georgia Senate Runoffs Will Determine the 'Course of the Biden Presidency'
Drawing on past experience, Barack Obama said the two Senate runoffs in Georgia will determine the fate of the Joe Biden administration.
The former president appeared alongside Georgia Democratic candidates Jon Ossoff and Raphael Warnock in a virtual get-out-the-vote really on Friday afternoon. They were joined by voting rights activist and former gubernatorial candidate Stacey Abrams and Congresswoman-elect Nikema Williams.
"You are now once again the center of our civic universe because the special election in Georgia is going to determine, ultimately, the course of the Biden presidency and whether Joe Biden and Kamala Harris can deliver legislatively all of the commitments they've made," Obama said of Georgia.
The former president added: "The Senate is a place where even with a big majority it's tough to get legislation through and if you don't have a majority, if the Senate is controlled by Republicans who are interested in obstruction and gridlock rather than progress and helping people, they can block just about anything."
Obama outlined some of the struggles his administration experienced with a Senate controlled by Majority Leader Mitch McConnell (R-Ky.), stating the opposition he faced caused "a lot of progress to halt."
All eyes have been on Peach State as the outcome of the Senate runoffs will determine majority control of the upper chamber in the next Congress. Ossoff will face Republican Senator David Perdue, and Warnock will face Republican Senator Kelly Loeffler.
Republicans are poised to control at least 50 seats in the next Senate, based on election results, and Democrats will have 46 seats. Two independent senators caucus with the Democrats, bringing their total vote power to 48.
If Ossoff and Warnock both win their races, party control of the Senate would be split 50-50. Democratic Vice President-elect Kamala Harris would then be responsible for casting a tie-breaking vote.
"The promise of the Biden presidency and the Harris vice presidency rests in part on their ability to have a cooperative posture with Congress, and to do that we have to have the two gentleman who are running for Senate in Georgia, Raphael Warnock and Jon Ossoff, there to help move that agenda forward," Obama said.
A new poll released Thursday from SurveyUSA commissioned by WXIA-TV in Atlanta found Warnock leading Loeffler 52 percent to 45 percent. The poll found the contest between Ossoff and Perdue to be pretty much even—Ossoff had 50 percent support while Perdue had 48 percent.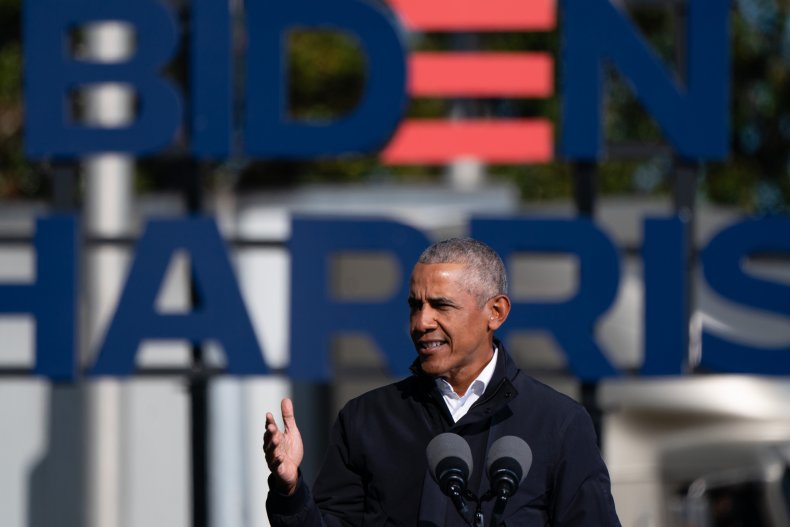 The George Republican senators are also receiving support from major party figures. On Friday, Vice President Mike Pence teamed up with Perdue and Loeffler at a rally in Savannah. President Donald Trump is expected to hold a "Victory Rally" on Saturday at Valdosta Regional Airport.
But some Georgia Republican state officials aren't sure the president will have a positive influence on the race due to his baseless allegations of widespread voter fraud.
Lieutenant Governor Geoff Duncan told CNN that unless the president and his allies switch up their post-election strategy they "run the risk of alienating voters for our Senate race that is coming upon us for Senator Loeffler and Senator Perdue, and we need them."
Gabriel Sterling, a Republican and the state's voting system implementation manager, told ABC News that he wishes Loeffler and Perdue would dispute the president's false claims about the 2020 election, arguing that "if they showed some leadership, they would get more votes, rather than less."
Democrats are riding a blue wave in Georgia after flipping the state for the first time in 28 years. Biden is the first Democratic nominee to win the state's 16 electoral votes since Bill Clinton did it in 1992.
"We know how to win those seats," Abrams said Friday. "We know how to knit together a coalition of the willing, a coalition of the good, a coalition of Georgians who want to not only serve the needs of their fellow citizens, but understand we are part of knitting together the fabric of our nation."