Barack Obama 'Troubled' by New State Election Laws, Calls Them a 'Threat to Democracy'
Former President Barack Obama says he's troubled by the onslaught of new state election laws that have passed in the wake of the 2020 presidential election, adding that rhetoric delegitimizing the voting process is a "threat to democracy."
In a Friday interview with Good Morning America, Obama said, "We're now seeing state legislatures try to further suppress the vote or allow partisan politics to infect voting results and election results. That troubles me."
A number of Republican-led states, such as Texas and Georgia, have introduced new legislation tighten or restricting rules around voting, arguing that these measures would protect the right to vote and combat voter fraud.
The new changes include limiting mail-in voting, purging voter rolls, giving partisan election observers more access to the ballot counting process, requiring voter ID for mail ballot applications and stripping powers from certain election officials.
The hundreds of bills that have been introduced in recent months have echoed former President Donald Trump's false claims that loose election laws allowed for a fraudulent election last November. Several recounts reaffirming President Joe Biden's win and dozens of failed lawsuits from the Trump campaign have repeatedly debunked Trump's claims.
Obama says it will require the public to help change the rhetoric delegitimizing elections in the country.
"How we change that dynamic is gonna require, I think, a level of the public paying attention and insisting and demanding their elected officials and people in the media just, you know, saving our democratic habits and practices in a way that we have not seen," he told Good Morning America host Michael Strahan.
"If you are fighting for dignity and human rights and inclusion and opportunity, there's always gonna be resistance in a big, complicated society like ours. The question is are we able to maintain a process in which we listen to other voices?" he added. "If we lose, we say, 'As long as the process was fair, then I guess we gotta go out there and persuade more people to our side.'"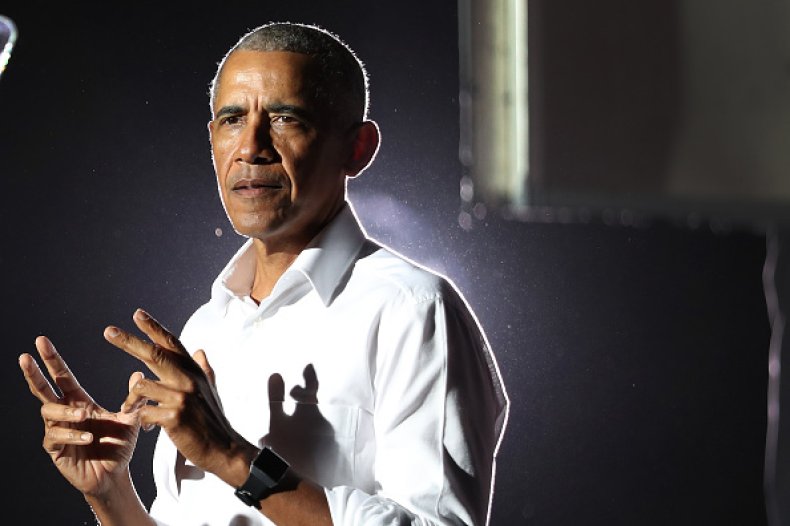 The former president said growing partisanship has caused us to "demonize the other side as much as possible" and called on people to come together to meet somewhere in the middle—a message that has been at the forefront of Biden's time in office.
"Sometimes, we think somehow the compromise and listening and working together is wrong," Obama said.
Biden has continued to push for bipartisanship, despite pushback from more progressive Democrats who want to see the president pass as much legislation as he can while the Democrats control the House, Senate and White House.
"We're not all gonna live in a perfect kumbaya society but we can make it better by working and by reaching out, and by assuming the best in each other. And if enough of us do that, we move that boulder up the hill," Obama said on Friday.
He added that change can happen when people work together, using this summer's Black Lives Matter protests as an example.
"I could not be prouder of the young activists who responded to the George Floyd murder and so many of the other incidents that we've seen over the last several years," Obama said. "You had a level of white participation in those protests that you never saw, even at the height of the civil rights movement back in the '60s.… The key now is to translate that righteous anger and frustration and sadness into concrete policies."
"When you look at our history, it happens from the bottom up. It happens because of [the] multiplicity of voices. Because none of us alone have all the answers," he added. "A thousand people who are organized, they can change the law in a city. A couple thousand folks who mobilize, they can have an impact at the state level. And a handful of people who are determined, they can change a neighborhood."