Barack Obama Says Trump Administration Has Faced 'Enough Indictments to Field a Football Team'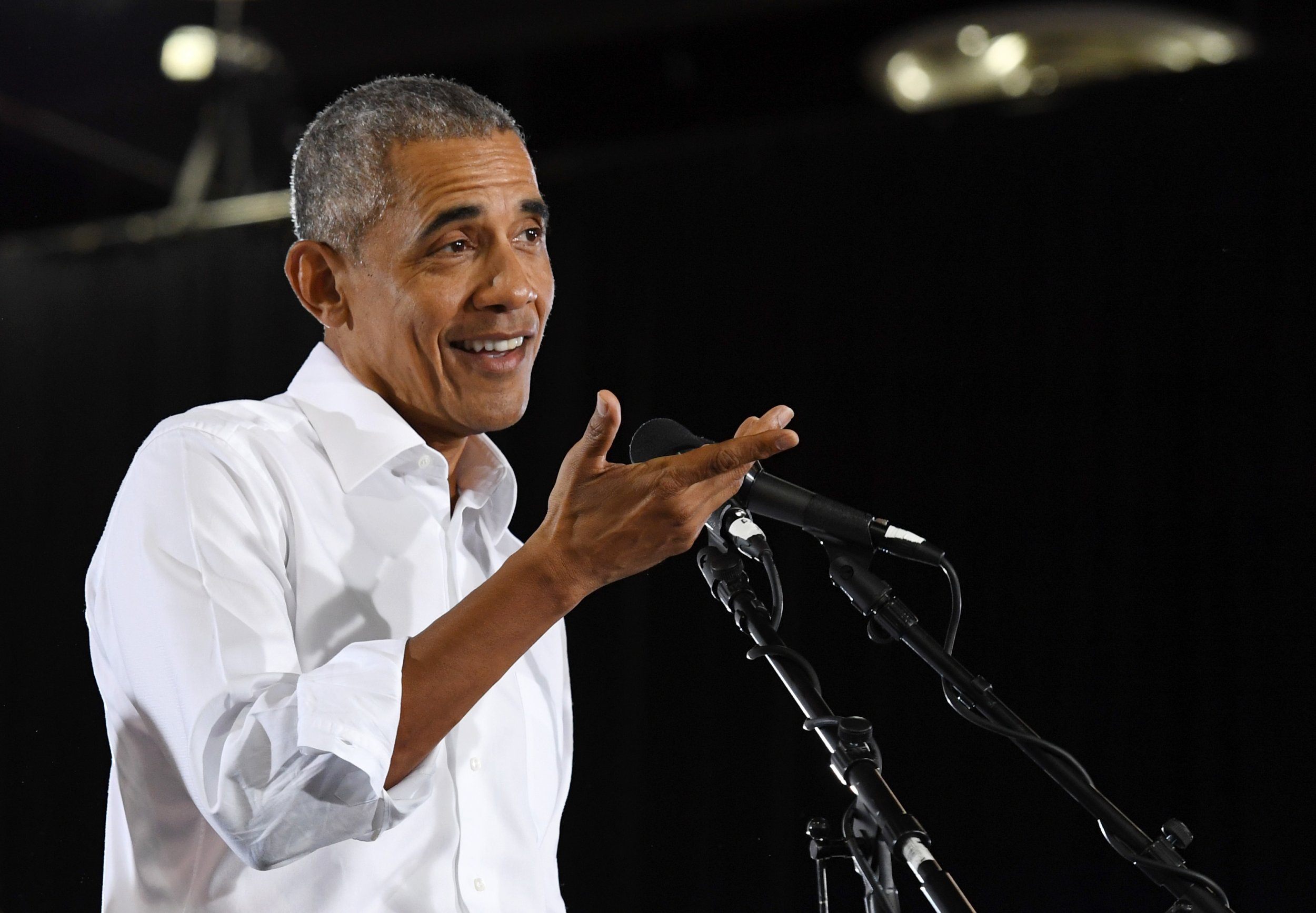 Former President Barack Obama, hitting the campaign trail to drum up support for Democratic candidates ahead of the midterm elections, took a swipe at the Trump administration for the number of its former officials who have been criminally indicted.
"In Washington, they have racked up enough indictments to field a football team," said Obama, referring to the Trump administration. "Nobody in my administration got indicted. So, how is it that they've cleaned things up?"
The former president was presumably referring to the numerous former Trump associates who have either been convicted, indicted or pleaded guilty in connection with special counsel Robert Mueller's investigation into Russian election interference. While most of the crimes were committed before their time working for the administration, there have been a total of five former associates who have seen charges brought against them. The Russia investigation, as a whole, has resulted in charges brought against nearly 40 people, both in the U.S and abroad.
In addition, GOP Congressman Duncan Hunter was indicted for the misuse of $250,000 worth of campaign funds and fellow Republican Representative Chris Collins was indicted for insider trading. The two congressmen were the first sitting members of Congress to pledge their support of Trump before the 2016 election.
Other former administration officials, such as Health and Human Services Secretary Tom Price and Environmental Protection Administrator Scott Pruitt, have resigned amid ethics scandals, but were never charged with any crimes.
"They promised to take on corruption…Their promise was to drain the swamp," Obama said. "That was not on the up and up…They have gone to Washington and just plundered away."
Obama also mentioned voter suppression, a hot topic in Georgia as tens of thousands of voter registrations have been placed on hold by an office controlled by the Republican candidate for governor.
The former Democratic president also had strong words about the accomplishments of GOP members of Congress during the first two years with Trump as president.
"They cut taxes for the rich and corporations to the tune of $1.5 trillion, just like they did the last time," said Obama, referring to the GOP tax law touted by Trump that largely provided tax cuts to wealthy individuals and large corporations. "They stripped rules to protect our air and our water, just like they did the last time."
Obama also said congressional Republicans have "ran up the deficit, just like they did the last time." The Trump administration announced last week that the budget deficit reached its highest level in years, surpassing that of what it was under Obama's entire second term.
Despite the deficit going up by 17 percent to $779 billion in fiscal year 2018, Obama alleged the GOP no longer cared. The deficit took a sizable tick upward this past year as a result of the corporate tax cuts, according to an analysis by the Treasury Department published earlier this month. Obama claimed the opposing party cared more when he was trying to pass his signature health care law, the Affordable Care Act.
"They said they'd fight for the little [guys], and instead have catered to the most wealthy, the most powerful," Obama said.
He also referenced Senate Majority Leader Mitch McConnell's comments last week where he said entitlement programs like Medicare, Medicaid and Social Security would face cuts because of the increasing deficit.
McConnell said the "three big entitlement programs that are very popular, Medicare, Social Security and Medicaid.… There's been a bipartisan reluctance to tackle entitlement changes because of the popularity of those programs."
"Hopefully, at some point here, we'll get serious about this," McConnell said.
Obama was in Wisconsin stumping for Senator Tammy Baldwin, gubernatorial candidate Tony Evers and congressional candidates Representative Gwen Moore, Randy Bryce and Dan Kohl.
Most polls have shown Democrats have the chance to take control of the House. But after the results of the 2016 election, which differed from what the vast majority of polls predicted, the likelihood that Democrats retake the House is far from certain.