Barr's and Rosenstein's Actions Show 'You Can't' Ethically Serve a 'Deeply Unethical President,' Schiff Says
Congressman Adam Schiff harshly criticized Attorney General William Barr as well as Deputy Attorney General Rod Rosenstein, suggesting they acquiesced to pressure from President Donald Trump to act unethically.
"What we are seeing is anyone that gets close to Donald Trump becomes tainted by that experience," the California Democrat who chairs the House Intelligence Committee said in an interview with CNN's New Day on Wednesday morning. "And the fundamental conundrum is, How do you ethically serve a deeply unethical president?" Schiff said. "And as we are seeing with Bill Barr, and as I think as we saw with Rod Rosenstein, you can't."
Schiff has reiterated his call on Barr to resign in the wake of Tuesday reports that special counsel Robert Mueller objected to the manner in which the attorney general released the findings of his 22-month investigation. Days after submitting his final report, Mueller called on Barr to publicly release his team's summaries as soon as possible. The special counsel also objected to how his findings were characterized in a letter written by Barr and made publicly available two days after the final report was submitted.
Rosenstein submitted his official resignation letter to the Justice Department on Monday. Barr is testifying before the Senate Judiciary Committee on Wednesday. He is also scheduled to testify before the House Judiciary Committee on Thursday, but he has objected to the questioning format planned by Democratic leaders, making it unclear whether he will actually attend the session. Representative Jerrold Nadler, a Democrat from New York who chairs the committee, has threatened to subpoena Barr if he refuses to attend.
Schiff suggested in his Wednesday interview that Congress could "try to remove" Barr from office. But he admitted "that would face the same difficulty and obstacle as removing the president through an impeachment proceeding."
"We're going to consider all of the options here. This is bigger than Bill Barr," he continued. "This is a problem of a president who, there is a strong case to be made, has violated the law with innumerable acts of obstruction of justice."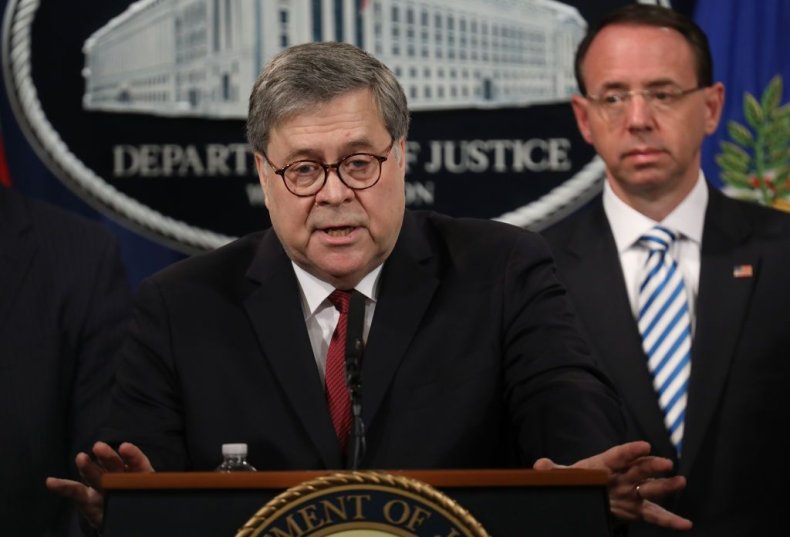 Mueller submitted the findings of his 22-month investigation in March. The special counsel did not establish that Trump or his campaign team had conspired with Russia during the 2016 presidential campaign. But Mueller's report did lay out allegations concerning whether the president obstructed justice by interfering in the investigation. Barr and Rosenstein concluded, however, that Trump had not committed a crime based on their interpretation of the special counsel's findings. The report was publicly released with redactions in April, nearly a month after it was submitted.
Many Democrats and some conservatives have criticized Barr's handling of the Mueller report's release, arguing the attorney general acted more like a personal lawyer to Trump than an attorney for the American people. Several prominent Democrats have called for his resignation or impeachment.