Fox News Host Says William Barr Was Almost 'Acting as Counselor for the Defense' of Donald Trump in Mueller Report Press Conference
Fox News host Chris Wallace suggested Thursday that Attorney General William Barr was "acting as counselor for the defense" of President Donald Trump during Barr's press conference in advance of his release of special counsel Robert Mueller's full report on Russian meddling in U.S. elections.
"Obviously, the president was very frustrated with the actions of his first attorney general, because of the fact that he felt that Jeff Sessions was not protecting him was not functioning in that role," Wallace said, appearing as an analyst on Fox News' America's Newsroom following the press conference. He suggested that Trump specifically chose Barr to then–former Attorney General Sessions with the expectation that he would be more loyal.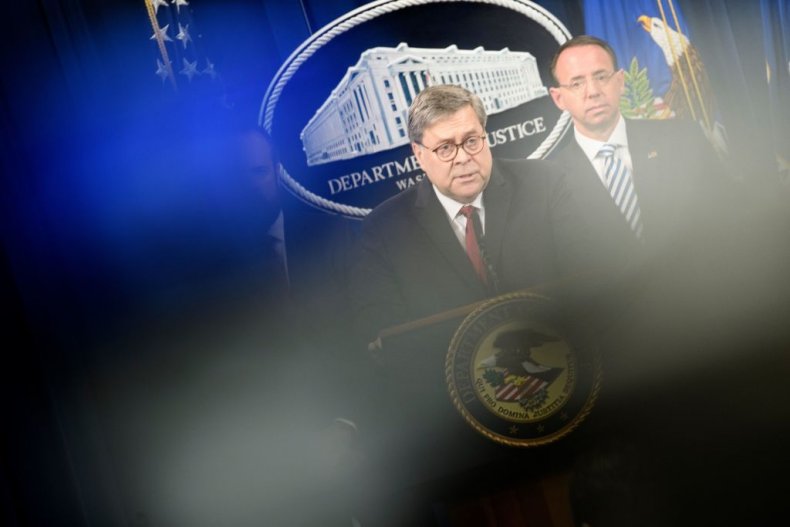 "I suspect that the president was pretty pleased with the performance of Bill Barr and particularly on the issue of obstruction," Wallace continued. He also pointed out that Barr had repeatedly reiterated there was "no collusion," echoing the language Trump and his supporters have used to defend against the allegations of conspiring with Russia since the probe was launched.
"I will say the attorney general said it about a half dozen times, I lost count after that, there was no collusion, there was no cooperation, there was no coordination," the Fox News host said. Although, he clarified that the report's findings support that assertion.
"Then you got into this very curious area where the attorney general seemed to be almost acting as the counselor for the defense, or the counselor for the president, rather than the attorney general talking about his motives, talking about his anger, his feeling that this was unfair and he was being—there were leaks," Wallace said. "Really, as I say, making the case for the president. I suspect that Democrats' heads on Capitol Hill were exploding. And they're gonna come down very sharply about the way Bill Barr laid this out."
Wallace was referring to Barr's statement during the press conference in which the attorney general said it was "important to bear in mind the context" when considering incidents where the president could have arguably obstructed justice.
"President Trump faced an unprecedented situation. As he entered into office, and sought to perform his responsibilities as president, federal agents and prosecutors were scrutinizing his conduct before and after taking office, and the conduct of some of his associates," said Barr Thursday morning. "At the same time, there was relentless speculation in the news media about the president's personal culpability."
As Wallace predicted, Democrats have already been slamming Barr for his presentation during the press conference. Even ahead of the briefing, Senate Minority Leader Chuck Schumer (D-N.Y.) and House Majority Leader Nancy Pelosi (D-Calif.) released a joint statement harshly criticizing Barr for handling the reports release in a "partisan" manner.
"Attorney General Barr's regrettably partisan handling of the Mueller report, including his slanted March 24th summary letter, his irresponsible testimony before Congress last week, and his indefensible plan to spin the report in a press conference later this morning—hours before he allows the public or Congress to see it—have resulted in a crisis of confidence in his independence and impartiality," Pelosi and Schumer said in the statement.
Senator Kamala Harris (D-Calif.), who is seeking her party's nomination to run against Trump in 2020, posted an assessment similar to that of Wallace following Barr's press conference. "Barr is acting more like Trump's defense attorney than the nation's Attorney General. His press conference was a stunt, filled with political spin and propaganda," Harris wrote on Twitter.
Trump tweeted out his own message to his followers, using a Game of Thrones-style meme featuring himself with his back turned. The message on the graphic said: "No collusion. No obstruction. For the haters and the radical left Democrats—game over."