Nancy Pelosi, Chuck Schumer Slam Barr's 'Indefensible' Handling of Mueller Report, Demand Special Counsel Testify Before Congress
House Speaker Nancy Pelosi and Senate Minority Leader Chuck Schumer issued a joint statement calling for special counsel Robert Mueller to publicly testify before Congress, and slammed Attorney General William Barr's handling of the report on Russian interference in the 2016 presidential election.
"Attorney General Barr's regrettably partisan handling of the Mueller report, including his slanted March 24th summary letter, his irresponsible testimony before Congress last week, and his indefensible plan to spin the report in a press conference later this morning—hours before he allows the public or Congress to see it—have resulted in a crisis of confidence in his independence and impartiality," the statement by Pelosi and Schumer said.
"We believe the only way to begin restoring public trust in the handling of the special counsel's investigation is for special counsel Mueller himself to provide public testimony in the House and Senate as soon as possible. The American people deserve to hear the truth."
The statement comes as the country awaits the release on Thursday of Mueller's final 400-page report, albeit redacted, containing details of the findings of his almost two-year investigation.
Barr will deliver an overview of the report at a news conference scheduled for 9.30 a.m. EDT before it is sent to Congress before noon. The report will then be released to the public through the special counsel's website.
The attorney general has so far released only a four-page summary of Mueller's "bottom line" conclusions, which came in the form of a letter sent to the heads and ranking members of the Senate and House Judicairy Committees on March 24, two days after he'd received the report.
The New York Times reported that Justice Department officials had briefed Trump and the White House about Mueller's report several times in recent days. Those discussions helped Trump's legal team to prepare its rebuttal of the Mueller report ahead of what will likely explode into a fierce political battle.
Both The Times and The Washington Post reported that members of Mueller's team did not believe Barr had fully represented the report's findings. They had had prepared their own summaries intended for public viewing, which Barr could have used in lieu of his own.
Mueller investigated Russian interference in the 2016 presidential election, including allegations that Trump's campaign and associates had conspired with agents of the Kremlin. He also probed allegations that President Donald Trump had attempted to obstruct justice by interfering with the investigation.
But Barr's summary letter noted that Mueller's investigation did not find that the Trump campaign or anyone associated with it had conspired or coordinated with Russia to sway the election.
Moreover, Barr wrote that "the evidence does not establish that the president was involved in an underlying crime related to Russian election interference."
And Barr stated that Mueller did not determine whether Trump had obstructed justice. Mueller presented the evidence he uncovered and while the report did not conclude that Trump had committed a crime, it did not exonerate him either.
The attorney general and his deputy concluded on their own that the evidence was insufficient to criminally charge Trump with obstruction of justice. Trump has continued to claim, off the back of Barr's summary, that the report meant "total exoneration" for him.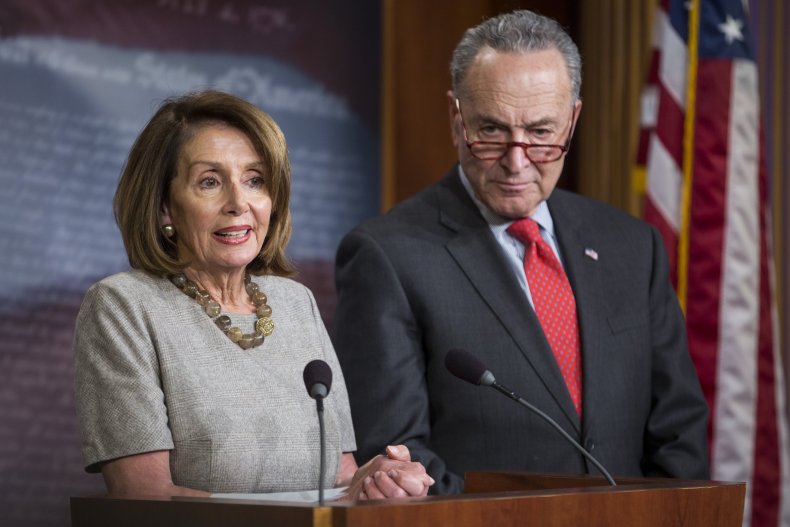 Nancy Pelosi, Chuck Schumer Slam Barr's 'Indefensible' Handling of Mueller Report, Demand Special Counsel Testify Before Congress | U.S.