U.S. Attorney General William Barr expressed worries about the effects of mail-in ballots on the results of the upcoming presidential election.
President Donald Trump has criticized the use of mail-in ballots, saying the process encourages fraud. Trump has expressed support for in-person voting, including the use of a photo ID at the polls. Some observers believe that practice may discriminate against minority voters.
Barr made the comments in an interview with Fox Business anchor Maria Bartiromo which is expected to air Sunday on Bartiromo's program, Sunday Morning Futures. Barr said the process could take away from the "public confidence in the integrity of the elections."
"The thing we have going for us, especially when there's intense division in the country, is that we have peaceful transfers of power and a way of resolving it is to have an election," Barr said. "But when state governments start adopting these practices like mail-in ballots, that open the floodgates of potential fraud, then people's confidence in the outcome of the election is going to be undermined."
Barr said in a June interview with The New York Times that there was a possibility that foreign countries could "easily make counterfeit ballots, put names on them, send them in. And it'd be very hard to sort out what's happening."
Newsweek reached out to voting advocacy group Rock the Vote for comment. This story will be updated with any response.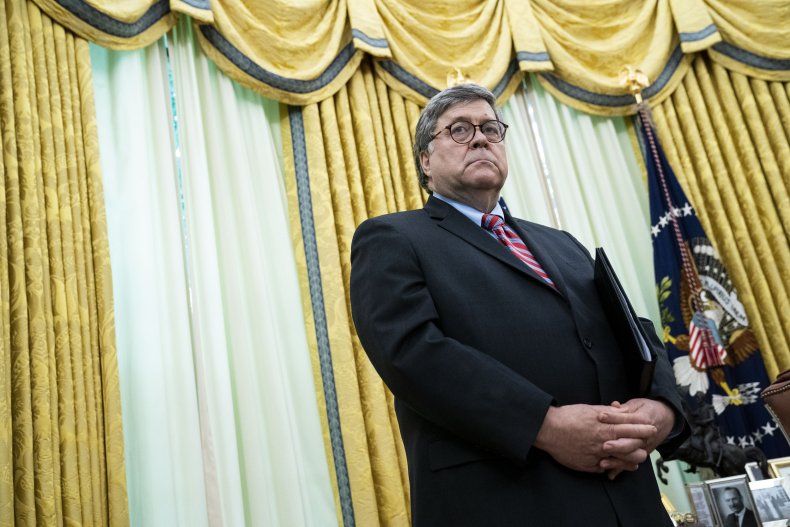 According to the American Civil Liberties Union, presenting a photo ID in order to cast their ballots at the polls may deprive some of their rights to vote. Voters who are "disproportionately low-income, racial and ethnic minorities, the elderly, and people with disabilities" may not possess one of the types of identification that states require for voting in-person, according to information posted on the ACLU's website.
While all states provide absentee ballots to registered voters upon request, some states are making the choice to give all voters the mail-in option. On Friday, California Governor Gavin Newsom signed an executive order which would send every registered voter in California a mail-in ballot. Voting in person, however, will still be available.
"Mail-in voting is important," Newsom said during a press briefing, "but it is not an exclusive substitute to physical locations."
The Trump Administration has disparaged the usage of mail-in ballots, saying they could provide incorrect results.
"MAIL-IN VOTING WILL LEAD TO MASSIVE FRAUD AND ABUSE," Trump tweeted in May. "IT WILL ALSO LEAD TO THE END OF OUR GREAT REPUBLICAN PARTY. WE CAN NEVER LET THIS TRAGEDY BEFALL OUR NATION."
Studies have historically shown little to no voter fraud linked to mail-in voting.
Some voters have seemed reticent to vote in person. Coronavirus mitigation protocols have led to long wait times at the polls, and some say the risk to public health presented by in-person voting is too great.
Wisconsin Governor Terry Evers attempted to postpone his state's primary election by signing an executive order to move the primary from its originally scheduled date in April until June. Evers' order was struck down by the GOP-led Wisconsin Supreme Court and the election was held as scheduled.
In May, a study was published by researchers from the University of Wisconsin Oshkosh and Ball State University which indicated that there was a connection between Wisconsin's in-person voting and a rise in positive cases of coronavirus.