Wisconsin's In-Person Voting May Have Led to 'Large' Increase in Coronavirus Cases, Study Suggests
A new study published Monday suggests in-person voting during Wisconsin's primary election on April 7 may have led to "large" increases in the state's number of COVID-19 cases.
Though the data gathered by economists at University of Wisconsin Oshkosh and Ball State University was not complete, the researchers said their assessment of COVID-19 cases by county thus far indicates a strong connection between each county's number of in-person polling locations and spikes in positive cases. The real impact of in-person voting on rising case numbers could have been even broader than the data suggests, researchers said.
"Across all models we see a large increase in COVID-19 cases in the weeks following the election in counties that had more in-person votes per voting location," the study authors said. "Furthermore, we find a consistent negative relationship between absentee voting and the rate of positive COVID-19 tests."
The decision to proceed with Wisconsin's primary election was hotly debated after Governor Tony Evers implemented a statewide safer-at-home order on March 25 and attempted to halt in-person voting on April 6. After the U.S. Supreme Court intervened to allow in-person voting to proceed, long lines were seen outside polling places throughout the state as residents made the choice between exercising their right to vote and taking precautions recommended by Evers to stay home and avoid potential exposure to the virus.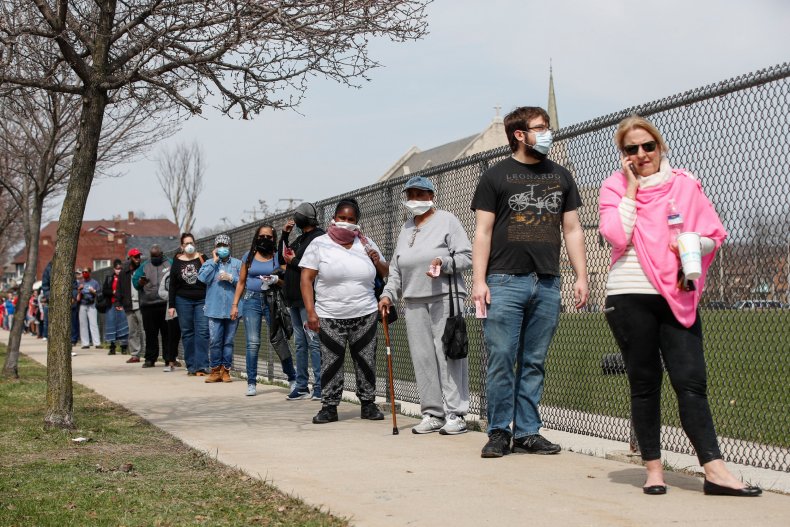 To assess how in-person voting affected COVID-19 case counts, researchers said they looked at the number of cases reported in each county and found rising numbers after the virus' two- to three-week incubation period in areas where more in-person voting opportunities were available. According to the data, when the average number of votes per polling place in a county rose by 100, the county's rate of positive COVID-19 tests rose by about 3.4 percentage points in the two or three weeks after the primary. Meanwhile, each average increase of 10,000 absentee ballots cast led to a slight decrease in a given county's case count, though that decrease was estimated to be less than 1 percent.
"These estimates suggest that counties with higher numbers of voters per polling location see notably higher increases in their positive test rate in the weeks following the election, relative to those with lower in-person votes per location realities," the study said.
The state began feeling measurable impacts of its in-person primary in late April, when the Wisconsin Department of Health Services (DHS) estimated at least 40 poll workers and voters had tested positive for the virus. Jennifer Miller, a spokesperson with the DHS, said the "final number" of COVID-19 cases linked to the primary election was 71, the Wisconsin State Journal reported Saturday.
Recognizing the lack of early widespread testing and the uncertainty surrounding asymptomatic patients, researchers said it was difficult to determine an exact number of cases that could be tied to the primary. Even so, they said the data gathered indicated in-person voting would not be a successful strategy for keeping case counts low during future elections.
"Given these results, it may be prudent, to the extent possible, that policy makers and election clerks take steps to either expand the number of polling locations or encourage absentee voting for future elections held during the COVID-19 pandemic," the study authors said in their report.
Correction May 20, 2020, 10:46 a.m.: This article has been corrected to reflect that when the number of in-person ballots cast per polling place rose by 100, the study showed a 3.4 percentage point increase in the rate of positive COVID-19 tests per county.