Trevor Noah Calls Trump 'World's Worst Dad' after President Refers to Barron as Melania's Son
President Donald Trump may have been talking about his own 13-year-old son, but he acted like he was talking about a stranger, according to Trevor Noah.
The Daily Show host made fun of a press conference during which the president was discussing the dangers of vaping.
On Wednesday, Trump said his administration would propose a ban on flavors of e-cigarettes except for tobacco, to curb the rise in teenagers vaping.
But Noah felt that Trump's reference to his own family was unusually distant, and played a clip of the president describing in the Oval Office, how in a short period of time, "vaping has become a very big business."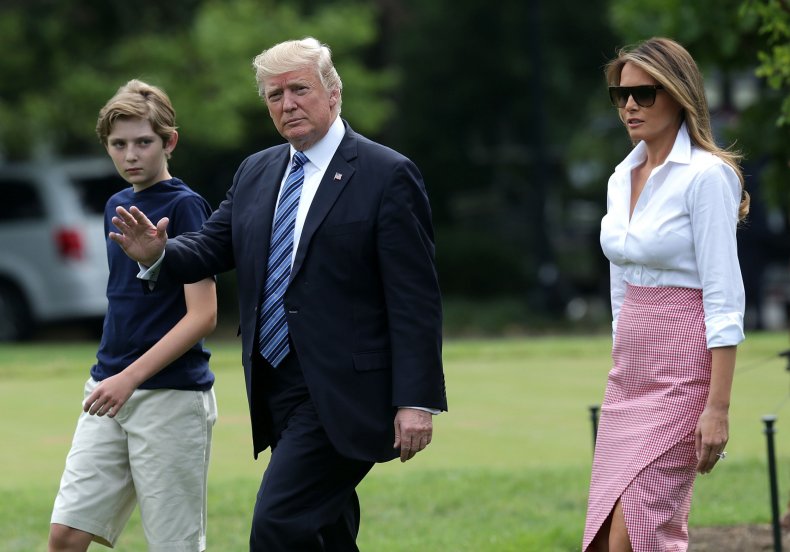 With the first lady next to him, the president went on to say, "but we can't allow people to get sick, and we can't have our youth be so affected."
"And that's how the First Lady got involved. She's got a son together that is a—a beautiful young man. And she feels very, very strongly about it."
Reacting to the tone of Trump's statement, Noah said to audience laughter: "She's got a son?"
"You mean the son she made with you?"
"How on Earth does Trump forget that he has a son? He's like the world's worst dad, it's like him and Darth Vader.
"At least Darth Vader claimed his son. If Trump was the Dark Lord, he would be like, 'Luke, she is your mother,'" the Comedy Central host said.
Noah offered an explanation for the president seemingly distancing himself from Barron Trump by suggesting his other sons have been somewhat of a disappointment.
"I mean, the dude has been burned twice. Let's be honest," Trevor quipped as images of Eric and Donald Jr. appeared behind him.
Trump's statement comes after the Center for Disease Control (CDC) said it was investigating whether there is a direct link between vaping and the deaths of at least five people and the lung illnesses of around 450 people, according to Reuters.
So far, no single device, ingredient or additive has been blamed, although some of the cases may be connected to marijuana vaping devices, The Guardian reported.
Melania Trump had tweeted about her concern at the vaping industry and called for action to "prevent e-cigarettes from becoming an on-ramp to nicotine addiction for a generation of youth."
Also at the Oval Office during Trump's statement was the health and human services secretary, Alex Azar, who told reporters that the Food and Drug Administration (FDA) would work towards remove from the market all e-cigarette flavors except tobacco.