Baseball Team's TikTok Dances on the Pitch Become Online Sensation: 'Fun!'
Footage of a baseball team performing TikTok dances on the pitch to psych out their opponents is going viral online, with some videos amassing more than 70 million views.
The Savannah Bananas, based in Georgia, are taking the internet by storm with their choreography mid-game, as they dance to Beyoncé and Celine Dion.
Savanah Alaniz, marketing coordinator, explained the idea started in March, telling Newsweek: "There was a trend on TikTok, the Beyoncé drop challenge, and we wanted to incorporate it during a game because we know that our fans love when players do things during games."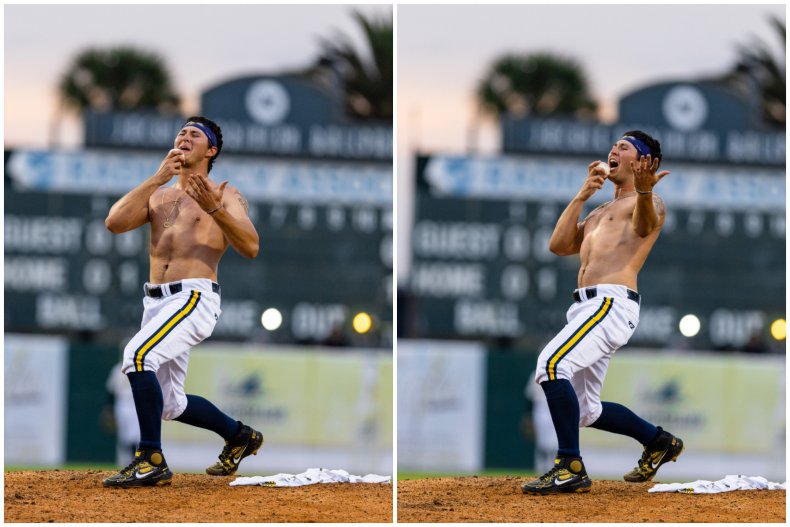 She said they'd previously done some dances popular on the social media channel, and decided four players, the pitchers, Kyle Luigs, Christian Dearman and Collin Ledbetter, the shortstop, Dalton Mauldin, second baseman, Ryan Cox, centerfielder, Reece Hampton, would start dancing during the 3rd inning, the 2nd hitter, and the 2nd ball, with it becoming known as the 3-2-2.
The feedback was incredible, with the clip on their account, @thesavbananas, racking up more than 16 million views online, as Alaniz explained: "We did the Beyoncé drop challenge that was trending on TikTok while wearing kilts and it went crazy viral."
More dance trends followed, as she rattled them off saying: "The player's favorite dances they've done are 'Let's Groove Tonight,' the Baby Baby Baby Celine Dion trend, and the Savage TikTok dance trend.
"Typically, we'll send them a video of the dance a few days before the game once we decide what we're doing and they'll have a couple of days to learn it, then we all rehearse on game day on the field.
"They usually can nail the dance after just a few tries. They're really good at it by now! Some dances take a little more practice."
Fans also went wild for the "Let's Groove Tonight" dance, which amassed more than 40 million views, but the clear favorite is "Body on My Mind," which racked up an impressive 73 million views.
"Most everyone LOVES the videos! They can't get enough of them. They have recommendations for us, they feel bad the catcher isn't a part of the dance, they ask when the next one will be posted. It's incredible!
"And then you've also got the baseball purists that think it's too much or get upset that it's a balk [an illegal motion usually performed by the pitcher]. You can't win them all, I suppose! We're just trying to make baseball fun!" Alaniz admitted.
She explained the team isn't part of Major League Baseball, saying: "We started out in 2016 as a college summer team that plays in the Coastal Plain League. It's a team where collegiate athletes, from Junior College to Division I, come and play for the summer. Our second team, the Premier Team, started in 2021."
Although she said they do have some former MLB players, as well as minor league, independent professional players and former collegiate CPL Bananas.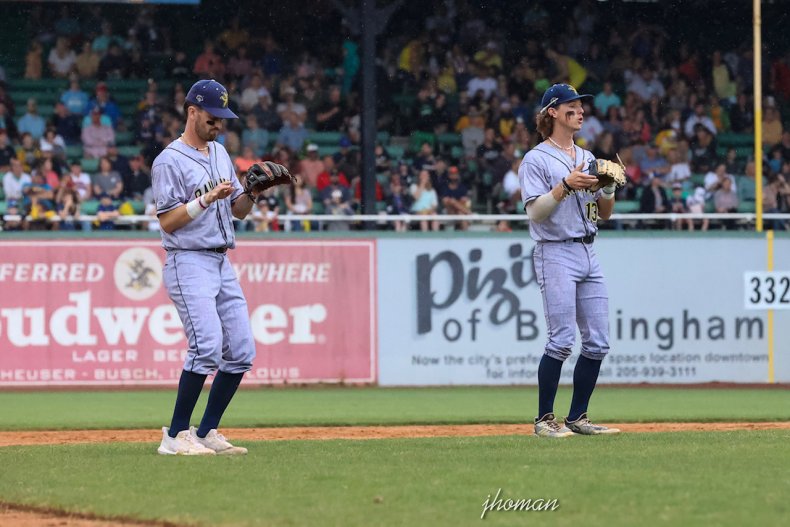 "The Premier Team plays Banana Ball and gives us a way to serve more fans by being able to play in games outside of the summer season and travel to different cities. Both of our teams are amazing and have so much fun!" Alaniz added.
She confirmed they're trying to come up with a way to keep 3-2-2 going, explaining: "When 3-2-2s happen, the majority of the time it's a balk, which in traditional baseball will just advance any runner on base to the next base. Our college summer wood bat team plays in the Coastal Plain League, which plays by traditional baseball rules, and they will begin playing on May 26.
"3-2-2s can exist for our Premier Team that plays Banana Ball, but we're still trying to come up with a way that we can carry on the tradition with our college summer team since it's been so successful, but without a balk."