Orioles to Play to an Empty Stadium on Wednesday, But Libraries Stay Open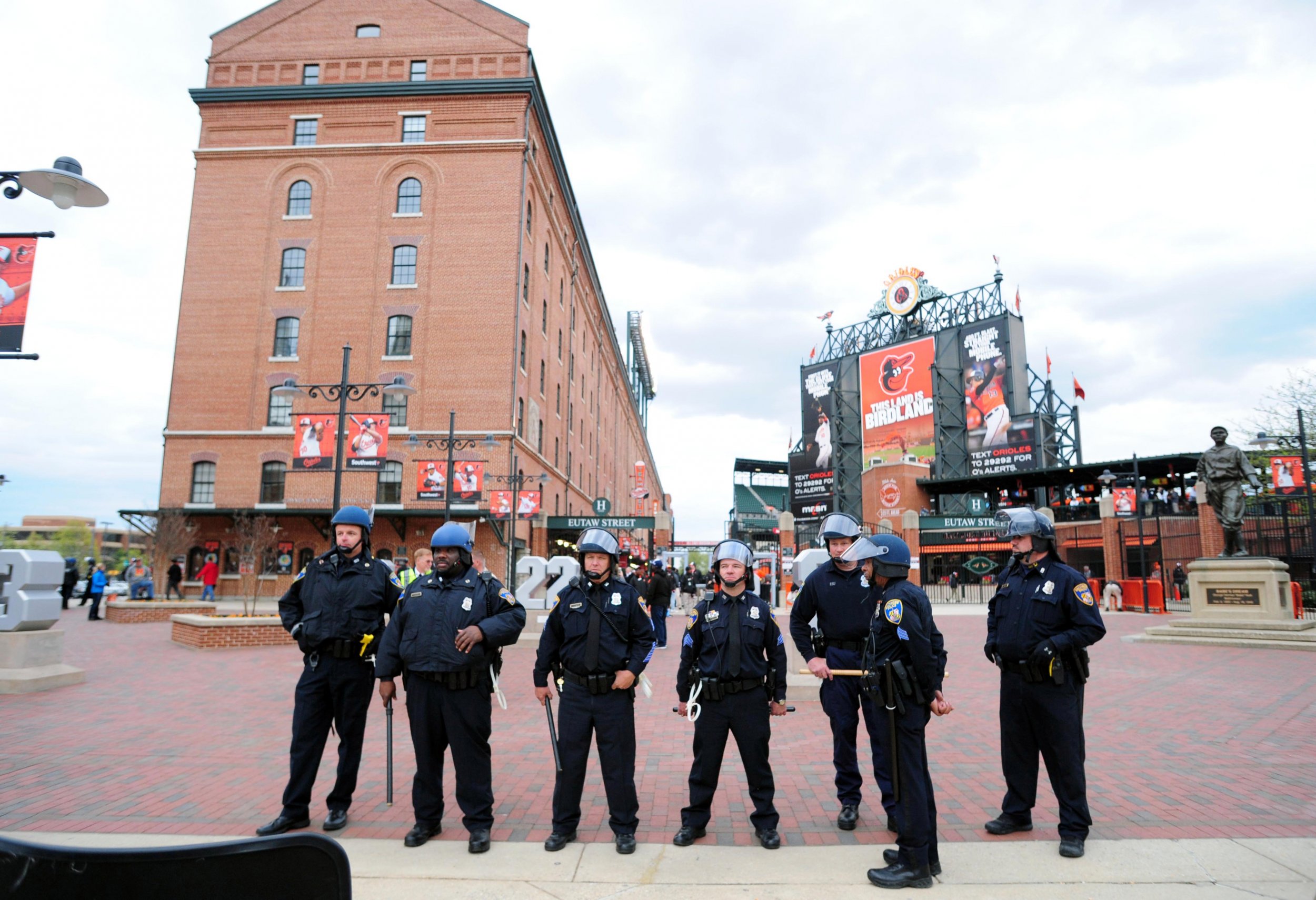 Updated | The Baltimore Orioles announced Tuesday that they would postpone another home game against the Chicago White Sox after Monday's riots in the city. They also announced that Wednesday's game would be played to an empty stadium, to keep crowds away.
The team released a statement on Tuesday afternoon to say that Wednesday's game against the Chicago White Sox, scheduled for 7:05 p.m. as the Monday and Tuesday games had been, would be played at 2:05 p.m. instead, but would be closed to the public. The three-game series against the Tampa Bay Rays scheduled for May 1-3 will be moved to Tropicana Field in St. Petersburg, Fla., the team said, and the White Sox games that were postponed Monday and Tuesday will be played as a doubleheader on May 28.
The full statement is accessible via the team's Twitter page:
The Orioles, whose fans were locked inside the stadium at Camden Yards on Saturday while protesters and police in riot gear gathered outside, had postponed Monday night's game less than an hour before it was scheduled to start after consultation with the Baltimore City Police Department.
"I think I can speak for all of us: It's a little scary," White Sox outfielder Adam Eaton said Monday, according to ESPN. "You never want anything to happen to anybody attending a baseball game, on the playing field or anybody in the city. We don't really want to tangle with that or put anybody in danger, so I think it's the best from everyone's perspective to cancel the game, and hopefully the police officers and officials can get the situation under control."
The Baltimore Ravens also announced Tuesday that they will not be holding their NFL draft party, which had been scheduled for Thursday evening, "out of respect to the curfew in Baltimore."
City schools, as well as other places, are also closed, and Baltimore mayor Stephanie Rawlings-Blake instituted a weeklong 10 p.m. curfew. All branches of the city's Enoch Pratt Free Library, however, are staying open and welcoming local residents, media and anyone else who needs to make use of them.
"It's at times like this that the community needs us," Roswell Encina, the library's director of communications, told MTV News. "That's what the library has always been there for, from crises like this to a recession to the aftermath of severe weather. The library has been there. It happened in Ferguson; it's happening here."
The library, as well as colleagues, observers and those making use of the space—during and after the riots surrounding the death of 25-year-old Freddie Gray while in police custody—tweeted:
"We're very busy. Some of the kids who were here yesterday walked in this morning," Melanie Diggs, branch manager for the Pennsylvania Avenue Enoch Pratt Free Library, told The Washington Post. "That made my heart melt. The library is a safe place."