'Basic Instinct': What Everyone Involved Has Said about THAT Scene
Basic Instinct was a major hit when it was released in 1992, and there's one infamous scene that continues to draw controversy today.
In the scene in which killer Catherine Tramell, who isn't wearing underwear, crosses her legs and flashes an interrogation room, actress Sharon Stone has repeatedly claimed she wasn't aware that her nudity would appear on-screen.
Director Paul Verhoeven recently disputed those claims and explained the origins behind that scene and why he made the decision to include it.
Almost 30 years after its release the leg-crossing scene is still being discussed, so let's look back and see what those involved in Basic Instinct have said about the now infamous piece of cinema.
Sharon Stone (Catherine Tramell)
Stone has become more outspoken on the topic of this scene over the years. She categorically states her stance in her 2021 autobiography The Beauty of Living Twice. As she recalls, she said she was asked to remove her underwear as it was reflecting the light, but was told her privates couldn't be seen on camera.
On seeing the scene for the first time in a room full of agents and lawyers, Stone said: "It didn't matter anymore. It was me and my parts up there. I had decisions to make. I went to the projection booth, slapped Paul across the face, left, went to my car, and called my lawyer."
Stone also opened up about the scene and the discussions around it at the 2019 GQ Men of the Year Awards as she collected the Woman of the Year prize. On stage she spoke at length about "the moment that would change her life."
Paul Verhoeven (Director)
The latest comments on the scene come from Verhoeven who, while talking to Variety, called Stone's version of events "impossible." He said: "She knew exactly what we were doing. I told her it was based on a story of a woman that I knew when I was a student who did the crossing of her legs without panties regularly at parties. When my friend told her we could see her vagina, she said, 'Of course, that's why I do it.' Then Sharon and I decided to do a similar sequence."
Verhoeven said that while his memory is radically different from Sharon's, it doesn't stand in the way and has nothing to do with the wonderful way that she portrayed Catherine Tramell. "She is absolutely phenomenal. We still have a pleasant relationship and exchange text messages," he said.
Michael Douglas (Nick Curran)
Douglas has seemingly never openly discussed his opinions on the interrogation scene, though he parodied it in an episode of The Late Late Show with James Corden in 2015.
In 2011, the Daily Express reported that Douglas initially didn't want Stone for the part of Catherine Tramell, as he wanted a more famous actress to appear alongside him. "I need someone to share the risks of this movie," he insisted. "I don't want to be up there all by myself. There's going to be a lot of s*** flying around."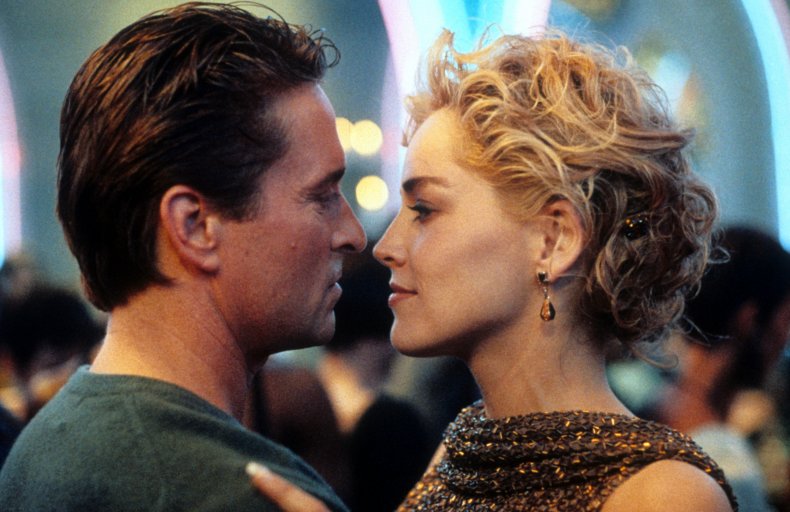 Joe Eszterhas (Writer)
Writer Joe Eszterhas wrote many scenes featuring nudity into the script of Basic Instinct, but he renounces all responsibility for the most famous scene.
In 2013, he gave a DVD commentary of the film on stage at the London Screenwriters' Festival and said: "This is a terrific scene but the downside is that this is, in my mind, a really intricate film noir, but it's rather overshadowed by the world's most famous p***y shot. It may have done Sharon a disservice, too. She does seem really fine, subtle performing here."
At the same festival, he sat down with journalist Dominic Wells and discussed the scene further. "The flashing scene was not in the original script, that was all Paul [Verhoeven]. There was a scene where Michael watches Catherine change, and she's nude, and you see she's not wearing underwear."
He continued: "Paul in his mad genius Dutchman way took that scene over into the interrogation scene, flashing 'those little bitty hairs,' as he called them."
Wayne Knight (John Correli)
Wayne Knight was a central figure in the famous scene as the camera focuses on his reaction after Stone's character opens her legs for the first time.
While he hasn't commented on the politics of the scene, Knight has revealed how starring in it scored him an even bigger job. In 2012, he told the AV Club: "My agent got a call and goes, 'Are you sitting down? Steven Spielberg wants you to do Jurassic Park.' And I said, 'What?'
"Apparently, he'd seen me in Basic Instinct and said, 'I see him in close-ups, sweating, only instead of open legs, it's a dinosaur.'"
Basic Instinct is available to watch now on Cinemax Go.