Everything We Know So Far About the 'Court of Owls' Batman Game Rumors
It's been five years since the latest Batman video game, Arkham Knight, was released and fans are craving a new title set in Gotham City. Luckily, it seems like that wait is about to be over.
After months of speculation and rumors, the game studio Warner Bros. Montreal (Batman: Arkham Origins) is teasing what appears to be the next Batman game. With the below tweet, shared on Monday, the account posted a quick video of a radar. While it looks to be nothing more than a tease for something down the line, there's actually a logo that appears midway through the video.
Did you see it? The logo appears to be a drawing of an owl, and that's enough for fans of the comic books to begin drawing a connection between this game announcement and Gotham City's The Court of Owls.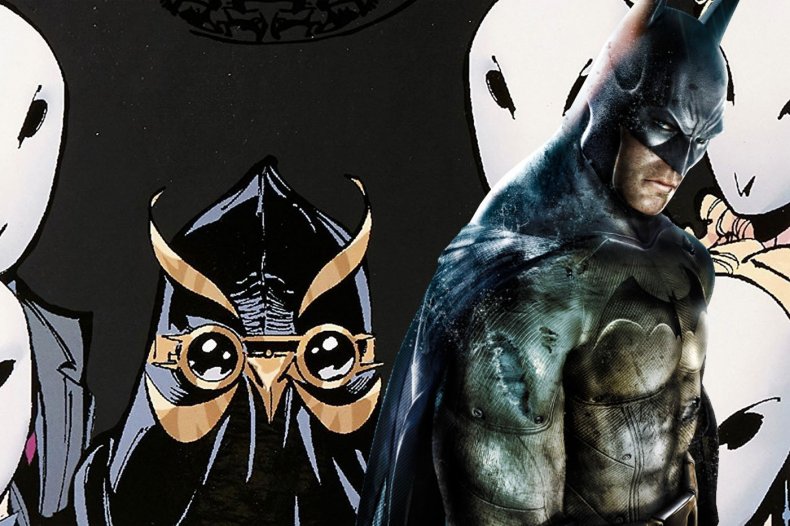 WHAT IS THE COURT OF OWLS?
The Court of Owls is a criminal organization in Gotham City that has existed since colonial times. Created in 2011 by writer Scott Snyder and artist Greg Capullo, The Court of Owls were Batman's first main antagonists in DC Comics' New 52 rebooted continuity.
Consisting of Gotham's oldest and wealthiest families, The Court of Owls have used violence and crime to gain political influence throughout history.
To carry out their sinister missions, The Court of Owls use highly trained assassins called Talons. These assassins are actually kidnapped child performers from the circus who were trained to do their bidding.
In case you haven't noticed, there are some parallels between them and how Bruce Wayne recruited Dick Grayson, a.k.a. the first Robin.
WHEN WILL WE LEARN MORE ABOUT THE NEW BATMAN GAME?
WB Games Montreal's Twitter account isn't the only one to share that tease clip. A new account with the handle @r3dakt3d went live on Monday and posted the same video.
You'll want to follow it to get the most up-to-date information on whatever this upcoming game is. Fans can also go to the official r3dakt3d website to see a cryptic message and find out when we'll learn more about this game.
"We have b3en expecting you 8/18" is what the message on the site's homepage reads. The tease seemingly points to August 18 as when we'll get more information—like hopefully confirmation that this is indeed a new Batman game.
WB Games Montreal will have its own panel to announce its next project during this weekend's DC Fandome online convention. The studio's official panel will take place on Saturday, August 22, beginning at 1:30 p.m. EDT; it'll give fans their first real look at this new game and a Q&A session with its developers.
If it is a new Batman title, then it likely won't be a part of the Arkham series developed by Rocksteady. That studio has its hands full anyway, working on the recently announced Suicide Squad: Kill the Justice League game.
Rocksteady's Dax Ginn told IGN in 2014 that Arkham Knight, the concluding chapter in the Arkham series, would be the studio's final Batman's story.
"We've done all we can do here," Ginn said. "It's kind of time for us to walk away from it. Anything we do is a collective decision between Rocksteady, Warner Brothers, and DC Comics. But it was something that we were really pushing for because we had a really clear vision for how this story should end, and the way we wanted it to end."
Are you excited for the new Batman game? Who do you hope appears in this upcoming game? Let us know in the comments section.