New 'The Batman' Series Coming to HBO Max—Hopefully It's 'Gotham Central'
Robert Pattinson hasn't even yet graced the big screen as Bruce Wayne in the upcoming film The Batman, but HBO Max is already expanding that movie's universe. The streaming service announced on Friday that it's developing a new TV series that will exist in the same fictional world as director Matt Reeves' highly anticipated Bat-flick.
According to the press release, HBO Max has already signed off on a series commitment for a drama focused on the fictional Gotham City Police Department. Reeves and Boardwalk Empire creator Terence Winter will be helming this new series, which does not have a proper title or release window as of yet. The announcement says that Winter will handle the writing duties, and that the show "will build upon [The Batman's] examination of the anatomy of corruption in Gotham City."
Now, this might be wishful thinking, but it sure sounds like this show might bear a resemblance to Gotham Central, the DC Comics series that followed the cops and investigators of the GCPD.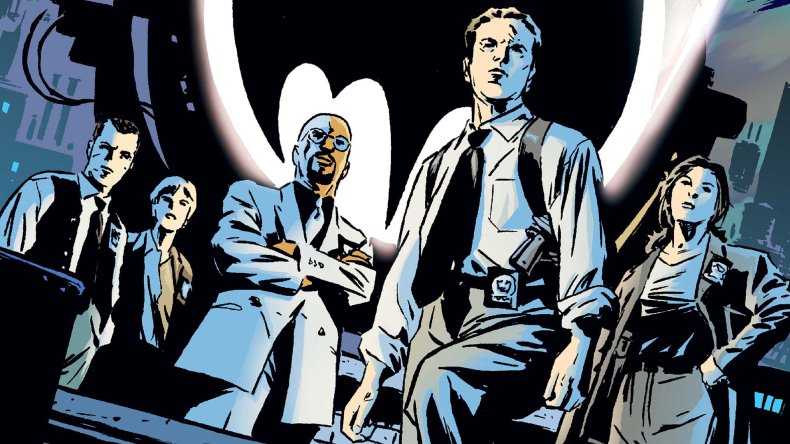 Created by Ed Brubaker, Greg Rucka and Michael Lark, Gotham Central ran for 40 issues from 2002 to 2006. The series put a spotlight on characters like Renee Montoya—who's played by Rosie Perez in this year's Birds of Prey film. Notably, the comic explored Montoya's sexuality, and helped make her one of the most prominent LGBTQ characters in DC Comics history.
Part of the comic series' appeal was seeing what it's like to be street-level cops in a city filled with super-villains like Mister Freeze. (You ever bring a handgun to an ice-gun fight? It wouldn't go well.) Batman wasn't a prominent figure in the Gotham Central comic, but did make the occasional appearance. Bat-fans can check out the entire run of Gotham Central on the DC Universe app.
Regardless of whether or not it's inspired by Gotham Central, the forthcoming series is described in HBO Max's announcement as the jumping-off point for a larger Batman universe that will stretch across various platforms. "This is an amazing opportunity, not only to expand the vision of the world I am creating in the film, but to explore it in the kind of depth and detail that only a longform format can afford," Reeves said in a statement, "and getting to work with the incredibly talented Terence Winter, who has written so insightfully and powerfully about worlds of crime and corruption, is an absolute dream."
At the moment, Reeves' The Batman is scheduled to be released in theaters on October 1, 2021.