Batman Day: Exclusive Deals and Comic Book Giveaways to Celebrate The Dark Knight's 80th Anniversary
September 21 is Batman Day, with this year marking the 80th anniversary of The Caped Crusader making his debut appearance for DC Comics.
To celebrate The Dark Knight's exploits, there are events taking place around the world with special gifts and freebies to get your Batclaws on. Newsweek has rounded up what you need to look out for this weekend if you're a true Batman fan.
Why is Batman Day on a different day each year?
Batman Day commemorates the debut of Batman in the DC comic universe. He made his first appearance in Detective Comics #27 in May 1939. The date of celebrating Batman Day changes every year, though there's no real reason why. Some believe it's merely for convenience.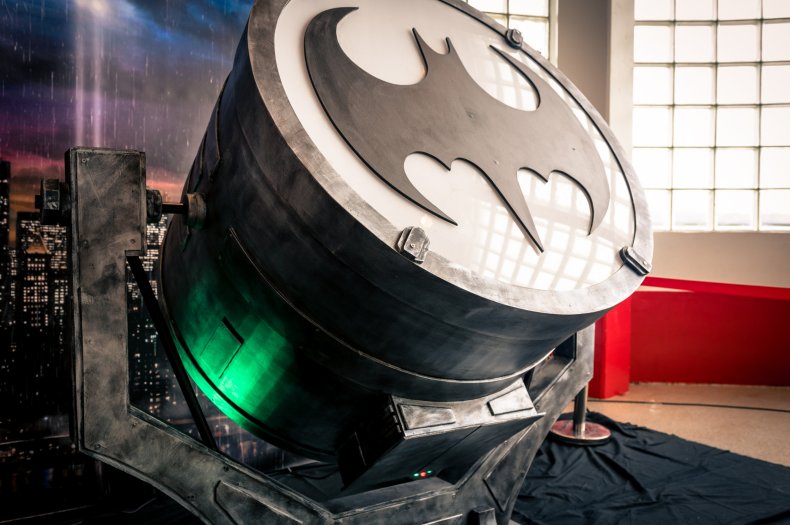 Batman Day Events and Products
Batman 80th x Amazon Shops: Custom curated pop-up shops, open for a limited time, are swooping into Chicago, Las Vegas, San Francisco and Los Angeles, providing an interactive shopping experience. Fans of all ages can make the most of the special-edition merchandise and daily giveaway items, as well as wearing the Batman cape and having your photo taken with The Dark Knight himself.
If fans are not in the aforementioned cities, they can shop the collection online.
Batman Run Series: Fancy recreating your own Batman run alongside your very own Robin? Take part in the DC Batman 5K on Saturday, September 21, 2019. Finishers will earn a limited edition 80th anniversary DC Batman t-shirt and medal, and can join the post-race party.
Batman x Rooster Teeth: This new collection celebrates 80 years of Batman, and includes an assortment of apparel items that features art from Detective Comics #27 for the first time in its entirety. View the collection online.
Quick! To the Batcave™ with Build-A-Bear Workshop: What would a big event be without Build-A-Bear? Build an 80th Anniversary Batman™ Bear, The Joker™ Bear and Harley Quinn™ Bear, or collect them all.
Batman 18-film collection: Lover of the animated Batman movies? Buy this collection of DCU Batman films.
Batman: The Definitive History of the Dark Knight in Comics, Film, and Beyond: This deluxe volume of Batman history, including his appearances in comics, TV, animation, film and video games, is available for pre-order. The book features exclusive commentary from Neal Adams, Tim Burton, Paul Dini, Steve Englehart, Mark Hamill, Grant Morrison, Julie Newmar, Christopher Nolan, Denny O'Neil, Joel Schumacher, Scott Snyder and Zack Snyder.
Barnes and Noble: Join Scott Snyder, James Tynion IV, Peter J. Tomasi and Brad Walker for a panel discussion and signing at Barnes & Noble Union Square in New York City, New York, at 4:00 p.m.
LEGO Life Meeting: Batman's 80th Anniversary: Adults and children alike can build their own Bat-Vehicle at their nearest LEGO store. There's also a chance to win a $50 LEGO Store gift card by uploading creations to the LEGO Life app.
Free Batman Comics: DC is making two free Batman Day special editions of The Batman Who Laughs and Batman: Nightwalker available.
Batman Sweepstakes: Be in with a chance to win some Bat-swag worth nearly $1,500 on Batman Day
The Bat-Signal will also be lit in the following cities:
Melbourne, Australia
Tokyo, Japan at Shibuya Scramble Crossing
Johannesburg, South Africa at The Leonardo building
Berlin, Germany at Potsdamer Platz 11
Paris, France at Galeries Lafayette
Barcelona, Spain at Museu Nacional d'Art de Catalunya
London, United Kingdom at the Senate House
São Paulo, Brazil at Itaúsa
New York, United States, location to be announced
Montreal, Canada at Complex Dupuis
Mexico City, Mexico at Torre Reforma
Los Angeles, United States at City Hall