'Battlefield 2042': How Tornadoes Will Help You Win Multiplayer Matches
Battlefield 2042 was discussed at length in Thursday's EA Play Live Spotlight, with new details being revealed about the game's dynamic weather effects (such as real-time tornadoes) and how they will shape the course of multiplayer matches.
What Is EA Play Live?
Electronic Arts (EA) chose to skip this year's E3 conference in favor of hosting its own series of mini-presentations throughout July. The main showcase will be broadcasted on July 22 and will include updates on high-profile releases like Apex Legends and Knockout City.
In the lead up to this, there will also be four supplementary livestreams called "Spotlights" that concentrate on particular topics. For instance, there will be one next week on the future of indie gaming and another on July 19 about how community feedback is helping to inform the design of Madden NFL 22.
In a nutshell, these spotlights are basically just panel discussions in which developers and studio heads will get together to talk about their own projects and the gaming industry at large. The inaugural presentation was held on July 8, and focussed on EA's most popular first-person shooter (FPS) properties Apex Legends and Battlefield 2042.
The panel was comprised of Respawn Entertainment founder Vince Zampella and Apex Legends director Chad Grenier, who were there to talk about their battle royale's latest update. Meanwhile, DICE general manager Oskar Gabrielson and Ripple Effect Studios' general manager Christian Grass offered their insights on the ongoing development of Battlefield 2042.
What We Learned About Tornados in 'Battlefield 2042'
While the main EA Play Live broadcast on July 22 will resemble a more traditional E3 conference, the spotlight presentation did not feature much in the way of gameplay footage or trailers. Instead, it was structured more like a roundtable interview, with the guests chatting about their various influences, the demands of maintaining a live service, and where they ultimately think the FPS genre is heading.
That being said, the panel did let a few details slip about their respective projects. In terms of Apex Legends, we found out that a new hero character will be added to the upcoming 10th season of the game, alongside ranked arena matches.
Meanwhile, Gabrielson spoke extensively about the new in-game weather system for Battlefield 2042, and how it will dramatically shake up the flow of online matches.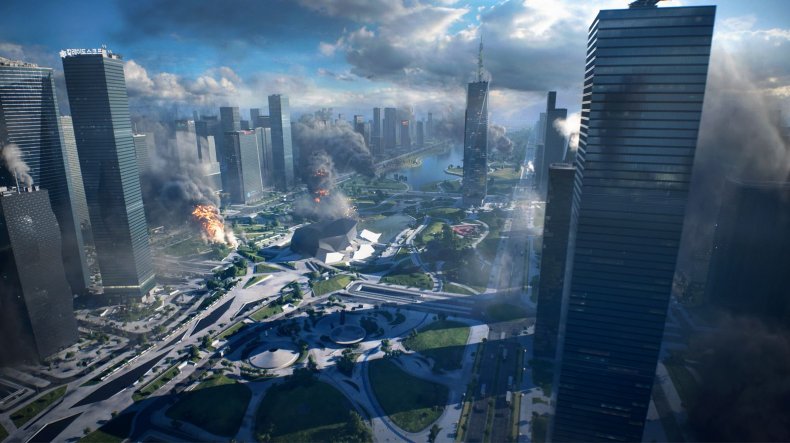 The studio head pointed out that (over the course of the game's three-year development cycle) DICE has been experimenting with the capabilities of next-generation hardware. This has reportedly enabled them to create virtual warzones "on a scale [they] have never done before".
Matches will now support lobbies of up to 128 players, the destruction physics will be pushed to their limits, and map sizes will be bigger than ever. However, the thing Gabrielson was clearly most excited about was the introduction of dynamic weather.
Specifically, he had a lot to say about the real-time tornadoes and how they will factor into gameplay. According to the developer, whenever you are immersed in a match of Battlefield 2042, you will need to "keep on your toes, because you never know what Mother Nature will throw at you".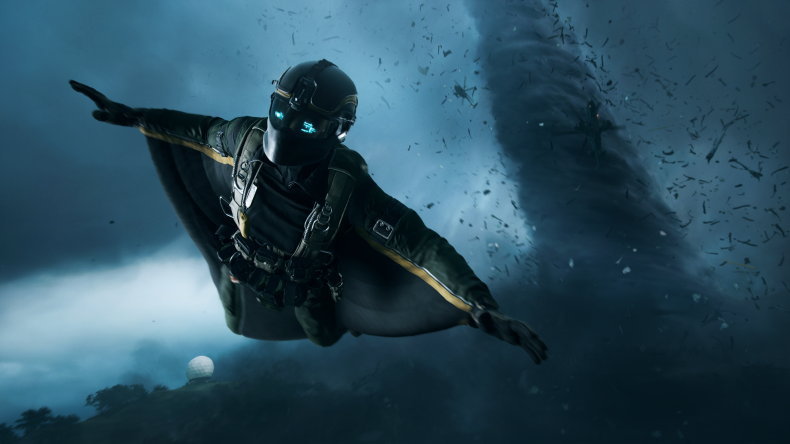 We already knew that twisters would be able to absolutely devastate the environment and fundamentally change the layout of multiplayer arenas. Yet while they are obviously a destructive force, it turns out that they can actually be beneficial under the right circumstances.
According to Gabrielson, playtests have shown that tornadoes can completely shift the course of battle, giving an advantage to one side over the other. For example, Gabrielson said that players will be able to "combine" the hurricanes with their wingsuit gear in order to ascend to higher ground. In other words, if you have the right equipment, then you can essentially ride the gale-force winds to find superior vantage points in the combat zone.
He also confirmed that you will be able to continue shooting while being drawn into the vortexes (so long as they don't kill you of course), potentially allowing you to take out opponents whilst zipping around the map.
As an free early pointer, Gabrielson indicated that you will be able to forecast when a storm is brewing by looking at the trees. If a tornado is on the way, then you will notice the foliage starting to bend and should accordingly make a run for it.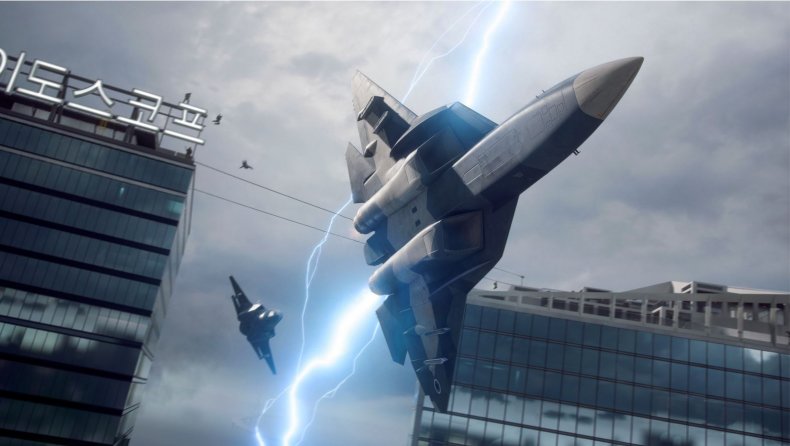 New 'Battlefield 2042' Game Mode to Be Unveiled Soon
In addition to revealing more about the role dynamic weather will play in Battlefield 2042, the "Spotlight" broadcast also teased a secretive game mode that will be included at launch. Christian Grass confirmed that, whatever this new match-type is, it will see the return of fan-favorite maps from older Battlefield titles.
This would seem to corroborate the reports of trusted Battlefield leaker Tom Henderson, who has been intimating for months that a sandbox mode entitled "Battlehub" will be featured in 2042. According to Henderson, this new mode will allow players to cherry-pick the best vehicles, weapons and locations from across the Battlefield timeline in an anything-goes scenario. This means that you could theoretically run amok with a modern-day tank or a high-tech drone in a World War I trench.
We won't have to wait too long to find out if the leaks are accurate, given that the mysterious new mode will be shown off in greater detail during the main EA Play Live broadcast on July 22.