'Battlefield V' Release Map List Revealed - Panzerstorm, Hamada & More
Battlefield V 's list of day-one maps has been revealed in an official trailer. Much like the game's single-player War Stories campaign, the initial roster includes some locations not often depicted in World War II scenarios. The content is spread over eight individual maps, with a ninth option due shortly after launch. Read more about each map in the summary below.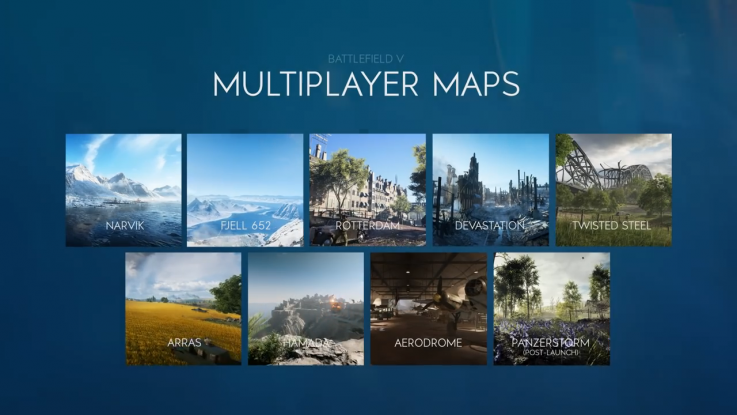 Hamada [North Africa]: The largest launch map. It's located in the desert and has tanks.
Aerodrome [North Africa]: Set in a ruined airfield in the aftermath of an Allied bombardment. Infantry and vehicles collide in a central hangar.
Twisted Steel [France]: A flooded marshland dominated by a destroyed steel bridge. The bridge is the biggest structure ever made for a Battlefield game. The map also has options for tanks and planes.
Arras [France]: This field-based map has space for tanks and trenches for infantry. Teams meet in the small town center and the church therein.
Rotterdam [Holland]: There's room for tanks on the main roads, while infantry hides in the surrounding train tracks.
Devastation [Holland]: This map takes place during the aftermath of Rotterdam. It's a tight infantry-focused map that emphasizes indoor firefights.
Narvik [Norway]: In this map, players fight for control of a harbor town. It's a multi-purpose arena with tight residential sections and wider lanes in its industrial block.
Fjell 652 [Norway]: It takes place on a snowy, rugged peak that encourages new combat dynamics. Features cabins, AA guns and extreme dynamic weather.
Panzerstorm [Belgium]: This map releases soon after launch as free DLC. It's set in the Belgium countryside. As a tank roars down the central portion of the map, large numbers of infantry must choose when to engage.
While this starting list of Battlefield V maps is a bit small, its developers at DICE were keen to remind fans that this chunk of content is just the beginning of a larger service-based approach. With the Tides of War seasonal plan, players will receive more content and new ways to play in the coming months. It's also worth remembering that, for the first time in recent Battlefield history, every DLC map for Battlefield V will be free for all players without requiring a Premium Pass. DICE revealed more details about Tides of War in a graphical roadmap last week.
Battlefield V comes to Xbox One, PS4 and PC Nov. 20.
What's your take on Battlefield V's map list? Do these underrepresented locations make interesting multiplayer arenas? Tell us in the comments section!
'Battlefield V' Release Map List Revealed - Panzerstorm, Hamada & More | Tech & Science