'Baymax!' Voice Cast: All The Stars Appearing in Disney+ Show
Viewers are about to return to San Fransokyo for a fun new series centered on the lovable inflatable robot from Big Hero 6.
Baymax! follows its titular character as he helps those in need, particularly Big Hero 6 lead Hiro Hamada's family as they go about their daily lives.
Here is all you need to know about the show's voice cast.
'Baymax!' Voice Cast: All The Stars Appearing in Disney+ Show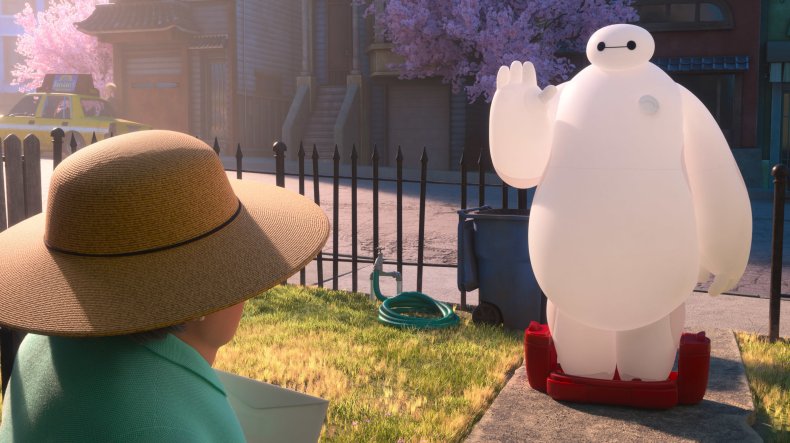 Baymax! is set in the world first created in Big Hero 6, so fans will be happy to learn that the Disney+ series marks the return of several original cast members.
Scott Adsit returns to voice Baymax after first portraying the character in the original Disney film and its spin-off show Big Hero 6: The Series that ran from 2017 to 2021 on the animation studio's network.
Also reprising his role from Big Hero 6 is Ryan Potter who once again voices Hiro Hamada, while Maya Rudolph is also back as Hiro's aunt Cass.
Zeno Robinson, who has given his voice to several projects including anime My Hero Academia and Young Justice, portrays new character Ali in the series.
Meanwhile, Emily Kuroda takes on the role of another character created especially for the show named Kiko.
Lilimar Hernandez, who is also known just by her mononym, portrays new character Sofia, and Jaboukie Young-White also plays brand new character Mbita.
Here is the Full Voice Cast for 'Baymax!':
Scott Adsit as Baymax
Ryan Potter as Hiro Hamada
Maya Rudolph as Aunt Cass
Emily Kuroda as Kiko
Lilimar Hernandez as Sofia
Zeno Robinson as Ali
Jaboukie Young-White as Mbita
Brian Tee as Yukio
Carlos Ferro, Dichen Lachman, Angel Parker, Sarah-Nicole Robles, Brandon Scott, and Alex Davis also voice various characters in the series.
Baymax! sees the healthcare companion help a particular character, familiar to the franchise or otherwise, when a medical issue is raised in their lives.
Each episode focuses on one of the characters in the new series, before the finale sees them all come together to help Baymax when he is in trouble.
Adsit spoke to SlashFilm about the series, sharing how it was important to show the way in which people can come together rather than focus on the superhero team like Big Hero 6 and its spin-off series.
When asked about why it focused on the characters that Baymax helped rather than the team of heroes, the actor explained: "I think because there's a community to be found when people help each other.
"Baymax was the connecting tissue between these strangers. They realized and appreciated what Baymax had done for them.
"They all had that in common and they, without hesitation, jumped in to help him when he needed help. And that's beautiful. They became their own team and very successful."
All six episodes of Baymax! are available to watch on Disney+ now.