What Baz Luhrmann's 'Elvis' Set Was Like According to Oscar-Nominee Kodi Smit-McPhee
All eyes are on Baz Luhrmann's Elvis Presley biopic after the first trailer dropped, and one of its stars has given Newsweek an insight into what to expect.
Kodi Smit-McPhee, currently Oscar-nominated for his role in Jane Campion's The Power of the Dog, co-stars in the movie alongside Austin Butler and Tom Hanks. Elvis is currently set for a June 24 release.
Butler will play the titular Elvis while Hanks is playing the man who discovered him, Colonel Tom Parker. Smit-McPhee joins the cast as the singer Jimmie Rodgers.
Luhrmann is known for his unique style seen in movies like Moulin Rouge and The Great Gatsby, and Elvis also looks set to be a heavily music-influenced movie to add to his repertoire.
"It was absolutely overwhelming in the best way possible," Smit-McPhee told Newsweek about his experience on Luhrmann's set. It was the Australian actor's first time working with the director and he admits he was blown away by his ability.
"To see how he works, how he flies by the seat of his pants, and how he has this spontaneous creativity that he just runs with." Smit-McPhee continued, "He's not bounded by limitations which most people usually are in our industry when making a film, whether it's money, producers, sets, time. He just flies with his gut and it's an amazing thing to see because he absolutely pulls it off."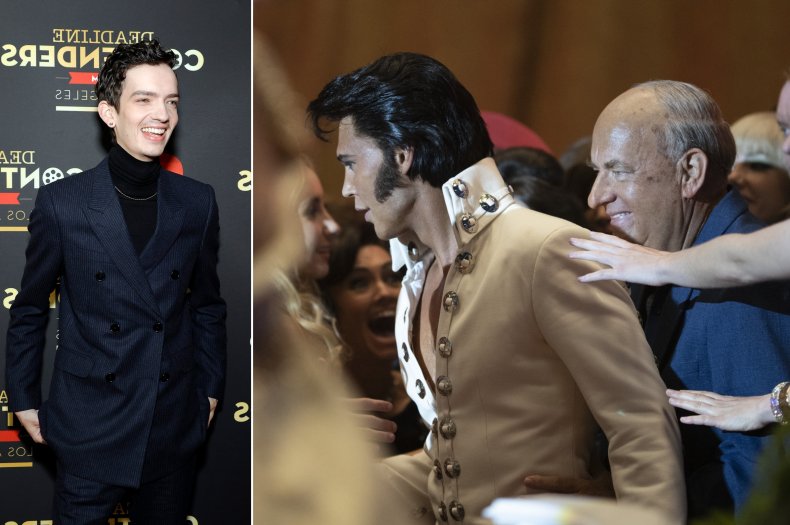 While, as Smit-McPhee suggests, Luhrmann may have improvised or played fast and loose with the rules on set, the results are still impressive.
"It doesn't turn into what a producer might think is, 'this horrible, expensive mess at the end of the day'. It's actually something that is completely awe-inspiring," he said.
Smit-McPhee recently caught the public's, and the Academy's, attention for his performance as Peter Gordon in The Power of the Dog, which is available to watch on Netflix now. That movie, which also garnered Oscar nods for his co-stars Benedict Cumberbatch, Jesse Plemons and Kirsten Dunst, was adapted and directed to the screen by Campion.
Smit-McPhee told Newsweek how on the set of The Power of the Dog he went and bought a guitar to teach himself, which actually led to him playing and singing in front of an audience as country music singer Jimmie Rodgers in Elvis.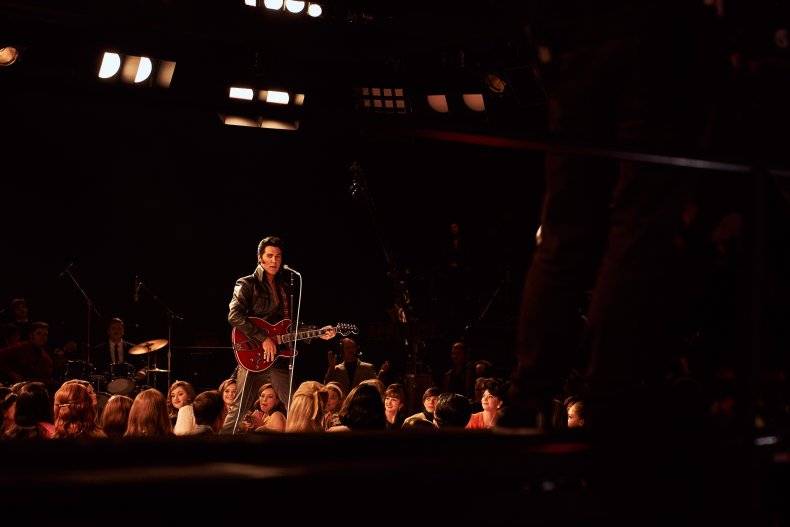 Smit McPhee can now compare working closely with Australian filmmaker Luhrmann and New Zealander Campion.
"I found a lot of elements which I loved discovering with Jane in Baz but reflected and expressed in very different ways on the spectrum.
"Baz is the type of person, like on my first day, I had this one very kind of simple scene and he completely recontextualized it and changed it up to where I was kind of the centerpiece of it—if I was willing and brave enough to kind of fly with this idea that he had."
Smit McPhee continued: "And I did it, so you know, there's different elements which directors have in common, but they're expressed in different ways. So that's kind of nice to find as an actor that you can, you can choose who you would like to work with in the future that can do that for you."
The production for Elvis was notable at the start of the COVID-19 pandemic as the set was shut down when Tom Hanks and Rita Wilson contracted COVID-19 during shooting. Production was shut down in March 2020 but picked up again in September that year while the release of the movie was also scheduled for 2021 but was delayed until 2022.
Baz Luhrmann's biopic Elvis is now scheduled for release on Friday, June 24.