'BBQ Becky,' White Woman Who Called Cops on Black BBQ, 911 Audio Released: 'I'm Really Scared! Come Quick!'
Police have released audio of the 911 calls made by the white woman who called the cops on a black family barbequing in Oakland, California, four months ago.
In April, Jennifer Schulte, dubbed "BBQ Becky," was captured calling the police on two black men who were using a charcoal grill to cook up some meat at a Lake Merritt's designated grilling zone. Months later, authorities released tapes of the two emergency calls to FOX-KTVU.
During the first call, Schulte told a male dispatcher that two men were using the grill at a non-designated area in Lake Merritt, demanding that the situation be "dealt with immediately" so "that coals don't burn more children and we don't have to pay more taxes."
The dispatcher asks Schulte to describe the men, including their race and what they are wearing, before the conversation ends.
Schulte calls 911 again a few hours later and a female dispatcher answers the phone.
"I was wondering when the police are going to come and help me!" Schulte can be heard saying loudly, over the shouts of someone in the background.
"What's the panic over a barbecue? I don't understand," the dispatcher asks. "So why are you in an argument with these people? Can you walk away?"
Schulte explains that the family followed her out of the park before a female in the background yells: "You're the one harassing people!"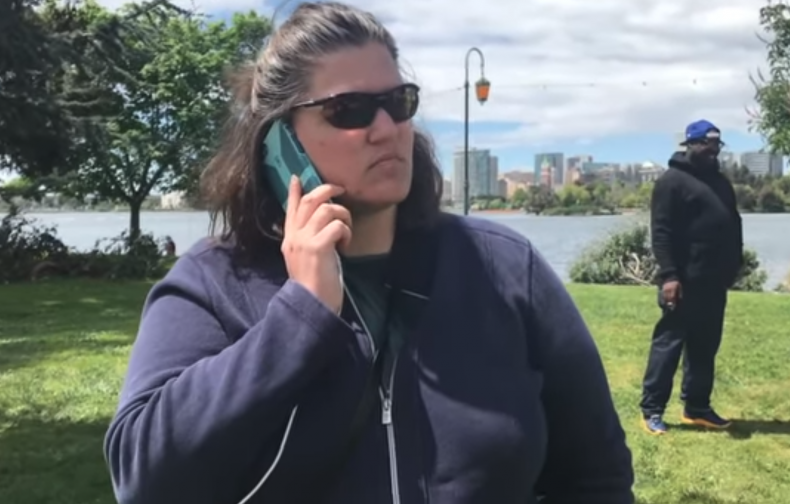 The dispatcher asks Schulte for her name, which she refuses to disclose.
"I'm really scared! You gotta come quick!" Schulte tells her.
Schulte is then asked to describe herself, including details of her race and physical appearance. She refuses to answer. "My race doesn't matter," she said.
"It does matter. How are we going to find you? Just any lady? Are you black or are you white?" the dispatcher responds.
"It doesn't matter. I want the police to come I've been waiting two hours for them," Schulte continues. "They usually call your cell phone when they're here."
"I'm talking to you right now. Have you ever been to John George?" the dispatcher said, prompting Schulte to ask: "What's John George?"
"It's a mental facility," the dispatcher explains. "No!" Schulte responds.
Schulte then finally discloses her information to the dispatcher.
During the altercation, bystander Michelle Snider confronted Schulte for harassing the black family and filmed their 25-minute interaction. The video, dated April 29, went viral shortly after it was uploaded to social media.