Bear Tries to Gain Entry to Canada from U.S. In 'Forceful Attempt' at Border Crossing
A bear made a "forceful attempt" to enter Canada at the U.S. border, authorities have said. Releasing pictures of the encounter, Canadian border officials said the bear was apprehended, having "no travel documents" for entry to the country.
"A traveller sought entry for essential reasons, but had no travel documents," Canada Border Services Agency posted on Facebook. "After a forceful attempt on its part to cross the border, our officers moved quickly to apprehend and transfer it to the Smithers' Northern Lights Wildlife Society for the winter."
Images of the black bear show it climbing a waiting zone sign, approaching a door to the agency offices and, climbing up and peering through at a border agent on the other side.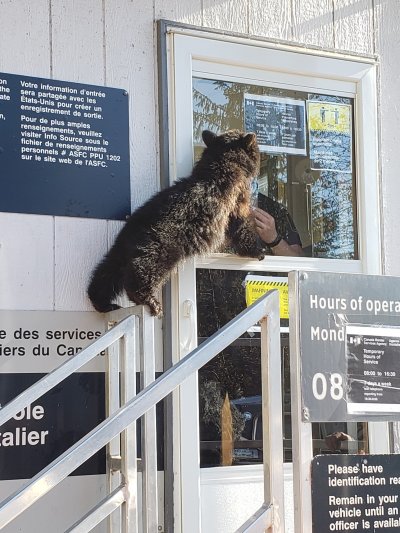 Black bears are found from the northern parts of Mexico through to Canada. They are the smallest and most widely distributed species of bear in North America, generally being found in forested areas.
They are normally wary of humans and will avoid them if they hear them. Encounters generally occur when people bring food into areas where bears are. Bears will try to take advantage of these food sources and can end up coming into conflict with people.
The Smithers' Northern Lights Wildlife Society, where the bear at the Canadian border was taken, is a sanctuary for young, injured or orphaned wildlife that was established in 1982. It is located in British Columbia next to the Babine Mountains Provincial Park.
The post from the Canada Border Services Agency prompted social media users to link the attempted crossing to the U.S. election, the winner of which is yet to be determined. Following the initial results, which showed Joe Biden and President Donald Trump neck and neck, Google searches for "move to Canada" surged.
Commenting on the agency's post, one user wrote: "Lol he must have been watching the election getting out while he can."
Another user said: "Even the wildlife wants to defect from the U.S. to Canada."
A third person added: "Even the animals are trying to flee the U.S. I'm sure it will go back once it knows the results of the election."
There are currently restrictions on non-essential travel between the U.S. and Canada. People entering Canada can do so if they are doing so for a "non-discretionary purpose" or are an immediate family member of someone in the country. They must not have symptoms of COVID-19 and must quarantine for 14 days after arriving. These restrictions are currently in place until November 21.