Connecticut Couple Find 'Big' Bear Hibernating Under Their Deck for Winter
A couple received an unexpected houseguest for the winter, after finding a huge bear hibernating under their decking.
The homeowners, thought to be based in Connecticut, discovered the creature themselves, which is believed to be a black bear.
Snaps of the "big boy" were shared to Facebook group Feed The Faith Outdoors, as well as to their Instagram account.
The post, shared last week, said: "I thought I would share this with our local wildlife group. You may find this pretty cool. Yesterday I went to visit my brother and his wife.
"I wanted to see their new tenant for the winter. This big boy decided to make under their deck his winter hibernation home.
"My brother and his wife have been in touch with authorities and the decision was made to leave the bear where he is. He looks healthy and no one is in any danger so he can stay rent free until he leaves on his own.
"He is quite a sight to see snoozing there. He is so dreary eyed and it was weird having a bear stare at you then fall back to sleep.
"Please understand that I am keeping town and area in CT confidential mainly because this bear is stationary. If he was out roaming around I wouldn't worry about it. Just know the bear is healthy, and from what I see very content to stay where he is."
The images amassed more than 32,000 likes, as people remarked on the incredible sight.
In the comments, the poster joked that the bear looked "cozy," while they thought it "would be awesome if it came back every year!"
They added "he needs to just enjoy his rest and leave when he's ready to!" adding it was "most definitely [an] adventure the home owners won't forget!"
Commenting on the spectacle, Barby Espinola said: "Such a wonderful landlord to allow this beautiful Bear a winter retreat."
Pamela Warburton wrote: "It's sad that we've taken over so much of their land that this is where they have to hibernate..."
Charlinda Reeder Glover raved: "That's pretty awesome! What a wonderful privilege to be able to watch this. Keeping the bear and your family safe... at the same time, experience this wonderful wildlife experience, front row."
And Richie Powers thought: "I think it's great that the choice to let him continue hibernation was exercised. I hope it works out for the best come spring too. What an unusual circumstance to say the least.
While Josh Lapsley joked: "You better walk quietly on the deck. I know how MAD my WIFE gets when she is woke up early much less a BEAR."
Although some voiced concerns, as Wayne Robinson said: "You do know when it's time to wake up come spring, he will have a ferocious appetite. Eye sight will be a bit fuzzy... better hope you ain't sitting there when it's time."
Bev Cook commented: "I hate to be the bad guy but it's not a good idea! I live where bears roam. This is not a teddy bear nor Yogi. Just like deer are not cute little Bambi. This is trouble in the making."
While Kimberly Smith added: "What happens when he "wakes up" and smells you cooking bacon? Although adorable now, I fear for that day..... he is not a pet, but a BEAR. With natural instincts."
Bear sightings are common in the Constitution State, seeing a population boom since the 1980s.
The Department of Energy and Environmental Protection (DEEP), noted: "As bears become more regular residents of Connecticut towns, it is important that people learn to adapt to the presence of bears and take measures to avoid damage and problems."
While they didn't specify what action should be taken if one decides to take up residence on your property, they explained bears in Connecticut "den" from late November through to mid-March.
They said: "Black bears are not classified as true hibernators but their body temperature is lowered and heart rate slowed during winter denning.
"Denning enables bears to overcome unfavorable weather conditions and lack of food during winter. Denning bears do not eat, drink, urinate, or defecate.
"However, they will usually wake up if disturbed during their winter dormancy."
While black bears are "seldom aggressive" towards humans, in comparison to their fearsome cousin, the grizzly, the official advice is not to approach one.
DEEP said: "If you see a bear on your property you can either leave the bear alone and wait for it to leave or make loud noises from a safe distance to attempt to scare the bear away. After the bear leaves the property, remove anything that may have attracted it to the area."
According to DEEP's animal sightings map, so far this year there have been 32 sightings of black bears, in 18 towns.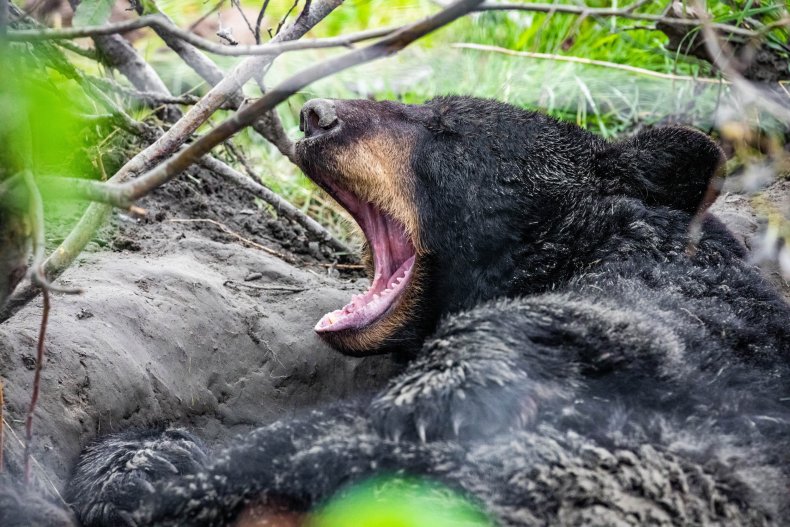 Update 2/8/22, 5:49 a.m. ET: This article was updated with photos from @Feedthefaithoutdoors.
Update 2/11/22, 5:49 a.m. ET: The bear photos were removed from this article at the request @Feedthefaithoutdoors "to keep the bear safe and protected."