Bear Kills U.S. Soldier on Training Exercise in Alaska
A bear has killed a U.S. Army soldier who was taking part in a training exercise in Alaska.
The soldier—who has not been named—was training with a small group at the Anchorage Regional Landfill, a statement from the Joint Base Elmendorf-Richardson said.
He died of his injuries following the attack.
Alaska Wildlife Troopers are currently on the hunt for the bear. Area 412, where the attack took place, will be closed to the public until further notice.
The Joint Base Elmendorf-Richardson said more details will follow.
In Alaska there are an estimated 40,000 grizzly bears and 100,000 black bears living in the wild. It is not yet clear what species of bear is responsible for the attack.
Brown and grizzly bears can be found throughout Alaska except in the Southeast, on the islands south of Frederick Sound, the Aleutian Chain west of Unimak, and the Bering Sea islands.
Between 2000 and 2017, there were a total of eight fatal bear attacks in Alaska.
Alaska accounted for 29 percent of the total bear attacks to occur in the U.S during this period.
A report from the Alaskan Department of Health and Social Services in 2019 found that between 2000 and 2017, 68 people in the state were hospitalized for injuries resulting from 66 bear attacks. In the cases where the species of bear was known, 96 percent were grizzly bears.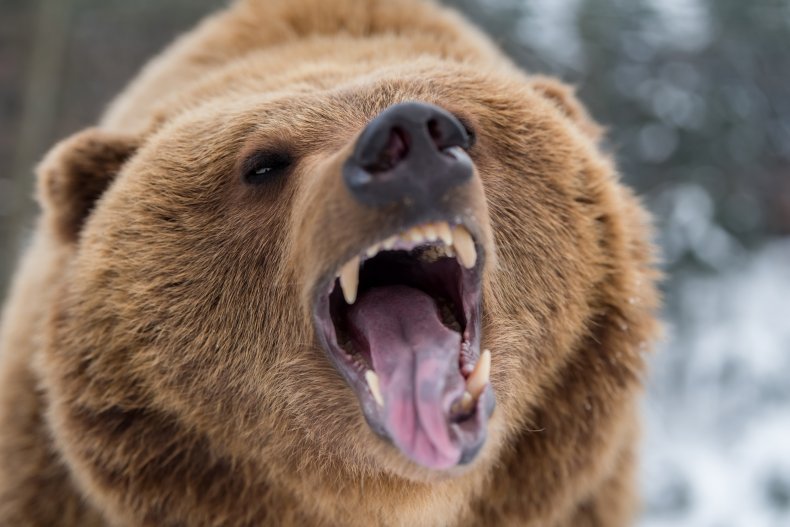 Grizzly bears are not a protected species in Alaska, as the population is widely distributed and healthy. State managed hunts are sometimes carried out in order to manage their numbers around densely populated areas.
Bear attacks across the whole of the U.S. are on the rise as bear populations increase and human developments expand. Although bear attacks are rare, the National Park Service says their behavior can be unpredictable, and while in bear country, caution should be taken at all times.
Grizzly bears in particular have a reputation for aggression, however, they usually only attack if they feel threatened or provoked. Mother bears with cubs in particular are known for being extra defensive.
In 2021, a cyclist in the Alaskan bear country was bitten by a bear that he said was "running towards him."
The cyclist told authorities at the time that the 500 pound animal ran after him, as he yelled and kicked at it, The Guardian reported. After confronting the man, the bear bit him before retreating. The man suffered puncture wounds and a laceration.
At this time of year, Alaskan grizzly and brown bears usually stay in low-elevation areas, around forests and wetlands.