Bears Are Being Urgently Evacuated From Kyiv As Attacks on Ukraine Intensify
Seven bears have been urgently evacuated from a Ukrainian animal shelter near Kyiv as Russian attacks on the city intensified.
On March 5, the White Rock Shelter asked for emergency help to evacuate its resident bears as the area became increasingly dangerous. Plans were immediately set in motion to move the bears to the Bear Sanctuary Domazhyr in Western Ukraine, run by animal welfare organization Four Paws.
In a statement, Four Paws confirmed that five bears–including two cubs–were transported on the evening of March 5 over a 24-hour trip. During the drive, the truck had to stop multiple times due to road checkpoints. In a subsequent Facebook, the bear sanctuary said two more bears from the White Rock Shelter arrived on the evening of March 6.
Domazhyr village lies on the outskirts of Lviv, a small city near the Polish border. Lviv is currently calmer than other Ukrainian cities–missiles have been fired into an area nearby, but none have directly hit the city. Animal welfare organizations have been using the city as an initial destination to get much-needed supplies into the country.
Four Paws said on March 7 that the bears arrived at the sanctuary "safe and sound" and are in "good health."
Staff at Domazhyr remain on-site to care for its 29 resident bears during the conflict. The sanctuary said it is evaluating the situation and planning further steps to support other animals in the war-torn country. It said all of its bears are doing well, and most of them continue to hibernate.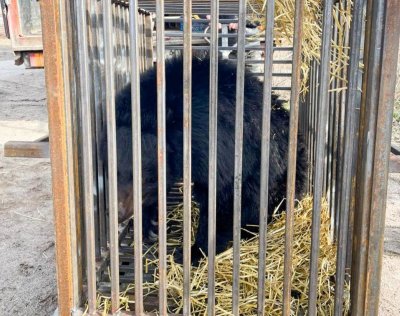 Michael Kellner, international press officer at Four Paws said in a statement: "Given the circumstances, the bears look fine and they are healthy. We have prepared everything for their arrival and they will receive the care that they need by our experienced team."
Other animal evacuation efforts have been set into motion across Ukraine. A truck carrying six tigers, six lions, two caracals and an African wild dog arrived at Zoo Poznań in Poland from a the Save Wild animal sanctuary near Kyiv. The truck made the two-day journey to Poland to escape the war zone and arrived safely on March 3.
As the journey began, the Polish zoo said it had almost "lost hope" after finding out that as the truck had been surrounded by Russian tanks. However, it managed to make its way past the check point. The journey had been grueling, as the truck had to take the long way around to avoid several bombardment zones.
A Zoo Poznań spokesperson Malgorzata Chodyla told Reuters that they had to turn back "many times" because roads were blown up, full of holes, and "impossible to pass" with the cargo.