A cat cafe in Ukraine is staying open to give people hot food and emotional support during the ongoing Russian invasion.
The cafe in Lviv, a small city in western Ukraine, is home to 20 cats. Owner Serhii Oliinyk—who runs the cafe with his partner Marta—told Newsweek he is continuing to open the cafe doors every day from 9 a.m. to 9 p.m., providing "hot food and positive emotions" to those that need it.
The war in Ukraine has now raged on for over a week. According to global reports, 1 million people have now fled the country.
Oliinyk said that at the moment, Lviv is calmer than most cities in Ukraine. Other larger cities, such as the capital Kyiv and Kharkiv, have been heavily shelled and attacked by Russian troops. He said Russia has fired missiles into an area near Lviv, but none have directly hit the city.
"We often hear air raid sirens, but we are still safe. We don't have a panic, we stay with the kitties and are ready to defend our city," he said. "When we found out that the war had started in our country, we realized that we would never leave our country, that this was the only place where we could see ourselves in the future. So, we tried to continue doing the things we did every day—doing our job, preparing food and drinks for people who came to our cafe to get in a better mood thanks to our 20 cats."
The cats are very used to people and love attention, Oliinyk said, and know how to cheer people up. On Oliinyk's website, the cafe is described as a place for "cat therapy" where people can "rest" under the cats' purring and experience their healing properties.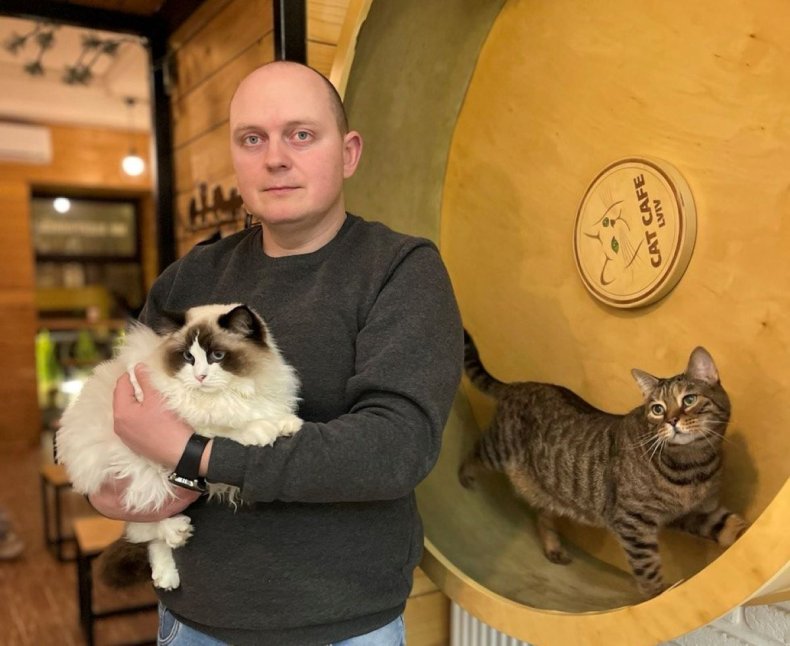 The cafe currently has fewer regular visitors, but there are people who have arrived in Lviv to escape from other, badly hit cities, Oliinyk said. Lviv also lies near to the Polish border, and many humanitarian organizations have been using it as an initial destination to get much-needed supplies into the country.
The couple are donating part of their proceeds from the cafe to the Ukrainian army which "needs support more than ever," Oliinyk said.
Humanitarian organizations have expressed fear in recent days that the war could cause disruption to supply chains and cause a shortage of food and other necessary supplies.
However, at the moment, Oliinyk said the cafe is stocked "with goods" and food for themselves, and the cats. "But we don't know what will happen tomorrow," Oliinyk said.
But "offers of help are coming from all over the world," and people are actively offering help to anyone who can't take care of their animals, he said. The Polish government and volunteers from the country are also "very active" in helping Ukrainians in Lviv by organizing deliveries and housing for animals.
"We are ready for different possible situations, we hope for the best, but prepare for the worst," Oliinyk said.
The couple believe that eventually they will be able to return to a peaceful life in their homeland.